Foreign girl walking naked in public needs help
Yesterday was an extraordinary busy day in the street of Nana, Bangkok after a white chick stripped, walked and rode a motorcycle to the surprise of the people working and drinking in the bars lining up the street.
A video posted by a certain Simon Richardson on "Everything in Bangkok" Facebook group has already been flooded with comments chastising and making fun of the girl.
"Amazing Thailand, took this before I flew out yesterday, crazy white girl naked on the back of a motorbike on Soi 4".
In a video posted on FB page, the woman appears to be enjoying what she is doing. She's happy, waving hands while making poses to the cameras of the passersby.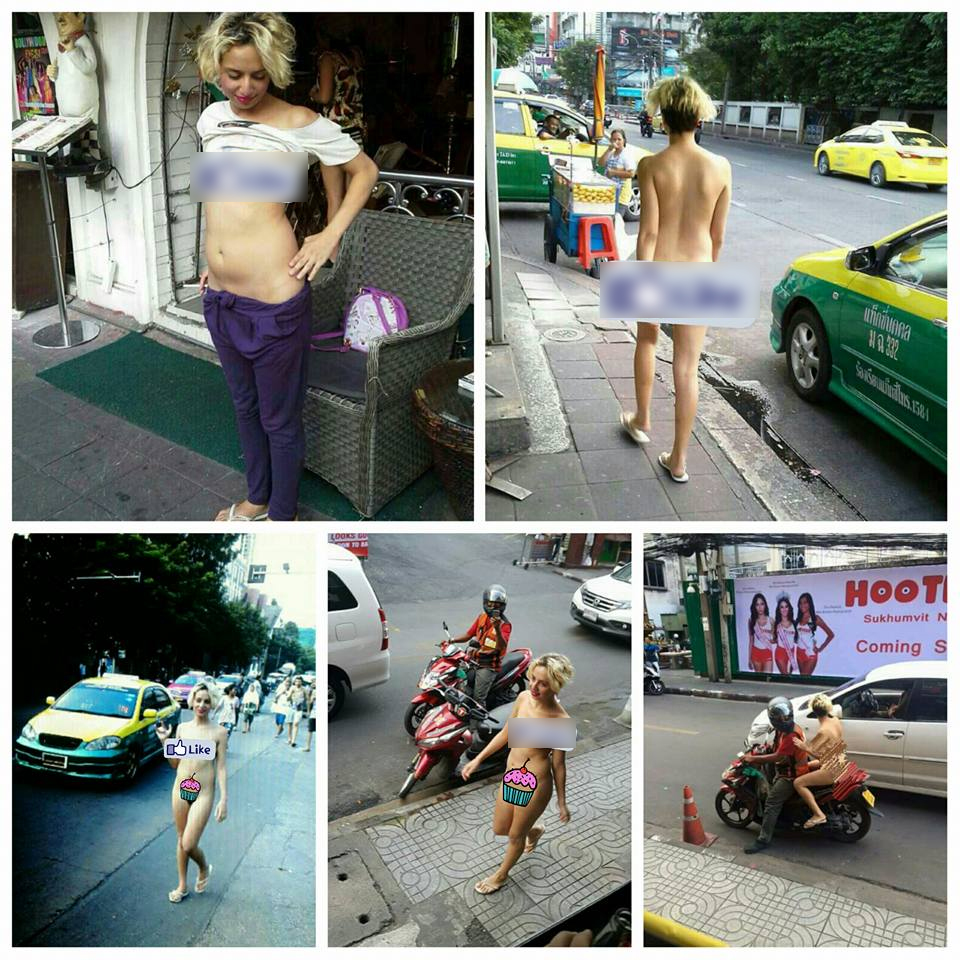 As of posting time, the rational motive is still unclear. Some are speculating that it is a stunt for some commercial brand or a feminist group. Others insinuated that the naked lady must be in drugs or has lost her sanity.

Facebook user James Johnstone commented on the post saying he saw the "crazy" girl in Pattaya walking awake at all hours.
"Ha! I've seen her around Pattaya. She's awake at all hours. Even first thing in the morning heading to the immigration office to get a visa extension, I saw her walking the streets on the way. Seen her plenty of times in the early morning. Always looks like she's been out all night partying with her eyes beaming. I figured she was some Russian stripper who was out all night on the disco biscuits after work."
Some netizens are not comfortable on what she did. They claimed that she is making a disgrace to herself and to the kingdom of Thailand, and that a penalty such as deportation must be applied to ensure that others will not follow her lead.
On the other hand, some netizens posted their comments showing concern and took pity for the girl saying she needs to be taken to the hospital.
Neng Monthon wrote, "I pity her, this is mental illness
take her to hospital very soon"
Harris SP commented, "This poor woman needs help and please don't share her photos".
No one put a cloth nor apprehended her at least in the videos and photos that are rolling the Internet.
Soi Nana is one of the red light districts in Bangkok where farangs (foreigners) of different nationalities can be seen partying with the locals.
Sources: Simon Richardson, Charlie Eilrahc