Lugaw, goto or arrozcaldo anyone? Filipino style rice porridge does have a delicious array to boast about. And so does a little rustic food haven in Thong Lor!
Living in Asia, you'll find congee at almost any time of the day most especially during breakfast hours. Congee is most often served with side dishes though at times served plain. One may think that it is simply a good food for the sick. However, for me, Congee means "comfort food"!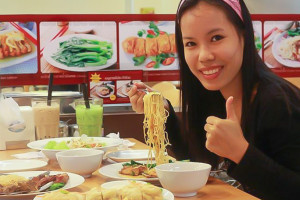 It's time to try out one of the most succulent rice porridge whose taste is closest to home! Check out "Joke Mee Please" at Sukhumvit 55 (Thong Lor). No, I am definitely not kidding. Joke is a Thai word which means congee and Mee means noodles. The teensy restaurant located between Thonglor Soi 17 and Soi 19 opens at 8 o'clock in the morning ready to boost up peoples' energy. Fish Congee, Hong Kong Style Congee, Congee with Chinese doughnut,whatever your preference, these Joke Mee combos will definitely start your day right!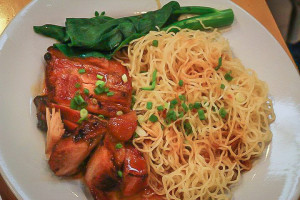 Joke Mee Please is not only famous for its rice porridge but also for its sumptuous Hong Kong Style cuisine. Do not dare miss its best sellers: Shanghai Fresh Salad and Honey Chicken with Hong Kong Noodles. Health lovers will surely enjoy these guilt-free menus.
Fan of Philippine's original "sago drink", ZAGU? Then I recommend you to try Joke Mee's Bubble Milk Tea with tapioca pearls. It will take you back  home sweet home instantly!
If you are hooked into experimenting what will satisfy your taste buds well, take time to experience splurging into authentic Hong Kong cuisine at a very reasonable price. Joke Mee Please will give your tummy a dose of delight!