BANGKOK, Thailand – With all guests dressed in colorful and elegant gowns and formal attires such as suit and "barong Tagalog", the United Filipinos in Thailand (UFT) heralded one of the Philippines' renowned festivals, Flores De Mayo Santacruzan, on Saturday, May 23 at Holiday Inn, Sukhumvit 22, Bangkok.
The said event which is also known as the "Mother of all Festivals" in the Philippine archipelago aimed at promoting the country and its rich culture. It also served as a fundraising activity where the proceeds would help fund UFT's charity endeavors.
"Our objective is mainly to promote the country and its culture and to encourage tourists to visit the Philippines", said Ms. Angie Dela Rosa-King, UFT President and organizer of the said event. She also urged the whole Filipino community in Thailand to help and support activities such as this adding that she tagged a lot of Filipinos to come.
The annual festival also gathered diplomats and socialite guests around the world. Among the prominent figures present at the event were Austria's Consul General, the Philippines' Consul General Hon. Edgar Badajos, Vice Consul Anna Santos, Vice Consul Jim Minglana and Cultural Attache Sylvia Reyes. They were flanked by 190 more guests from different countries such as the UK, the USA, Poland, Thailand, Malaysia, China, Indonesia, the Netherlands, Germany, Austria, Italy, Australia, New Zealand and the Philippines.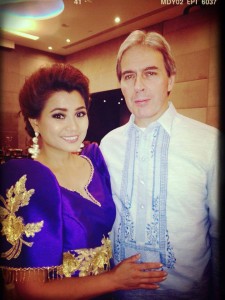 Flores de Mayo (Spanish for "Flowers of May") is a festival held in the Philippines in the month of May. It is one of the May devotions to the Blessed Virgin Mary and lasts for the entire month.
On the other hand, Santacruzan is the pageant on the last day of Flores de Mayo, held in honour of Helena of Constantinople (known as Reyna Elena) and Constantine the Great finding the True Cross in Jerusalem. During this day, beautiful town belles are selected to participate in this colorful pageant parade. The stars are selected not for their looks alone, but for their embodiment of traditional feminine qualities.
Dela Rosa-King also invited all the Filipinos in Thailand to the Barrio Fiesta on June 7, 2015 at the Philippines Embassy compound in Bangkok. The annual festival will be held in celebration of the 117th Declaration of Philippine Independence. It is open to the public from 9:00 am to 8:00 pm.
[rev_slider UFTSantacruzan2015]