"If you will not give me all of that, I assure you that my palm will touch your face."
This is how Trigger-Archie Burgos Dela Torre bragged on how he managed to supersede the store policy of '3 collectible minions per customer', and according to him, he got all the toys since the store manager is afraid of his 'slap policy'.
Archie also mentioned that he does not care about the store policy since he has the means to buy all the toys. He was certainly proud of what he did as he completed his collection of minions.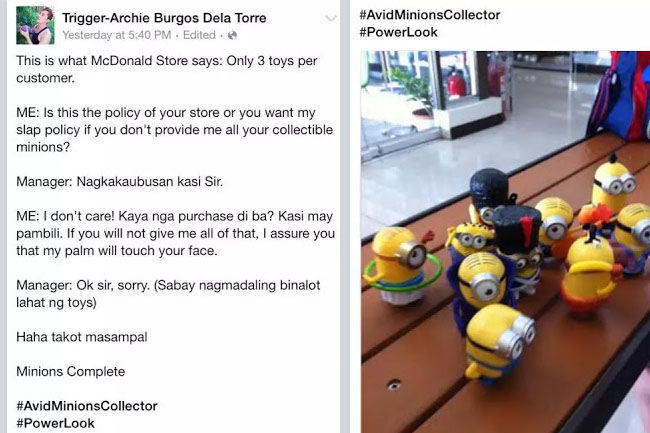 As expected, netizens were irked by Archie's misdemeanor. One even made a personal remark saying that Archie is 'living a nonsensical, immature, and meaningless' life on earth.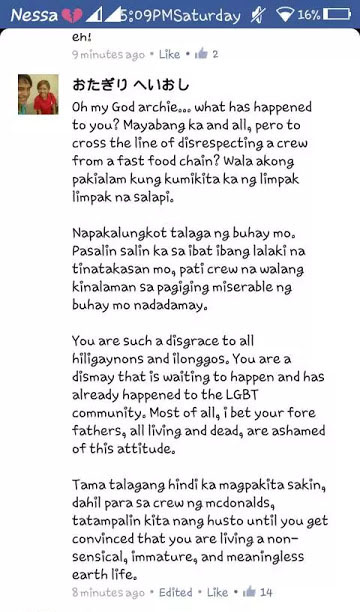 However, one netizen noticed that Archie's photo related to his story was taken from another website which makes Archie's claim questionable.
Whether Archie's post in his Facebook wall is made up or true, the boasting (of completing his minion toys through his 'slap policy') remains a fact.
One comment even related Archie's behavior with how consumerism overclouds the minds of some people nowadays.
"A lot of people are crossing the lines these days just so they can brag about something on social media pages. Grabe na talaga consumerist attitude ng ibang tao."

Some commenters linked Archie's behavior to the LGBT community:
"Walang lalaking gagawa ng Ganito! Panigurado B ang Archie na Ito! Mga b Lang naman ang me ganitong tendency na pattern ng tantrums its like wired in their sick brains! Yung obsesses na dapat nilang mafulfill…."

"grabe naman. LGBT wants respect pero mga member mismo ng mga taga LGBT di marunong (not all) ng salitang respeto, ung isa sinadyang idelay ang delivery man para di niya mabayarang bill na worth 266 peso lang eto naman mananampal dahil sa minion. di man sila nahihiya na ipakita kung gaano ka cheap ang ugali nila."

"Bakit napapadalas mga gay ang gumagawa ng ganyan? I support LGBT but sana alam nila rin kung paano at ano ang right ng ibang tao hindi lang sila. Pinaglalaban nila karapatan nila, sana isipin nila na may right din ang ibang tao. Huwag sana abusuhin ang ang power na meron kayo para manghamak at magmaliit ng ibang tao na may karapatan din sa mundo. Hay! People theses days"