The family and founding members of Iglesia Ni Cristo (INC) led by matriarch Tenny Manalo appealed for help in a nearly two-minute video posted on Youtube on Wednesday evening July 22. The widow of former INC Executive Minister Eraño Manalo together with her son Angel sought the help of church members revealing threats and fear for their lives allegedly orchestrated by corrupt and abusive leaders in the church.
In an agitated voice, Angel appeared at the beginning of the video asking for help and protection from their church members. Angel is the younger brother of INC's Executive Minister Eduardo V. Manalo. A recorded audio allegedly from his mother Tenny appealing for protection and prayers is also in the video which was uploaded by a certain David Romero.
Tenny mentioned that their lives are in danger especially Angel, Lottie, and their companions. Her appeal also sheds light on what is happening in the ranks of the church particularly the "Sanggunian" or Church Council and the brewing social media attacks. According to her, some ministers were abducted and nowhere to be found.
Tenny is the widow of Eraño "Ka Erdy" Manalo who was INC's Executive Minister for 46 years. He was succeeded by his eldest son, Eduardo, who was also mentioned by Tenny in the audio recording.
"At sa aking anak na si Eduardo, sana makausap kita…", said Tenny. ("And to my son, Eduardo, I wish I could talk to you").
In a blog maintained by certain Antonio Ramirez Ebangelista, the abduction of the ministers is believed to be from the 'corrupt and abusive higher ranks' in the church. The abducted ministers which came from different parts of the Philippines are said to be exposing "evil plans" by some church officials. Their families are directed to be silent.
Antonio also elaborately laid out the "morbid plan" which allegedly ordered by no other than the wife of the current Executive Minister, Babylyn Ventura Manalo.
According to the blog, the group's plans are a follows:
1. DIVIDE AND CONQUER
They will carry out a smear campaign against our very dear Bro. Erdy's family members. They will disseminate malicious and false information about Ka Erdy's family. They will utilize the district ministers, resident ministers and officers in each congregation in this information drive. Their goal is to ruin the credibility and assassinate the character of Ka Erdy's family members, in hopes that this will bring confusion to all the church members and they will struggle to know which, what and who to believe.

2. ABDUCTION, ISOLATION AND ABANDONMENT
Once they believe that they have effectively forced upon the entire Church this extreme chaos and confusion, they will abduct all the children and grandchildren of Ka Erdy. They will take them to a heavily guarded and undisclosed remote place that is now in the process of being prepared, and then leave Ka Erdy's family to starve, to get sick and eventually, to die.
During that period of time, they foresee that no church member will look for and help Ka Erdy's family because of the confusion and the bad reputation that Babylyn and the Sanggunian would have caused upon the family members.

3. A NEW EXECUTIVE MINISTER FOR THE CHURCH
Once they have succeeded in their morbid plans, they will carry out the last phase of their evil scheme – the changing of guards in the church. A new executive minister. A new church administration.
After the video appeal by Angel Manalo spread online, some members of the church call for the believers to gather and make a peaceful vigil at the back of the church main and central office along Tandang Sora, Quezon City.
"Magsadya at Magkita-kita po tayo sa central ngayong gabi para po sa Peaceful Vigil (sa Likod ng Central along T.Sora) "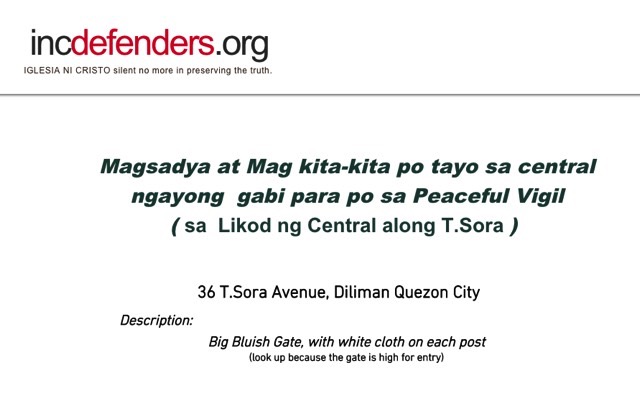 Some changed their Facebook profile image to show support to the missing ministers.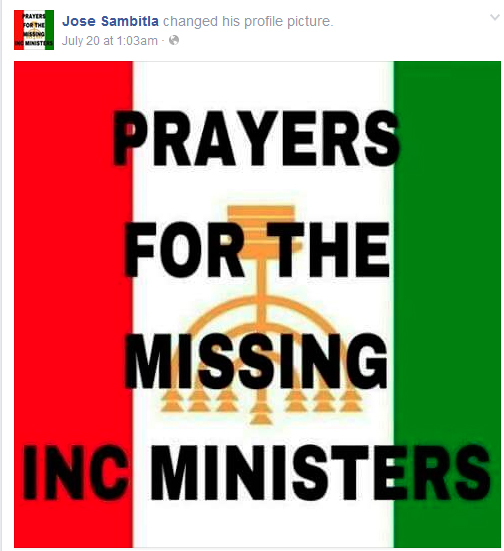 But many also believed that this is only a smear campaign against Eduardo Manalo. Some members also insinuated that Mr. Antonio Ramirez Ebangelista is the same Angel Manalo who tries to overthrow his elder brother's leadership in the church.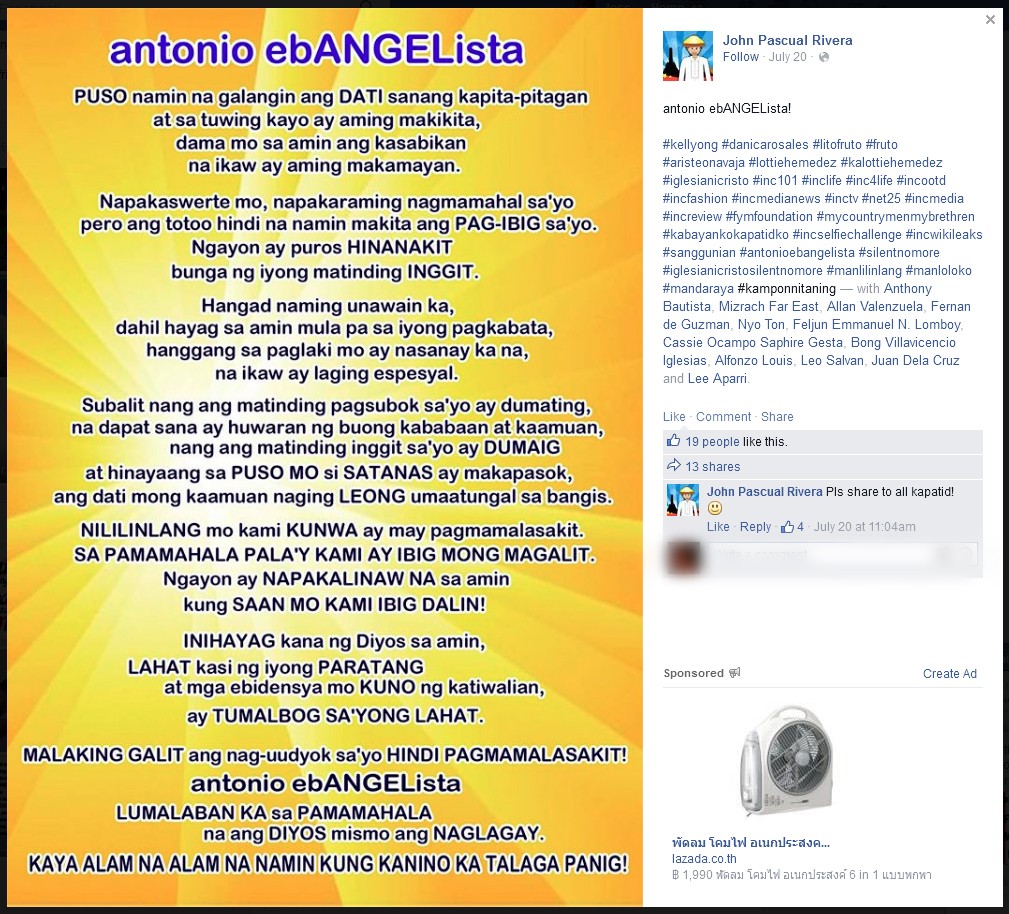 July 27, 2015 has been declared by Philippine President Noynoy Aquino as a nationwide working holiday in commemoration of the founding anniversary of the Iglesia Ni Cristo (INC).
Sources: incsilentnomore.wordpress.com, David Romero