A powerful and deadly bomb exploded near Ratchaprasong intersection Monday around 6:55 pm. At least 10 people are confirmed dead and several others are injured. Cars nearby were damaged as the bomb blasted near the Erawan Shrine. The iron fence surrounding the shrine was reportedly bent by the force of the explosion.
The bomb caused chaos and panic in one of the busiest and center of political demonstrations in Thailand in recent years. Witnesses say the blast was heard as far as the Lumpini Park.
"I can confirm it was a bomb, we can't tell which kind yet, we are checking." said national police spokesman Lt Gen Prawut Thavornsiri.
UPDATE: As of 9:56 Police Chief said that there are 16 people killed and approximately 80 people were hurt as bomb rocked the famous Erawan Shrine earlier today.
2 Chinese nationality, 1 Filipino and 1 Thai were declared dead at Police Hospital.
Dead at Police Hospital: Chinese 2, Filipino 1 & Thai 1 – RT @kapookdotcom: รพ.ตำรวจ เผย 4 ศพเสียชีวิต เป็นจีน 2 ฟิลิปปินส์ 1 และไทย 1 ราย

— Richard Barrow (@RichardBarrow) August 17, 2015
Thai media confirmed that the bomb was hidden under a bench and did not come from a motorcycle as reported earlier.
9:40pm Thai media reporting that the explosion was from a TNT bomb hidden under a bench and not a motorcycle bomb #Bangkok — Richard Barrow (@RichardBarrow) August 17, 2015
Photos and videos from netizens (warning: graphic contents).
19.42น. วงจรปิดเหตุระเบิดที่แยกราชประสงค์ เบื้องต้นเสียชีวิต 5 คน บาดเจ็บ 25 คน #onenews pic.twitter.com/2DNDrI74Ah

— ธัญญธร onenews (@dekdue_03) August 17, 2015
#Bangkok pic.twitter.com/Wtlj22j8wh — Ti JaaZ (@tijaaz) August 17, 2015
Bomb attack at Bangkok's Erawan Shrine • August 17, 2015

Video shows first-hand perspective of the blast at Bangkok's Erawan Shrine, as experienced by a Chinese tourist on Monday, 17th August 2015.19 people have been killed so far in the bomb attack, including at least 10 Thais, 3 Chinese, 2 Malaysians and 1 Filipino.Courtesy: Shanghaiist **Purely Digital FM Radio • Crisp and Clear Sound**Web-listening: www.djdonzchannel19.comalso available on Android & Apple's iOS for FREE • Install Now!Just search: Channel 19 Digital FM Radio

Posted by Dondon Valles Jr Pisenable on Monday, August 17, 2015
ระเบิดแยกราชประสงค์….แบบว่าใกล้สุดๆเลยครับที่มา : Purit Akarabenjaphon

Posted by Youlike69 on Monday, August 17, 2015
แรงขนาดนี้ ..... กลางเมืองแบบนี้ไม่ใช่เรื่องเล่นๆล่ะครับเคดิส Pimornrat Posted by ตาเบิ้ล ร้าน on Monday, August 17, 2015
คลิปวิดีโอจากสถานที่เกิดเหตุระเบิดหน้าศาลพระพรหมเอราวัณ โดยโจนาธาน เฮด ผู้สื่อข่าวบีบีซีรายงานว่า เหตุระเบิดครั้งนี้เป็นเหตุการณ์สะเทือนขวัญครั้งร้ายแรง เนื่องจากไม่เคยเกิดเหตุการณ์ในลักษณะนี้มาก่อนในกรุงเทพฯ ระเบิดซึ่งมีอานุภาพรุนแรงทำให้มีผู้เสียชีวิตและบาดเจ็บสาหัสจำนวนมาก โดยในจำนวนนั้นเป็นนักท่องเที่ยวชาวจีนหลายราย Posted by บีบีซีไทย - BBC Thai on Monday, August 17, 2015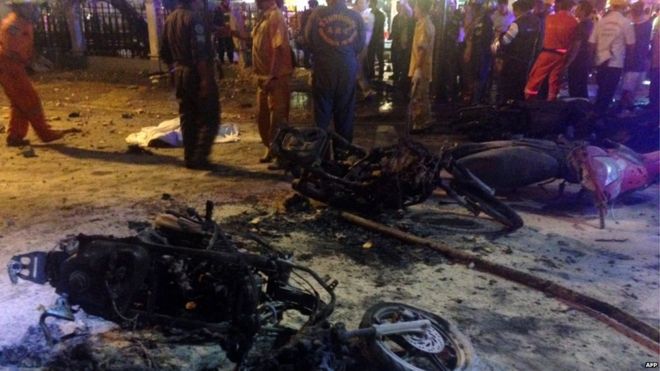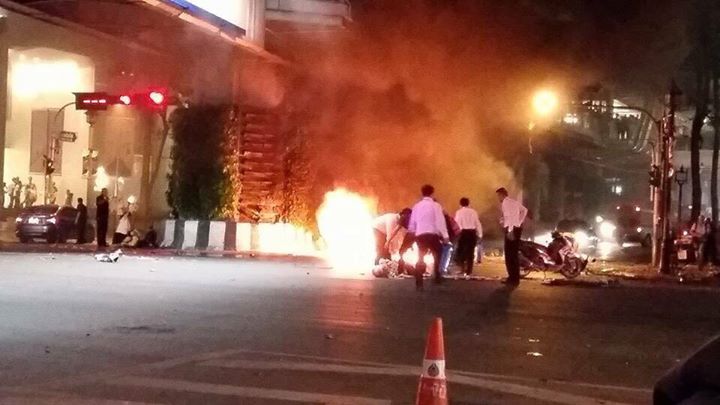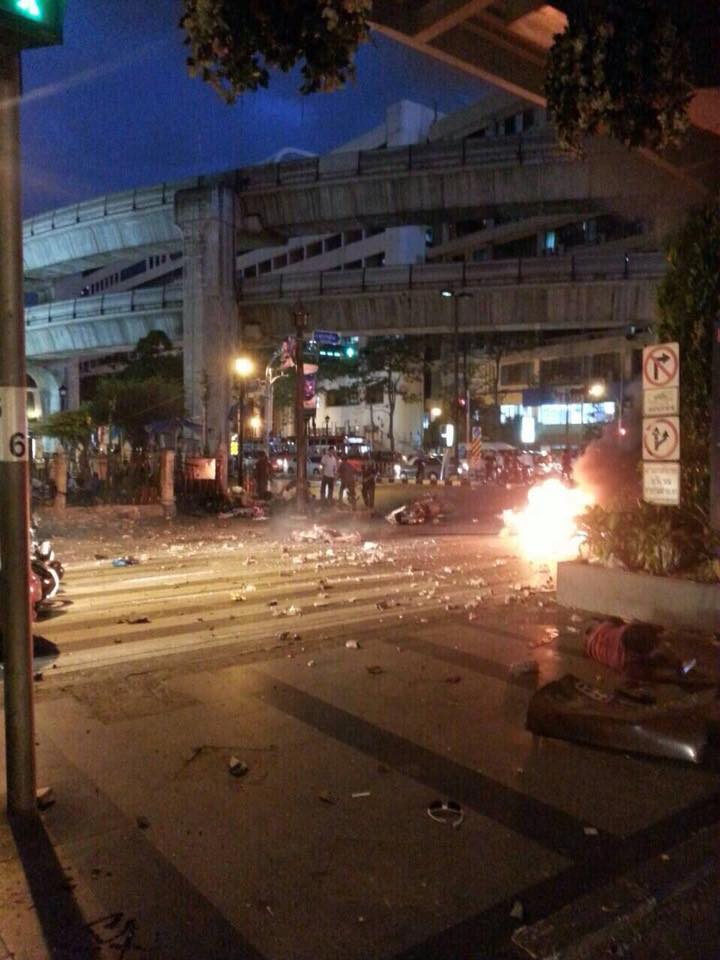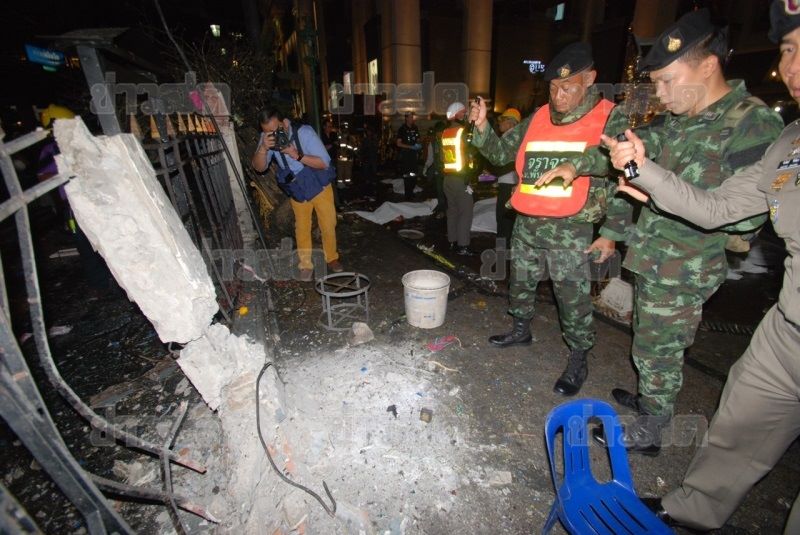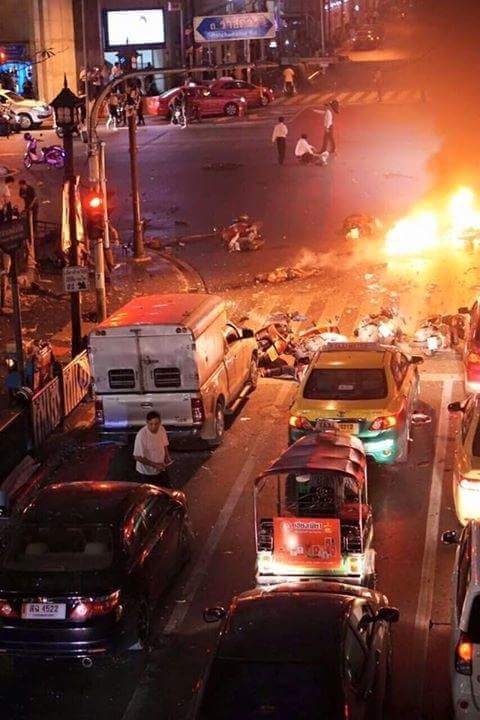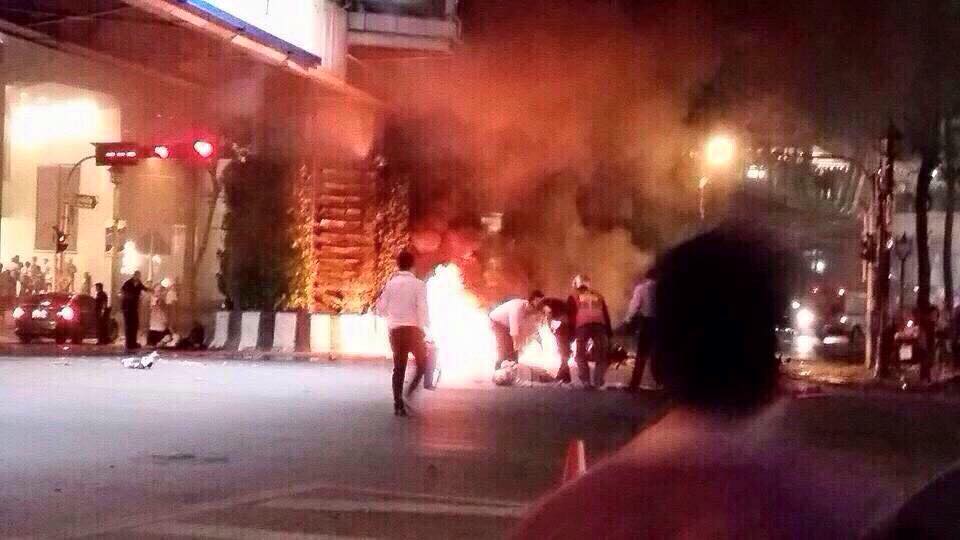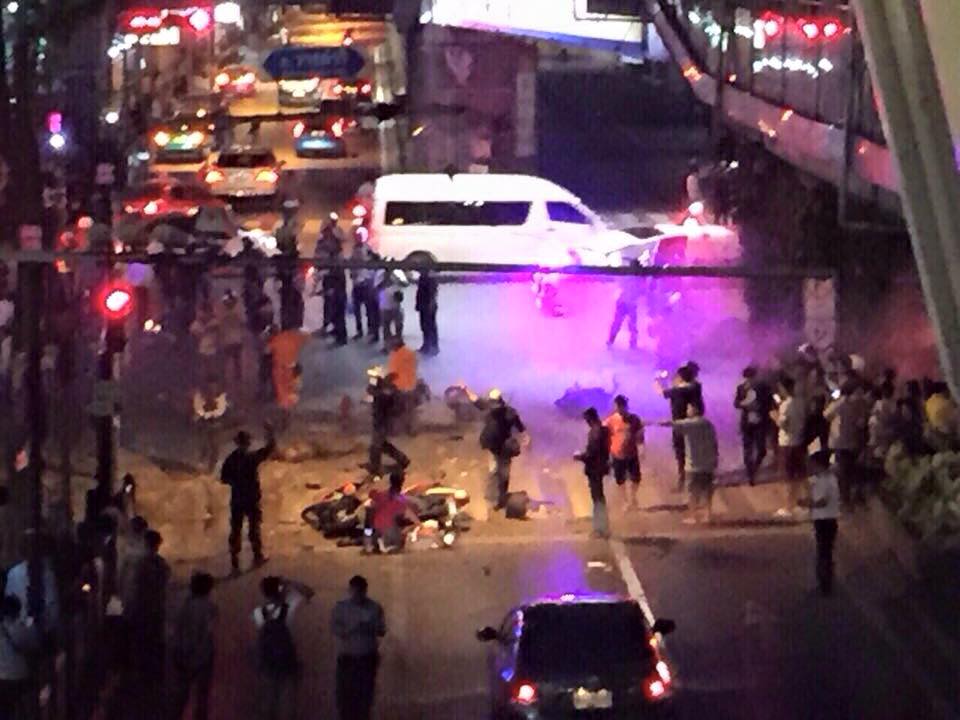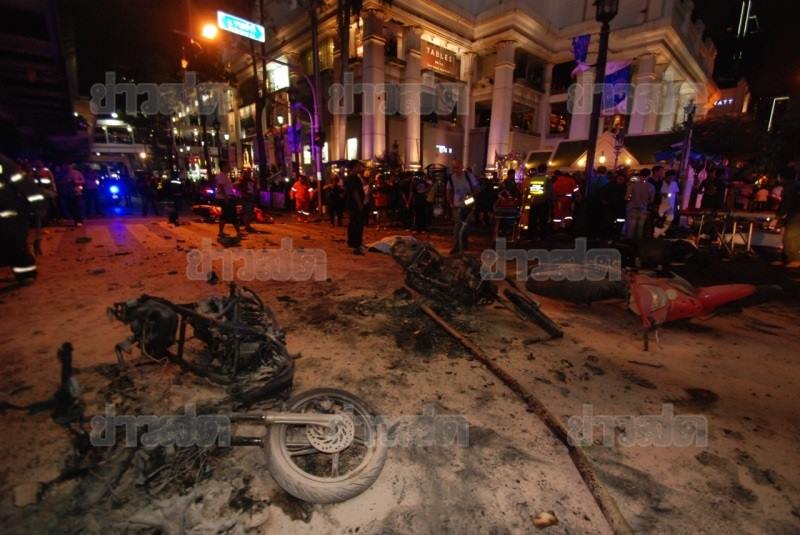 Sources: Thai PBS, Bangkok Post