To boost the country's tourism industry, Thailand's Ministry of Foreign Affairs has announced the granting of a new multiple entry tourist visa effective November 13, 2015.
The announcement which was made through the ministry's Facebook page says:
"Thailand will soon grant multiple-entry visas to visitors to facilitate the forthcoming ASEAN Community and to boost Thailand's tourism industry.

The multiple-entry tourist visa (METV), costing 5,000 baht, will grant travelers multiple entries during a 6-month period, for up to 60 days per entry.

All foreign nationals are eligible to apply for METV.

Thailand's METV will be available from 13th November 2015."
The ministry first announced this new multiple entry tourist visa in August but was officially confirmed earlier this week following its publication on the Government Gazette.
Thailand has implemented stricter rules and visa procedures early this month after reports surfaced saying that the Bangkok bombing suspects bribed a Thai-Cambodian border to enter the country.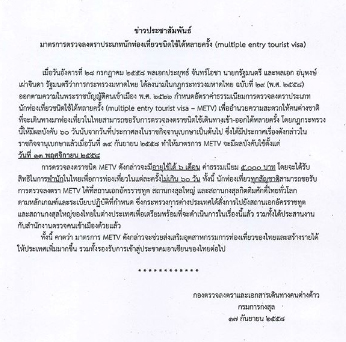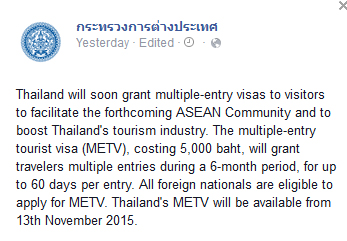 Source: Thailand Ministry of Foreign Affairs