After weeks of manhunt and investigation, Thai police decided to conclude the case of the famous Bangkok bombing in August 17 that killed 20 people and injured more than 100, police announced in a press conference on Monday, September 28.
The decision came after the confession of Bilal Muhammad who is also known as Adem Karadag, a foreigner arrested in connection with deadly blast at Bangkok's popular Erawan Shrine.
Over the course of the five-week investigation, the police said to have interviewed 200 witnesses and reviewed footage from security cameras around the area. They have also found ball bearings and pieces of a damaged bag believed to have carried the bomb at the shrine.
The police also narrated yesterday that previous raids at two apartments in the Minburi district revealed matching detonators and ball bearings.
"The case is now concluded. Perpetrators are members of a human-smuggling network," said police chief Somyot Poompunmuang. He added that the two blasts, the other one rocked Sathorn Pier on Aug 18, were "retribution" for the Thai government's crackdown on human trafficking.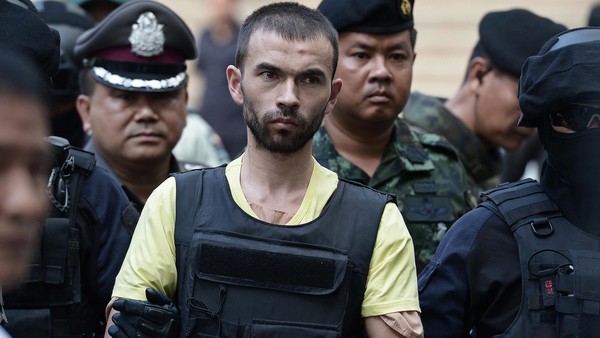 Police have since named 17 suspects including two Thai nationals connected to the bombings in August. One of them is a man known as Odd Payungwong or Yongyuth Popkaew. Of the 17 suspects, two have been arrested, including Bilal, who carries a Turkish passport, and Yusufu Mieraili. They both confessed to have an involvement in the attacks at the Hindu shrine and the pier.
"The two suspects confessed because of the witnesses and evidence gathered. We did not force them," added the police chief stressing that they have enough evidence to prove their guilt.
Meanwhile, Mr Odd's connection with the past explosions suggested that the August bombings could involve more than one group driven by different motives, the police chief said.
Police said he is also linked to a separate bombing in Nonthaburi District in 2010 and another in Minburi District in 2014. They also have not ruled out a political motive behind last month's Bangkok bombings after a Thai suspect was found to have links to two politically-motivated bombings in Nonthaburi in 2010 and Min Buri last year.
"However, we haven't ruled out the possibility that this group could have been hired by others. More investigation is needed," Somyot added.
Source: Channel News Asia