While the APEC 2015 Summit promises to boost economy in the country, it brings disruption and discomfort to commuters, street dwellers, office workers, among others. Not everyone is happy.
One netizen, Kenneth Manuel, detailed some of his frustrations related to APEC 2015 Summit which can be read below. Another netizen, Apple Jojo, shared her response which can be read in this link. Pinoy Thaiyo suggests readers to read both sides as both are informative and eye-opener.
Here is Kenneth Manuel's text:
If you have to suspend work and classes to avoid traffic on an international summit, it's evidence that there's something wrong with public transportation.

If you have to provide a special lane for visitors and delegates, it's evidence that there's a problem in infrastructure.

If you have to hide the homeless for the streets to look good, there's something wrong with social welfare and housing.

So, Filipinos, how's the day of being slapped as a second-class citizen?

It hurts that we have to suffer traffic every day, but the government gives a fast lane to APEC delegates.

It hurts that street lights get fixed and public cleanliness is at its maximum for this summit, but we have been so used to being patient, silently suffering, for the poor services they provide.

It hurts that they'll be provided with internet with speeds of up to 8.5gbps, while we continue to crawl at kbps speeds.

It hurts that Manila looks so presentable this week, not because the Filipino people deserve it, but because the government wants the APEC delegates to see our fake beauty.

It hurts that the government knows there is a problem but does not solve it unless foreigners will come. It hurts that the government can serve them so much better.

It hurts that we are second-class citizens in our own nation. We all deserve Manila at its best every day, not only when foreigners come to visit.

When hospitality becomes too much, it becomes a self-sacrificing hypocrisy.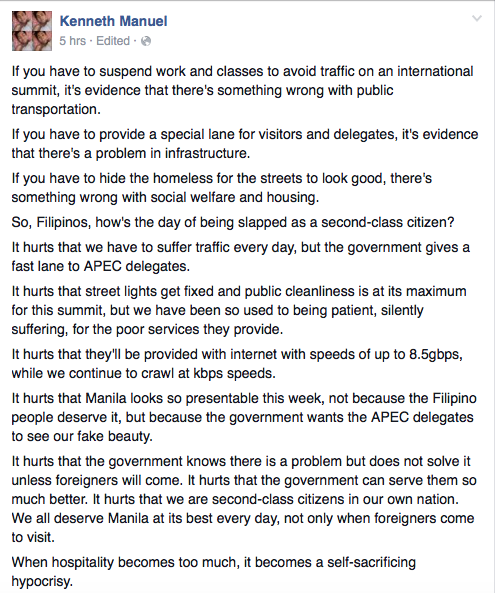 Do you agree? Don't forget to read Apple Jojo's response point-by-point in this link.