Since its inception in 2013 the Bangkok Hilarious team has had one clear goal in mind: to make Bangkok the ASEAN's comedy capital while turning the Land of Smiles into the Land of Laughter one punchline at a time.
Bangkok Hilarious is the oldest and first comedy collective to take English stand-up comedy to the 4 corners of the big mango, flying in renowned comedians, setting up workshops to recruit and support local talents and organizing Thailand's first local comedy competition in 2014. These guys have shown that they don't joke around when it comes to comedy.
This year, they have stepped up their game a notch, collaborating with Signal Flair to bring you its most ambitious event to date, "Stand-up Bangkok!", Thailand's 1st Annual International Comedy Competition. The event is a two-day comedy extravaganza where 12 comedians from around the globe via Asia will descend on the Land of Smiles and try to take home the trophy and the 2015 Champion title.
The competition will take place at Sportsman bar, Sukhumvit Soi 13 on December 11th and 12th at 8pm and it features comedians from U.S, England, Japan, Hong Kong, India, China and Thailand. Hosting the competition is Mr. Jameson Gong, the Godfather and founder of the Asian Stand up comedy. Jami, as he likes to be called, is the founder of TakeOut Comedy and The TakeOut Comedy Club Hong Kong, the first full time comedy club in Asia. Born in New York City, he has performed all over the USA and has appeared on "Late Night Show with Conan O'Brien" before taking a leap of faith and moving to Hong Kong to start the most successful English Stand Comedy Club in Asia.
Tickets can be bought at ticketmelon.com for 500THB for a single or 900THB for a 2-night pass in advance or at the door on the night of the event for 700THB for a single and 1,200THB for the 2-night pass, all tickets come with two complimentary drinks.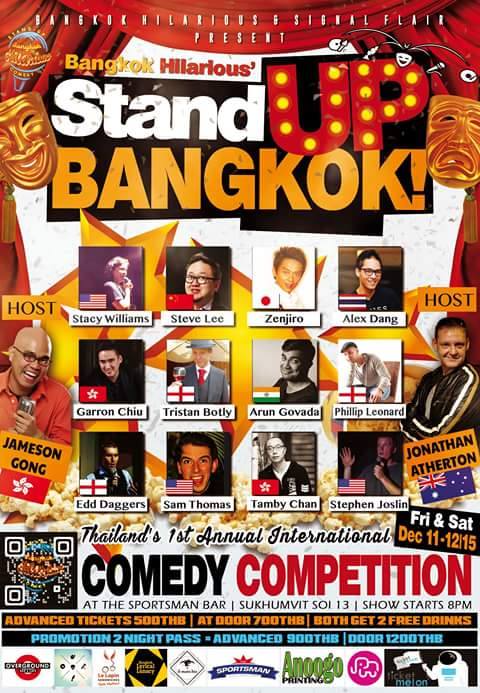 More about the Collective and Organizers:
Bangkok Hilarious, Leandro Soares's brainchild, was founded in March 2013 with the indispensable support of the local up-and-coming and veteran comedians alike including Graham Wooding and Lucas Olbinski who later went on to become the group's first coordinators. Together they had a simple goal of expanding the comedy scene and provide opportunities to upcoming comedians in a more democratic and supportive way than it had been done by the existing comedy collective back then.
Leo, a Brazilian expat and former DJ with a knack for making people laugh, made a name for himself as a comedian when he won the first ever open mic competition last year here in Bangkok. Since then, he added a couple more accomplishments under his belt by becoming a semi-finalist in the "Laugh Off 2015" Korean International Comedy Competition as well as one of the top 20 comedians nominated to represent Asia at the Jokenation Montreux Comedy Festival. He has performed in Hong Kong, Cambodia, South Korea and Japan.
Graham Wooding, a hilarious Englishman with a great observational and sarcastic sense of humor was one of the first coordinators to join the group a few months after its foundation and the only experienced comedian the group had initially. Grem joined the professional UK circuit in 2004 and spent 5 years honing his craft and touring the UK, performing solo and with comedy groups. He is a veteran of 4 Edinburgh comedy festivals having worked as a performer, writer and director.
Lucas Olbinski is a Polish expat with an English vocabulary that would make Shakespeare speechless, with his witty and clever observations ranging from topics as mundane as a BTS ride to political events. Lucas helped set up two of the group's most successful shows in its first year before returning to Poland but he raised the bar to a height that kept the remaining coordinators struggling to follow.
Today the Bangkok Hilarious Collective is run by coordinators Dusty Beckwith, Delfin Solomon, Melissa Faller, and Ryan Mapacpac with the help of founder and offshore coordinator Leandro Soares.
Sponsors: Sandport Beer, Anoogo Printing, Ticket Melon, Overground Bar & Cafe, IL-MATO and Pink Elephant Promotions.
For more information, email bangkokhilarious@outlook.com or visit www.bangkokhilarious.biz and facebook/bangkokhilarious.
By: Bangkok Hilarious and Signal Flair organizing team