Senator Grace Poe is still leading the presidential race with 28 percent of votes despite two unfavorable decisions by the Commission on Elections (COMELEC) given her, the latest Standard Poll showed.
Vice President Jejomar Binay and former DILG Secretary Mar Roxas are pulling off in the second and third place with 23 percent and 22 percent shares of votes respectively.
Meanwhile, Mayor Rodrigo Duterte is in the fourth place (19%). This is in contrast to the recent SWS survey commissioned by a Davao-based businessman, William J. Lima, which showed Duterte on the top.
Senator Miriam Santiago takes the bottom place with 3% votes. Four percent of the respondents say they are still undecided.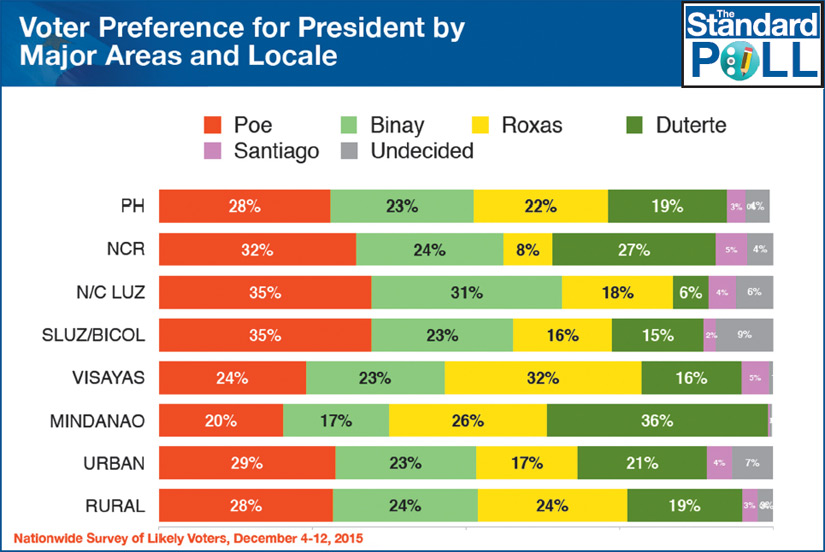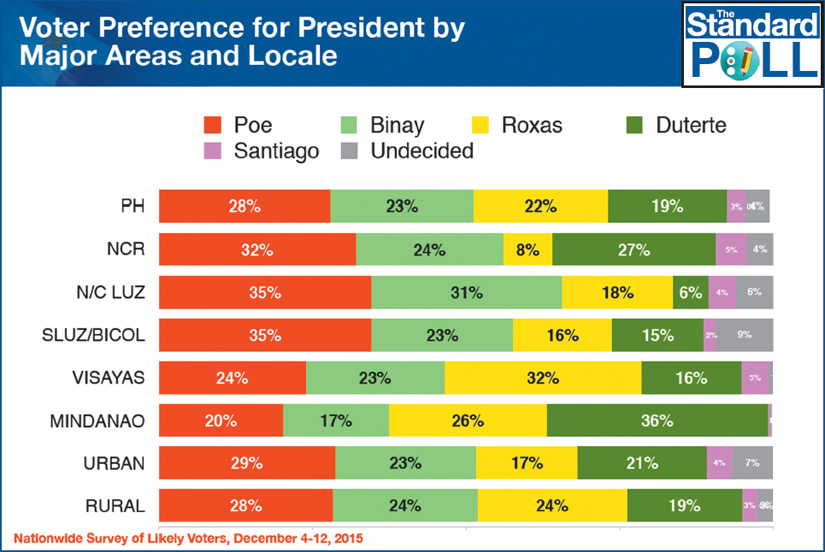 The survey shows Poe and Binay got huge share of votes from Luzon, NCR, and Bicol region. Roxas bulk of votes is from the Visayas and Mindanao, while Duterte's most votes are from Mindanao and NCR.
The nationwide survey was conducted on December 4-12, 2015 and covers controversial issues such as disqualification decisions against Poe, and Duterte's cursing of Pope Francis.
The 1,500 respondents were from the 76 provinces across the country and the 17 cities in the National Capital Region. The respondents are registered voters with biometrics and are sure voters in the May 2016 elections, reports said.
The survey was conducted by The Standard through its resident pollster Junie Layco which claims to have a margin error of plus or minus 2.6 percent.
Source: The Standard