Three of the county's biggest and most prestigious universities have chosen Senator Miriam Defensor-Santiago as next president in 2016.
In a recent poll conducted by the University of Santo Tomas official student publication, The Varsitarian, the feisty senator topped the presidential poll getting 66 percent of 1,366 respondents.
The poll was conducted from Oct. 26 to Dec. 10, 2015.
Santiago was followed by Liberal Party standard bearer Mar Roxas with 8 percent, Sen. Grace Poe with 5 percent, and Vice President Jejomar Binay with 3 percent. Seventeen percent of the respondents were undecided.
Santiago also topped two other campus polls at Polytechnic University of the Philippines and University of the Philippines Los Baños, held shortly after the deadline for the filing of certificates of candidacy on Oct. 16.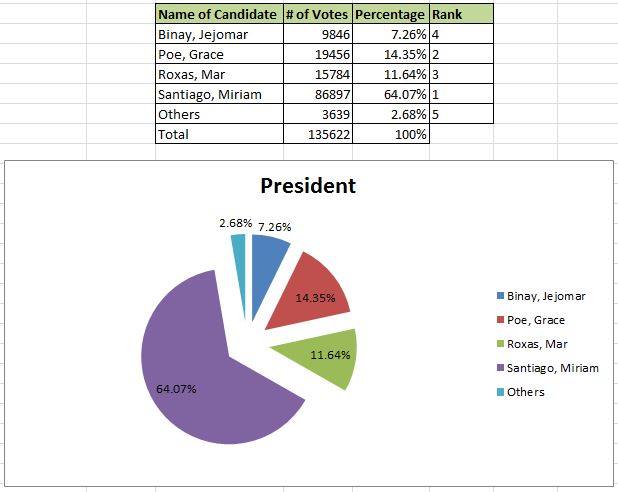 "Clearly, students know the presidency is no place for the weak-minded, the inexperienced or the corrupt. It appears that they give weight to my criteria for leaders: Academic excellence, professional achievement and sincerity," said Santiago in a statement.
Santiago said she remained top-of-mind at colleges despite not releasing campaign ads on television. She is counting on the youth vote, which accounts for 40 percent of the country's 54 million voters, to carry her to victory in 2016.
"We expect that all of us (candidates) will be vilified which is why it is important that we use social media to see the truth in this campaign period," she said.
Davao City Mayor Rodrigo Duterte was not included as he had not filed his certificate of candidacy yet when the surveys were conducted.
Source: newsinfo.inquirer.net, facebook.com/pup1904