The Virgin of Peñafrancia Association (VOPA) is inviting believers to the Feast of Our Virgin of Peñafrancia on September 15-18, 2016 at Maria Rosa Mystica Parish Church on Soi 124 Ladprao, Bangkok.
Themed as "Jesus Christ, the face of God's mercy, nourishes the family in the Eucharist", the four-day celebration will start with Triduum Prayers from September 15-17 and the Feast Day follows on the 18th.
VOPA is a religious organization whose members are devotees of Virgin of Peñafrancia. It was officially established in Bangkok, Thailand on September 19, 2004.
Below is the program of activities.
15-17 September 2016: Triduum Mass
15-16 September 2016 (Small Chapel)
6:00 PM – Praying the Holy Rosary in English
6:30 PM – Praying the Holy Rosary in Thai
7:00 PM – Holy Mass

16 September 2016 after Triduum Mass: Image of Our Virgin if Peñafrancia to be transferred to Main Church and brought back to Small Chapel after Anticipated Mass (Maria Rosa Mystica (MRM) Parish Council)
17 September 2016 (Main Church)
5:00 PM – Praying the Holy Rosary in English
5:30 PM – Praying the Holy Rosary in Thai
6:00 PM – Holy Mass (anticipated Mass for September 18, 2016)
18 September 2016: Feast Day
7:30 AM – Praying the Holy Rosary (Small Chapel)
8:00 AM – Blessing of the Blessed Sacrament (Small Chapel)
8:30 AM – Exposition and Eucharistic Adoration of the Blessed Sacrament (Small Chapel)
9:50 AM – Transfer of Images of Our Virgin of Peñafrancia and Divino Rostro from Small Chapel to Main Church (in coordination with MRM Parish Council)
10:00 AM – Holy Mass (Main Chapel)
11:00 AM – Procession around the Church and Floral Offering
12:00 NN – Fellowship (Social Area – Basement of Main Church)
2:00 PM – Retreat and Recollection (Small Chapel)
4:00 PM – Cleaning and Clearing
PHOTOS: Feast of Our Virgin of Peñafrancia 2015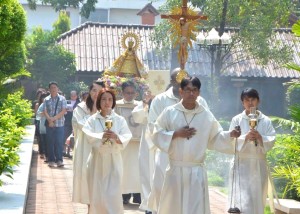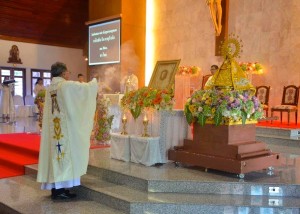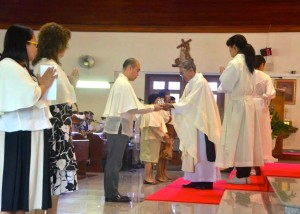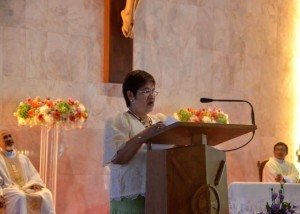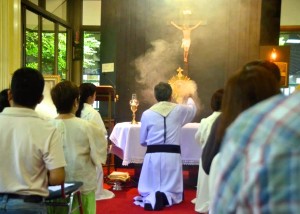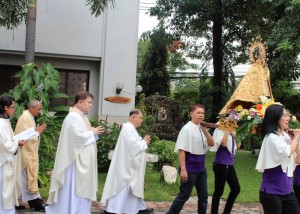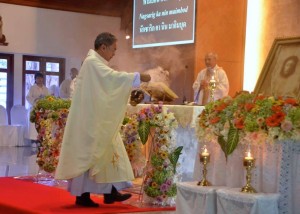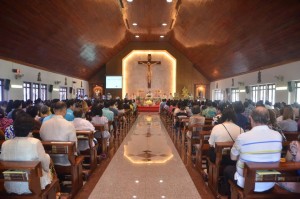 Photos courtesy of VOPA