The Tourism Authority of Thailand is inviting the public to join the "Showing of Gratitude to His Majesty the late King Bhumibol" on December 5, 2016, Monday from 5:00 to 8:00 am at Bhumibol Bridge I.
According to the invitation posted by PR Thai Government website and Facebook page, the activities include giving offerings dedicated to 999 monks, writing down an aspiration for good deeds, singing the royal anthem and "The Impossible Dream" song, and free distribution of 50,000 commemorative pins and auspicious soil from 77 provinces.
December 5 is the birthday of the late His Majesty King Bhumibol Adulyadej. It is a national holiday and is usually celebrated with reverence with a series of events taking place all over the country to honor the king.
The venue, Bhumibol Bridge is located on Rama 3 Road in Yannawa, Bangkok. It is also known as the Industrial Ring Road Bridge.
For more information please contact 1672.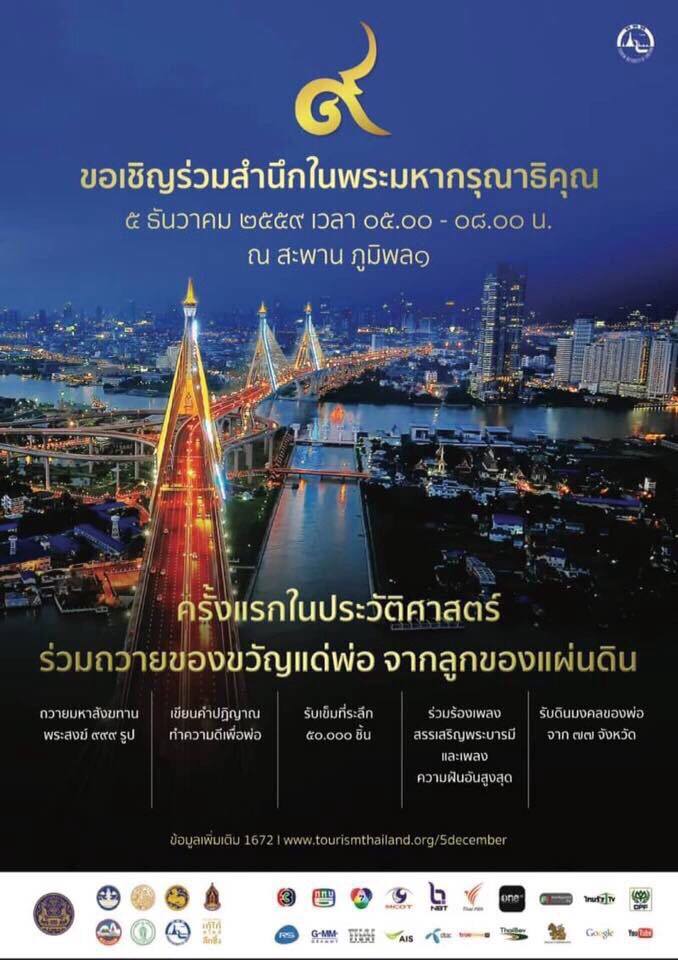 Sources: PR Thai Government website, Facebook           Photo: Thai PBS