Aside from the typical BTS-MRT scenario during rush hour, the grueling hours standing inside the bus, and long queues at the bus stops, commuters tend to forget one mode of transportation that has made "home run" easier, comfortable and faster – the van routes.
Vans (รถตู้) have been a staple in the Victory Monument area as it eases passengers of long lines and having to stand uncomfortably inside buses and mass transportation. However, for Filipino expats, this mode has not yet been much discovered. If your Thai speaking skill is way lower than average, this van routes list might be for you and this is where we would like to help.
Listed below are the van numbers and their van destinations. We have checked some of the routes and numbers are accurate, but some might not be operational now so please take atleast extra precaution when taking on these vans.
Fare starts from 10-40 baht depending on the distance and route.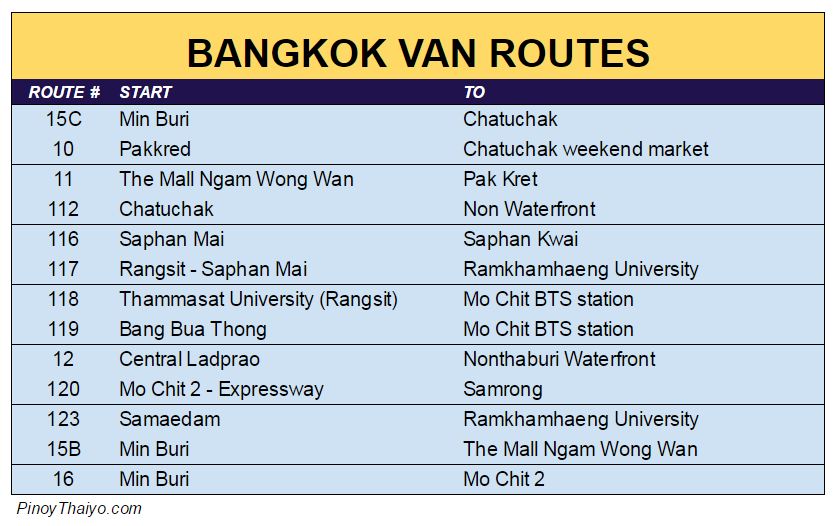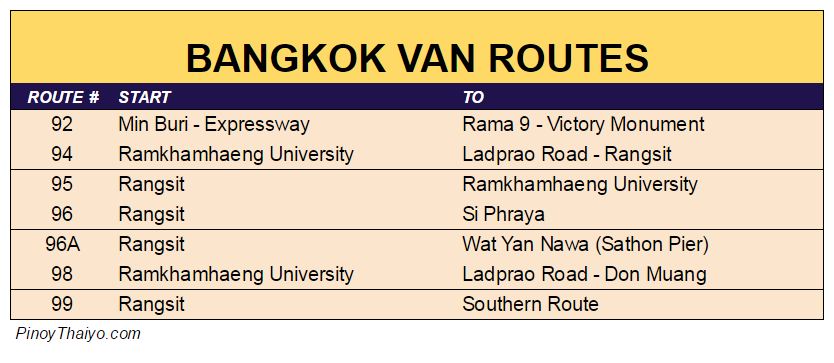 (Text version)
BANGKOK VAN ROUTES
ROUTE #
START
TO
15C
Min Buri
Chatuchak
10
Pakkred
Chatuchak weekend market
11
The Mall Ngam Wong Wan
Pak Kret
112
Chatuchak
Nonthaburi Waterfront
116
Saphan Mai
Saphan Kwai
117
Rangsit – Saphan Mai
Ramkhamhaeng University
118
Thammasat University (Rangsit)
Mo Chit BTS station
119
Bang Bua Thong
Mo Chit BTS station
12
Central Ladprao
Nonthaburi Waterfront
120
Mo Chit 2 – Expressway
Samrong
123
Samaedam
Ramkhamhaeng University
15B
Min Buri
The Mall Ngam Wong Wan
16
Min Buri
Mo Chit 2
| | | |
| --- | --- | --- |
| ROUTE # | START | TO |
| 21 | Min Buri Market – Suwinthawong | Nong Chok |
| 21A | Bangkapi – Sukhapiban | Nong Chok |
| 22 | Min Buri | Pak Kret |
| 24 | Min Buri – Market | Bangplee |
| 25 | Min Buri Market | Romklao |
| | | |
| --- | --- | --- |
| ROUTE # | START | TO |
| 31 | Bang Na | Southern Route |
| 37 | Chatuchak | Bua Thong Thani |
| 39 | Min Buri | Rangsit |
| | | |
| --- | --- | --- |
| ROUTE # | START | TO |
| 41 | Bangkapi – Vibhavadi | Mobaan Rattanakosin |
| 42 | Ramkhamhaeng University | Saphan Mai – Rangsit |
| 43 | Ramkhamhaeng University | The Mall Ngam Wong Wan |
| 47 | Mo Chit 2 | Southern Route |
| | | |
| --- | --- | --- |
| ROUTE # | START | TO |
| 53 | Bang Na – Bangplee | Bangbon |
| 56 | Bangkapi – Romklao | Ramkhamhaeng University |
| 57 | Bangkap – Sukhapiban 2 – Min Buri | Nong Chok |
| | | |
| --- | --- | --- |
| ROUTE # | START | TO |
| 65 | MBK | Pantip Ngam Wong Wan |
| 68 | Big C Rama 2 | Mahachai Pier |
| 69 | Victory Monument | Bank of Ayudhaya (Head Office) Rama 3 |
| | | |
| --- | --- | --- |
| ROUTE # | START | TO |
| 70 | Ramkhamhaeng University – Expressway | Victory Monument |
| 71A | Thonburi | Victory Monument |
| 73 | Thonburi | Bang Na |
| 76 | Pata | Bangbuathong |
| 78 | Pongpetch | Bangbuathong |
| 79 | Nonthaburi Pier | Kastsart University |
| | | |
| --- | --- | --- |
| ROUTE # | START | TO |
| 8 | Pinklao | Ban Bua Thong (village Rattanathibet) |
| 8/3 | Siriraj | Bua Thong Thani |
| 8/5 | Pata | Sai Noi District |
| 8/6 | Pinklao | Bang Bua Thong District (outside Line) |
| 80 | Nonthaburi Pier | Ramkhamhaeng University |
| 80-1 | The Mall Bang Kapi | The Mall Ngam Wong Wan |
| 83 | Thonburi | Bangkok University (Rangsit) |
| 83A | Rangsit | Bang Kae |
| | | |
| --- | --- | --- |
| ROUTE # | START | TO |
| 92 | Min Buri – Expressway | Rama 9 – Victory Monument |
| 94 | Ramkhamhaeng University | Ladprao Road – Rangsit |
| 95 | Rangsit | Ramkhamhaeng University |
| 96 | Rangsit | Si Phraya |
| 96A | Rangsit | Wat Yan Nawa (Sathon Pier) |
| 98 | Ramkhamhaeng University | Ladprao Road – Don Muang |
| 99 | Rangsit | Southern Route |
Under
Buhay OFW
,
Public Service
,
Staff Pick
,
Suggested Posts
,
Travel
,
BTS
,
commuter
,
OFW
,
routes
,
van
,
Victory Monument