Two Filipino teachers got into a motorcycle accident on Wednesday August 15 and then one of them was again hit by another car as he fell off the motorcycle.
Nats Lantacon and Jay Ford Gonzales were trailing through Pinklao road when a bus tailing behind them hit their motorcycle. Lantacon was driving at about 9:00 o'clock in the evening. Luckily Lantacon was on sustained minor injuries but Gonzales, who was again hit by another car had to undergo a series of operations. He is again scheduled for another operation and re adjustment of the screw on his right pelvic part.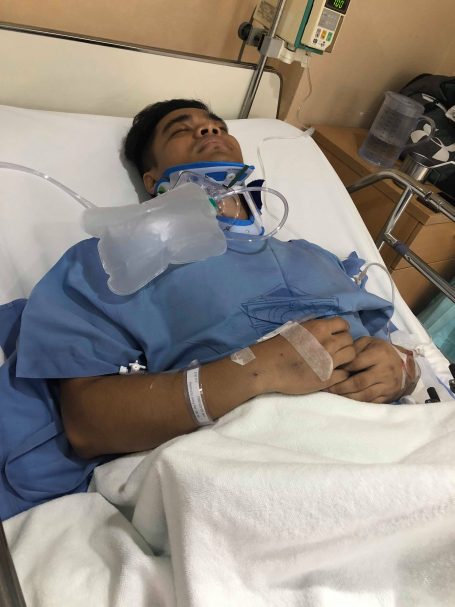 They are appealing for any financial help form the Filipino community.
Here is the detailed incident which was posted by Lantacon who was driving the motorcycle during the accident:
Good day my friends. I would like to apologize to those people who I have not informed about the unfortunate incident I suffered with Mr. Jayford Gonzales in the evening of Wednesday, 15th of August. At the time being, we would like to contain and control the situation as we didn't want our close friends and relatives to be distraught and troubled. However, we couldn't be grateful enough to the tremendous support given to us by our friends, co-workers, students, and parents and at this point, kindly allow me to detail this inauspicious event as we would like to knock on your kind hearts to show us your support at these trying times.
It was about 9 o'clock that Wednesday night, I was driving my motorcycle with Jayford behind me, trailing the busy road of Pinklao. It was about 10-15 meters away after we made our turn towards Pata, when suddenly Jayford was screaming about a speeding bus tailing behind us. By the time that I looked at the side mirror, it was already late as the bus had already hit us. As I was trying to gain control, little did I know that we had already fell to the ground a few meters away from the motorcycle. At that time, I was more concerned about Jayford than myself, and when I found him, I could not seem to paint his face in my mind as he was suffering from severe pain at the lower part of his body. Crowd gathered around us as I was trying to keep sane while keeping both my arms around Jayford's body. The driver came down and made allegations that we were drunk that we almost made an altercation in the scene. We were grateful that the bystanders took our side, settled the issue, and immediately called Siriraj hospital.
I suffered from minor injuries, just scratches and bruises on my left arm and left leg. However, Jayford got major injuries specifically from fractured pelvic bones and impaired urethra. He already received the first stage of operation the first night on his pelvic bones wherein rods were screwed to keep his hips in place. For the urethral procedure, an incision was made on his abdomen to connect the catheter to his bladder for urination. He will undergo the second procedure on his pelvic bones on Monday. The hospital expenses including all medicines and procedures procured during the first night reached more than 24,000 baht.
It was only the next day that I learned from Jayford that he was also hit by another car as he fell from the motorcycle. Had it come to our knowledge earlier, we would have obliged the driver of the car for further financial assistance. As of the moment, we are currently on the process of investigating the matter.
Gratefully, with the help of many friends, the bus company has waived 80,000 baht for his hospital expenses. His former employer waived 10,000 baht for the recuperation expenses. Some friends and fellow Filipinos from SWD Kapamilya have also raised a substantial amount. However, with the current situation, we will be needing more financial support and we are seeking your assistance in his medical expenses.
Currently, we are waiting for the response of OWWA (Overseas Workers Welfare Administration) for the additional financial aid.
Should you be interested in making donations, kindly contact me or send your financial help directly to his bank account:
KASIKORN BANK
004-3120-794
JAYFORD GONZALES
(P.S Kindly send or post the transaction receipt here for auditing purposes). Thank you very much and may God bless us all.