The Philippine Floorball National Team is now in Bangkok for the Qualifying Round of Women's Floorball Championship 2019 from January 27 to February 1 at Indoor Stadium Huamark, Sports Authority of Thailand.
Aside from the Philippines, other countries joining the competition are Australia, Japan, New Zealand, Thailand, Singapore, Korea and Malaysia.
Competition will start on January 27. Below is the schedule of the Philippine team:
January 28, Monday (6:00 pm) – Philippines vs New Zealand
January 29, Tuesday (3:00 pm) – Philippines vs Australia
January 30, Wednesday (3:00 pm) – Philippines vs Thailand
The rest of the schedule depends on the game results.
The Philippine Embassy is inviting the Filipino Community to watch and cheer for the Filipino players. Free tickets are available upon request at Thailand Hockey Association. You may call THA at 0832257812.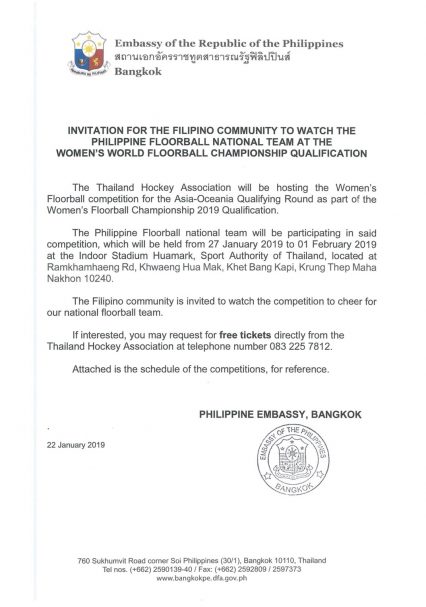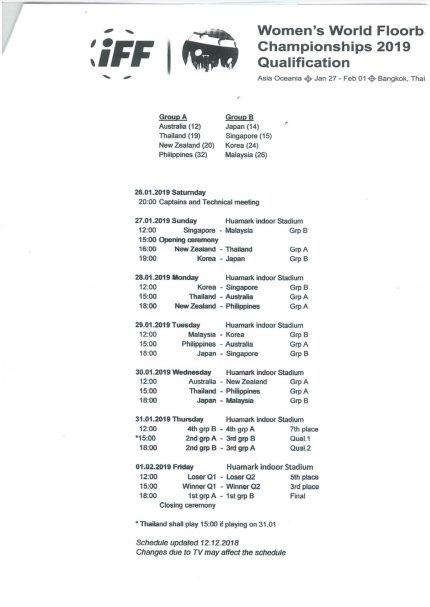 Source: PHL Embassy
Photo: Philippine Floorball