Yes, you read it right! PinoyThaiyo is publishing its first printed edition this year.
The 52-page magazine features important events, people and FilCom organizations that have made an impact in the lives of the Filipinos in Thailand. It also covers helpful information about the Philippine Embassy in Bangkok and other relevant stories that have transpired in our host country.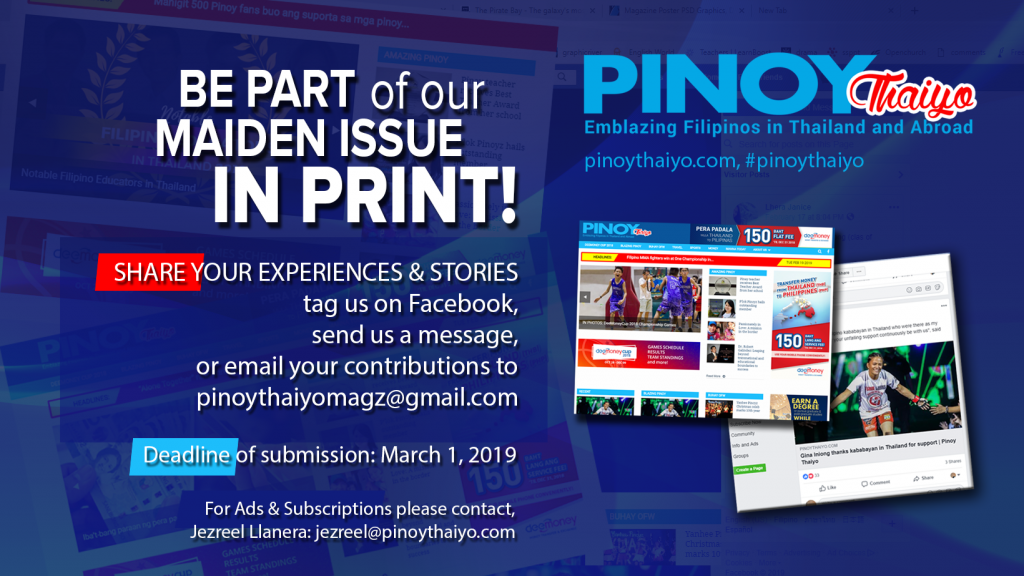 PinoyThaiyo is the product of a collaboration of around 30 Filipino writers, English teachers, bloggers, graphic designers and photographers. Though the original plan was to create creative contents that will promote the Philippines and help the Filipinos in Thailand by way of giving complete and truthful information in print, it was all changed during the group's first meeting in October 2014. Thus testing the waters and see how it works.

It's almost been five years since then. Around a thousand stories have been written and shared and PinoyThaiyo is grateful to all of you for patronizing our stories and articles.
Be part of our maiden issue in print. Share your experiences, tag us on Facebook, send us a message or email your contributions to pinoythaiyomagz@gmail.com. For ads and subscriptions, please contact Jezreel Llanera at jezreel@pinoythaiyo.com.

Deadline of submission is March 1, 2019.