In a sponsored Facebook ad that has been circulating online, Skechers just hit Nike with an insane clever one.

Remember that good saying "Never step on others on your hike to the top"? Well, that might not be working well in the marketing arena.

You probably have seen the now famous video showing Nike PG 2.5 PE left shoe of Zion Williamson breaking into two as though cut by a sharp knife. If not, you may watch the video below from New York Times.

The incident happened February this year in a match between the Duke and North Carolina rivalry. As Zion Williamson, the consensus No. 1 pick in the National Basketball Association 2019 draft, was about to do the head-shoulder fake and put his 285-pound weight on his left leg, the shoe blew  apart. Zion fell awkwardly.

Close up photos of the broken Nike shoe quickly spread online. "Zion" and "Nike" quickly made it to the top in the Twitterdome. Legal heads say Nike can be held liable as Zion sprained his knee.  Companies like Nike and Adidas pay millions of dollars to sports top athletes hoping for big returns from the consumers in the market.

Skechers picked up this incident and run an ad on Facebook. Check out the screen copy below.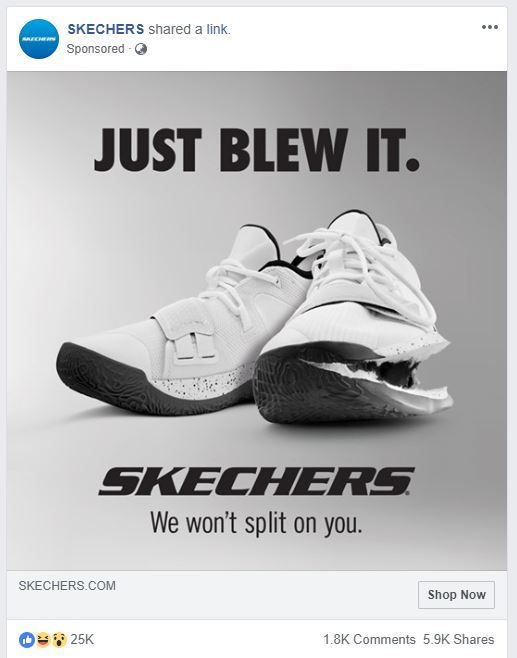 In a show of confidence and mockery, Skechers even use the same font of the famous "Just Do It" Nike slogan. "We won't split on you" is now a promise that skeptics, haters, and general sports shoe fans will doubly look for from Skechers from now on.

Fans on both sides were triggered and comments of support and hatred to Skechers flood the posting making the ad spread organically as expected. In the marketing realm, this is pure genius.

What do you think of this?