1,209 out of 1,579 passed the Physician Licensure Examination given by the Board of Medicine on March 2019 in the cities of Baguio, Cebu, Manila, and Zamboanga. The members of the Board of Medicine who gave the licensure examination were Dr. Eleanor B. Almoro, Chairman; Dr. Edgardo T. Fernando, Dr. Clarita C. Maaño, Dr. Eleanor J. Galvez and Dr. Ma. Graciela Garayblas-Gonzaga, Members.
Jan Bendric Co Borbe of the Univesity of Sto. Tomas and Clinton Rosita Rabadon of West Visayas State University (Iloilo City) topped the PLE with the rating of 89.83%.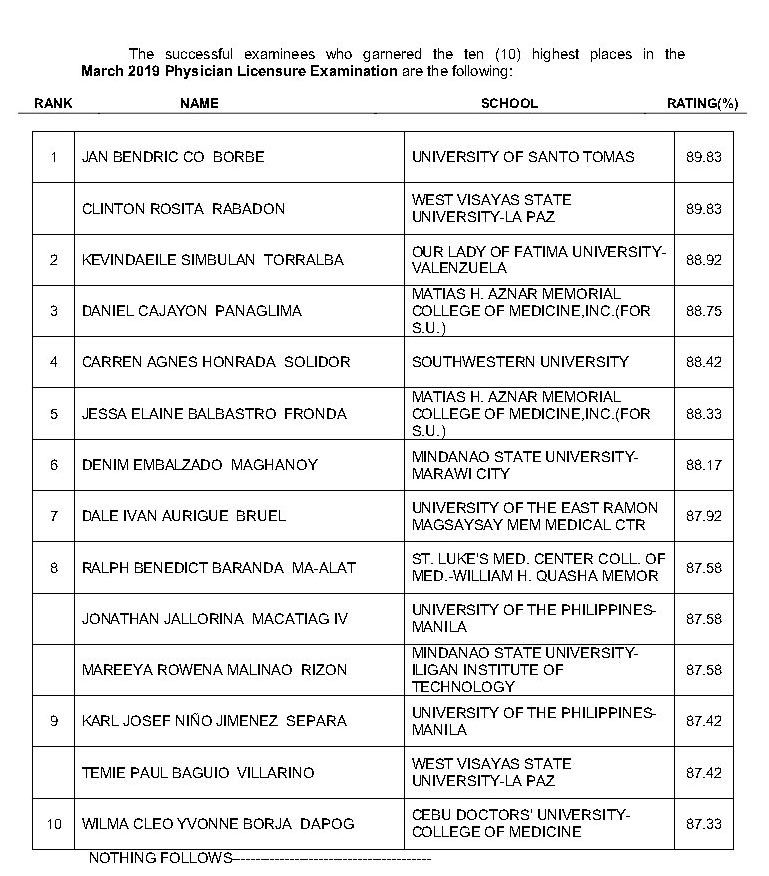 Meanwhile, Far Eastern University-Nicanor Reyes Medical Foundation is the top performing school in the March 2019 Physician Licensure Examination.

Here's the complete list of successful examinees:
PHYS0319 Alpha by on Scribd
https://www.prc.gov.ph/sites/default/files/PHYS0319-alpha.pdf