In a report released today, April 10 by the Philippine Statistics Authority, poverty incidence dropped to 16.1 percent in the first half of 2018 from 22.2 percent in the same period in 2015. This means that the government is on track with its goal of lifting at least 1 million Filipinos out of the poverty.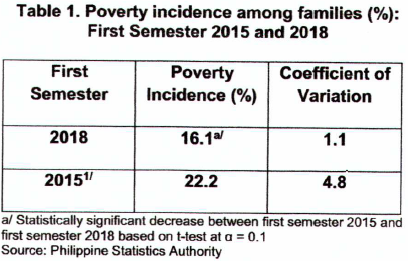 PSA data showed that the number of poor Filipinos in the first semester of 2018 dropped to 23.1 million from 28.8 million in 2015.
According to the report, "The poverty incidence among Filipino individuals in the first semester of 2018 was estimated at 21.0 percent. This is referred to as the proportion of the population living below the poverty line to the total population. During the same period in 2015, poverty incidence among Filipinos was recorded at 27.6 percent."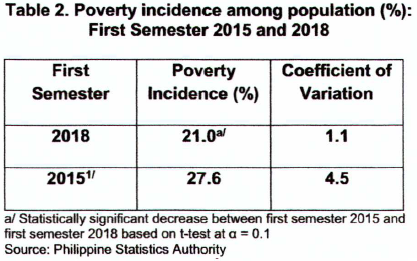 How do we know if your family is within the poverty line?
According to PSA, if a family of five has 10,481 pesos a month to spend for food and non food items, the family is not considered poor.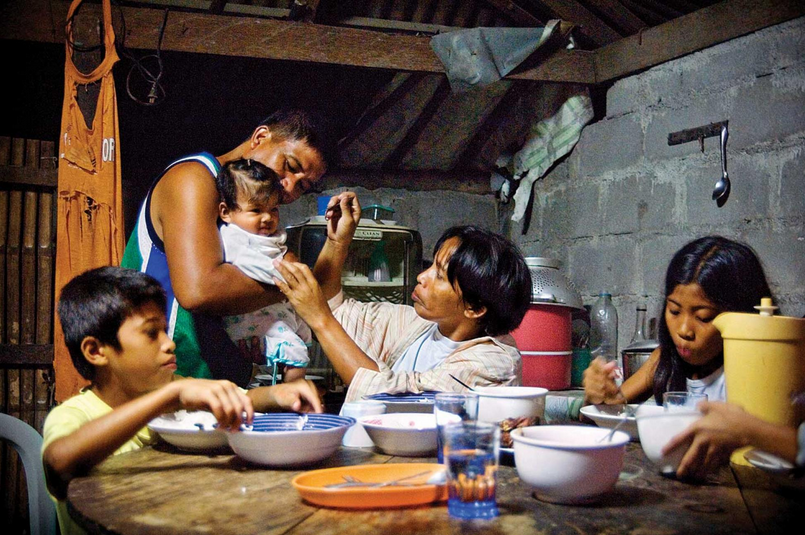 NEDA Undersecretary Adoracion Navarro emphasized that the average income of Filipinos went up to 21.2 percent from 15.2 percent. This is due to the expansion in construction which resulted to additional job opportunities and enhancement of government social programs which augmented the basic income of families.
The highest poverty incidence was recorded in ARMM while NCR had the lowest. Meanwhile, Basilan, Lanao del Sur and Sulu were the poorest provinces.
To see the full report on Proportion of Poor Filipinos registered at 21.0 percent in the First Semester of 2018 by the Philippine Satistics Authority follow this link:
http://www.psa.gov.ph/content/proportion-poor-filipinos-registered-210-percent-first-semester-2018