The Asian Center for Comparative Governance (ACCG) and St. Robert's Global Education will hold its 2nd International Conference on Contemporary Education (ICCE) on July 27-28, 2019 at the Amari Watergate Hotel, Phetchaburi Road, Bangkok, Thailand. The theme for this year's conference is "Beyond Borders: Changing Education and Governance Paradigm.
This year's keynote speaker will be Mr. Abhisit Vejjajiva, the 27th Prime Minister of Thailand and a former Bangkok and party list Member of the Parliament (MP) for the Democrat Party.
Mr. Vejjajiva was Thailand's prime minister from 2008-2011 and was the youngest-serving prime minister in more than 60 years. In-between his stint as head of the government, he was the Leader of the Opposition in the Parliament and party leader. Before entering politics, he was a former university lecturer at Chulachomklao Royal Military Academy in Nakhon Nayok, Thammasat University's Faculty of Economics and a special lecturer for Oxford University in England.
Filipino and foreign educators in Thailand and other parts of the Indo-China region are attending the conference to present papers with topics on languages, communication, education, information technology, humanities and social sciences, hospitality and tourism and governance.
ACCG was established in 2018 to advocate development governance with core competencies on education, corporate and public research, policy formation, curriculum development and capacity development. Member representatives consist of the ten countries in Southeast Asia with Mr. Peter Lavina serving as President.
St. Robert's Global Education was established by Dr. Robert F. Galindez in 2008. Since then, it has become the leader in transnational education in Thailand and in the Philippines.
For more information about the conference, visit this link: http://icce2019.saintrobertsgroup.com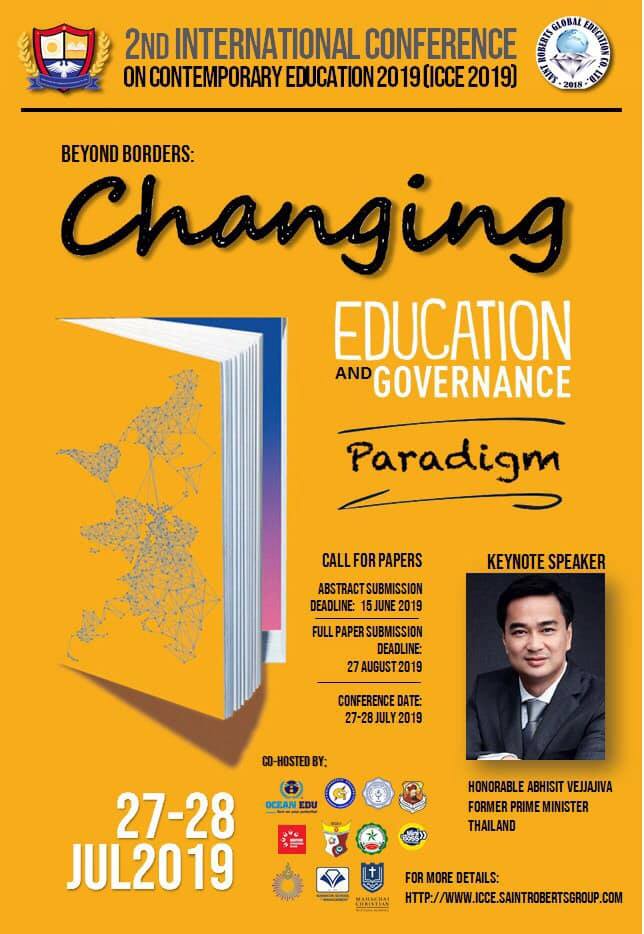 Featured Photo: Abhisit Vejjajiva Facebook Page