Thai and foreign netizens are fuming over Miss Grand Thailand 2019 Arayha "Coco" Suparurk's victory on Saturday due to a meme posted by Coco calling Miss Universe 2018 Catriona Gray "fat", Khaosod English reports.
As soon as Coco was crowned, the live feed on Facebook was overwhelmed with angry reactions and comments. Coco, representing Nakhon Phanom province, beat out 76 other contestants, each representing other Thai provinces, report added.
The source of wrath was a now-deleted meme showing Miss Grand 2018 Clara Sosa as "fit" compared to the "fat" Miss Universe 2018, Catriona Gray of the Philippines, which Coco shared in early July from the @MissGrandFamily Instagram.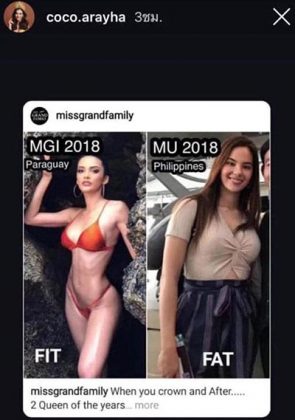 Earlier in July, Coco defended herself from the accusations of body-shaming that had begun pouring in.
"I shared the photo of Clara because I'm jealous of her body and want it. I shared the truth and everyone hates me for it. Even when I upload a pretty picture of myself, there's a thousand angry comments," Coco said in a July 8 interview. "I shared the truth. I know she's Miss Universe, but the picture just says it all."
In a Twitter Q&A on Sunday, Gray condemned body shaming in what netizens saw as a shut down of Coco's shade.
"Obviously I stand firmly against any form of bullying and bashing – online and off. It is never, ever okay to put someone down for the sake of 'expressing your opinion,'" Gray wrote. "Bodyshaming is hurtful and should never be tolerated. If anyone reading this too has been bodyshamed, I know how it feels."