After three years of imposing delayed gratification on himself, educator Juan Carlo D. Antonio will finally reap his sweet rewards as he passed his thesis defense for his graduate studies in Naresuan University, one of Thailand's top government universities.
Juan Carlo or JC as he is fondly called by his friends, completed his thesis writing with the score of 95/100 last week. This is his last last requirement for Master of Arts in English major in Applied Linguistics. 
Her Royal Highness Princess Maha Chakri Sirindhorn will preside over the graduation ceremony on December 2, 2019.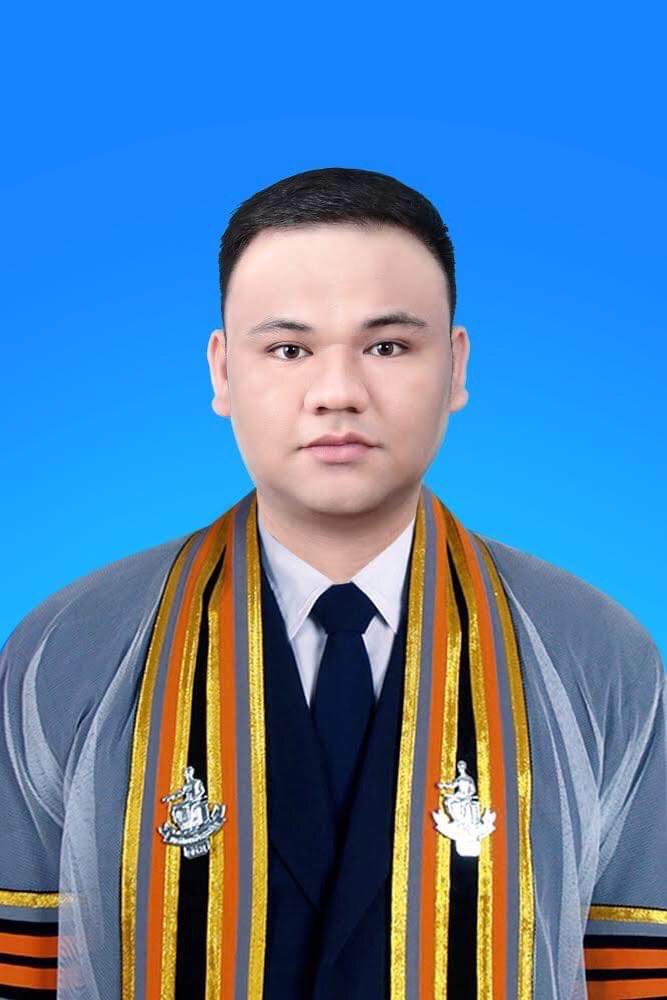 JC started his journey as an English as Foreign Language (EFL) lecturer in Thailand in 2015. At present, he works as a lecturer at Naresuan University Secondary Demonstration School under the tutelage of the university's Faculty of Education in Phitsanulok, lower northern Thailand. 
"Studying in a Thai university under the International program became my springboard to represent the Philippines in the field of Research. I was able to present papers at Chiang Mai University and Thammasat University, two other top universities in Thailand," said JC. 
For three years, JC studied along with Chinese and Thai graduate students. He also shared how they were trained to read and understand theories from different scholars, summarize ample books written by famous linguists. What made it more challenging according to him was writing baby theses every after each course. 
"The professors received their post studies abroad that's why they were straightforward. However, we were all family in the classroom. Walang iwanan!," he said in an online interview with PinoyThaiyo.
Here is JC's post on Facebook after completing his MA.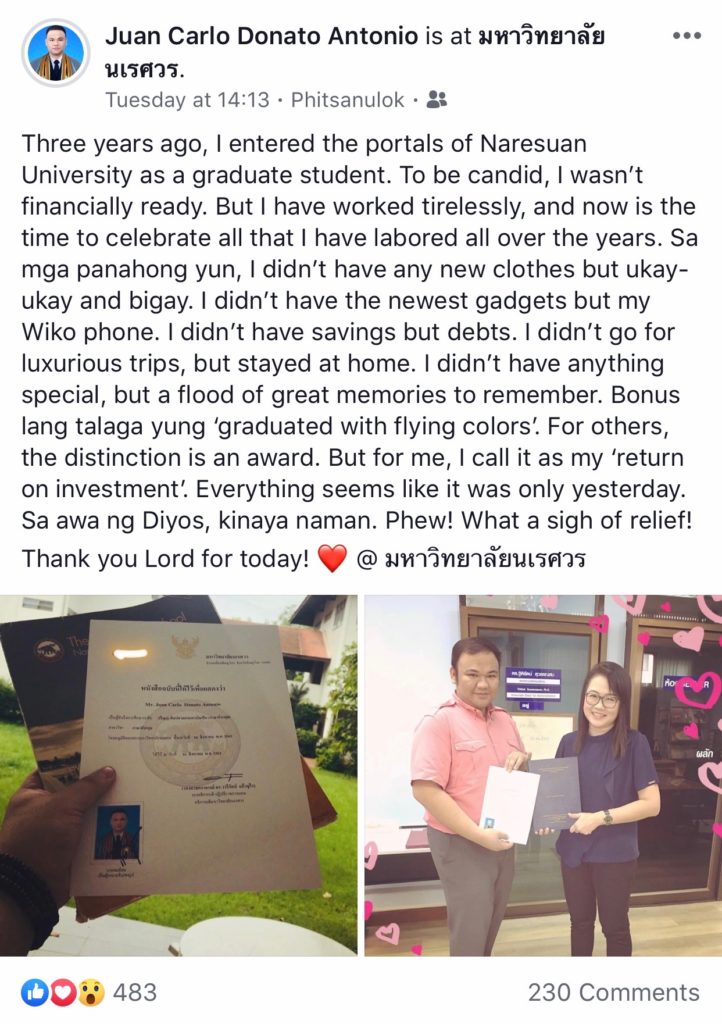 "Three years ago, I entered the portals of Naresuan University as a graduate student. To be candid, I wasn't financially ready. But I have worked tirelessly, and now is the time to celebrate all that I have labored all over the years. Sa mga panahong yun, I didn't have any new clothes but ukay-ukay and bigay(hand me down). I didn't have the newest gadgets but my Wiko phone. I didn't have savings but debts. I didn't go for luxurious trips, but stayed at home. I didn't have anything special, but a flood of great memories to remember. Bonus lang talaga yung 'graduated with flying colors'. For others, the distinction is an award. But for me, I call it as my 'return on investment'. Everything seems like it was only yesterday. Sa awa ng Diyos, kinaya naman. Phew! What a sigh of relief! Thank you Lord for today!" 
Juan Carlo Antonio, 26, of Vigan City, Ilocos Sur, Master of Arts in English. Mabuhay ka kabayan!