Last Thursday evening, October 24, 2019, a group of mostly Filipinos set on a long weekend mission trip to Bang Nam Luang in Phisanaluk Province. The group consisted of professional teachers, nurses, a medical doctor, and massage therapists. They came from different Seventh Day Adventist Churches which included Yanhee Adventist Church, Omnoi Seventh Day Adventist Church, Rhamkanghaeng International Seventh Day Adventist Church, MVAT Seventh Day Adventist Church, Bangkok International Church of Seventh Day Adventists, Korat Seventh Day Adventist Church, Asia-Pacific International University Church and Bangkae Seventh Day Adventist Church. There were Sulads missionaries from different parts of Thailand and Laos that joined.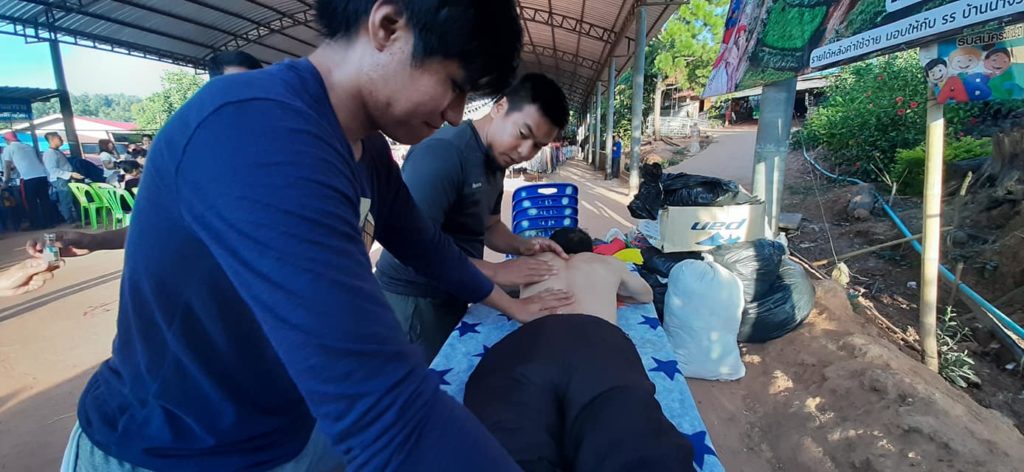 Since it is not an explored area, the volunteers were there to assess the area and see what services they can provide. Services provided included an English camp, medical outreach, house to house visitation, and massage therapy. Some of the donations given were used clothes and seeds for planting.
The different church groups had different responsibilities. Most of the group coming from Yanhee Adventist Church catered mostly to the medical needs. The rest were helping out in the English Camp and other activities happening during that weekend.
One of the highlights during the English Camp was that the kids were able to make casts of their hand. This activity was led by Teacher Tranqui Vergara from Adventist International Mission School Korat (AIMS Korat). Not only did the students enjoy it, but also some of the volunteers.
Last year, Yanhee Adventist Church along with other groups went to Tak Province. This is their second time around collaborating with the Sulads missionaries.
Sulads Thailand has been in service in Thailand for around 10 years. They are mostly located in remote areas where sometimes there is no electricity or places where it can be a challenge to find a reliable water source. They are passionate to share the love of God by providing free lifestyle services to the people around them. To learn more about them please visit their website https://www.suladsthailand.com/.
"God has a special place for you! The SULADS Thailand has a special calling to recruit, equip, train and send willing young people to unreached people groups in Thailand. The SULADS Thailand begins this witnessing journey on the first church planting project among the Mien People, where we put up an SDA Language and Health Center. We have developed three kinds of missionary program. Please see which would fit best for you."
Here is a video clip during our mission trip.