Following the weekly cabinet meeting, Prime Minister and Defense Minister Gen. Prayut Chan-o-cha gave a press briefing on March 10 at the Government House, Bangkok.
Here is the gist of the Prime Minister's press briefing: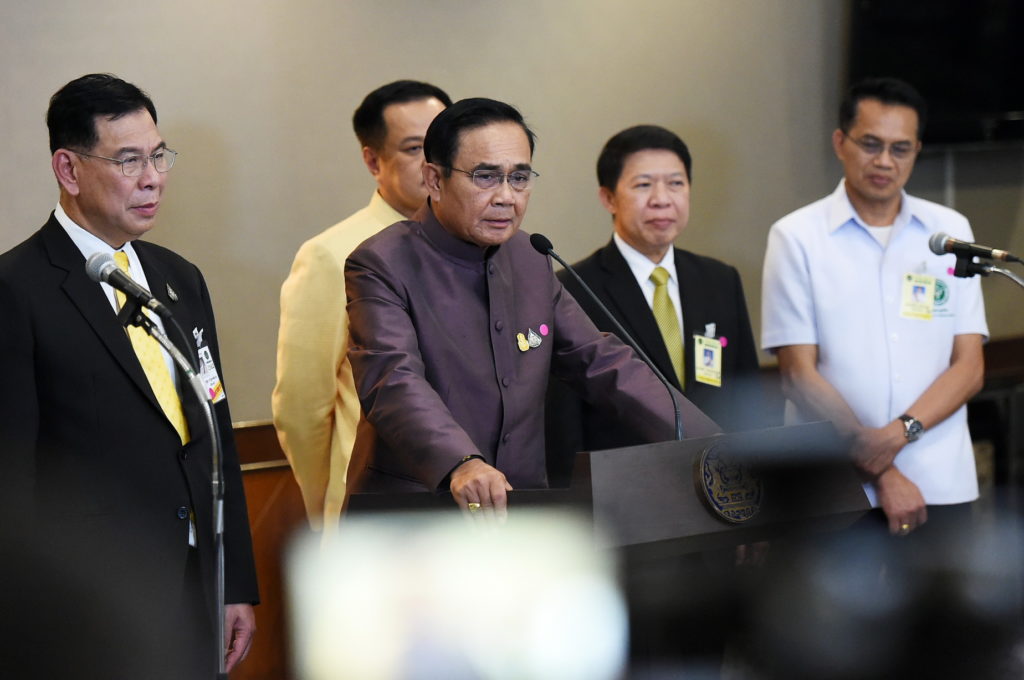 Amidst the outbreak of COVID-19 in over 100 countries across the world, with over 110,000 infected patients in number, Thailand has continuously put preventive and control measures in place, be it, surveillance and health screening at airports, communities, and healthcare facilities. As of March 10, 2020, the total number of patients under investigation (PUI) is 4,682 people. There are 53 confirmed cases of COVID-19 being treated in hospitals, 33 cases who returned to their homes and one death. Thailand now ranks 32nd in the world by number of confirmed COVID-19 infections.
Ministry of Public Health and concerned agencies have put collective effort in preventing spread of COVID-19 domestically by implementing proper measures in line with the situation. Thailand has not reached the 3rd stage of infection as we are now able to contain the disease spread.
As for the return of Thai workers from the Republic of Korea, the Government has conducted strict screening upon their entry. If anyone has a fever, they will be brought to a hospital in accordance with the protocol, while other workers will be required to go through self-quarantine in their home for 14 days under close surveillance and monitoring of village healthcare volunteers and local government officials.
Passengers who will enter the country from China (including Macau and Hong Kong), Iran, Italy and South Korea are now required to present a medical certificate proving they are not infected with COVID-19, and possession of a health insurance policy/medical insurance plan upon their check in at a country of origin, while the airlines must conduct pre-boarding health screening. Upon their arrival in any Thai airport, the passengers must go through the symptom checks, and quarantine themselves at home or in a hotel for 14 days. They are also required to report to staffs of the Office of Disease Prevention and Control on a daily basis. A mobile application has been created for PUI tracking and investigating purpose.
COVID-19 Management Center has also been established with the Prime Minister as head of the center. Its task is to liaise, integrate, and support operations of all concerned agencies in a unified and efficient manner. Medical staffs will be prioritized in the distribution of hygienic masks, while concerned agencies are expediting their manufacturing of cloth/alternative masks to be distributed to the public.
Source: Royal Thai Government