Popular website for expats ThaiVisa The Nation reported on Sunday that the Immigration is allowing 30-day extensions of entries stating a memorandum dated 18/03. Here's the ThaiVisa report in verbatim.
Number 1 of memo is to allow more than one 30 day extension for those with tourist visa or visa exempt entries under clause "2.4 In the case of tourism purposes" of police order 327/2557.
Number 2 is for those that have entered using a non immigrant visa that can be extended for 30 days under clause "2.28 In the case of necessity, with certification or request made by an embassy or consulate:"
Number 3 is under this in the covering notice of the police order. "5. In the case where an alien applicant does not meet the full qualifications stipulated by the criteria herein or in other cases not specified in this Order but a competent officer equivalent to or higher than inspector is of the opinion that the alien has legitimate reason for staying in the Kingdom of Thailand, the application shall be forwarded to the Commander of the Royal Thai Police or an authorized competent officer for further consideration of the alien's application."
Meanwhile, Phuket Immigration is issuing all foreigners stuck in the country due to the COVID coronavirus situation 30-day extensions so they do not have travel and risk infection, according to The Phuket News.
PinoyThaiyo sent a clarification email to the Philippine Embassy on Saturday morning regarding the "Personal Declaration on COVID-19 Situation to Thai Immigration Bureau" that it has already started issuing but has not received any response yet. The Embassy will be closed for two (2) weeks from March 23 to April 3, 2020 subject to further review.
Last week, the Tourism Ministry said it will seek a reprieve for some 500,000 tourists who will end up overstaying their visa now that countries in Europe have started sealing their borders to deal with Covid-19.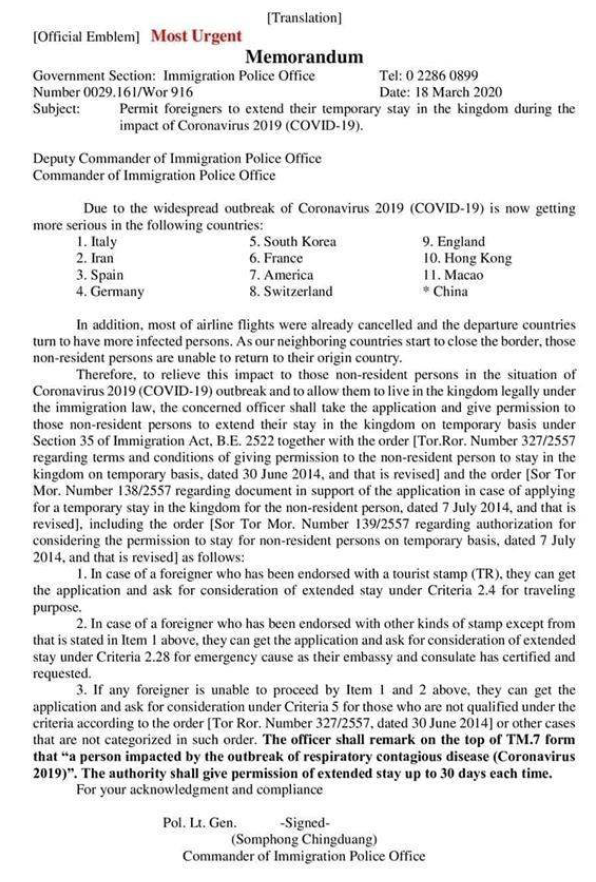 Photo: ThaiVisa