The Filipino bayanihan spirit in Thailand is alive and well.
The amount of 105,630 THB was collected in a fundraising campaign to help Filipinos affected by COVID-19 in the Land of Smile. The money was donated by different groups and individuals in all walks of life who felt the need of extending their hands to the needy in times of crisis such as this one. Most of the donors are Filipinos in Thailand, former OFWs and some foreign nationals.
A total of 25 volunteers helped in distributing food packs in Bangkok and Samut Prakan where large numbers of Filipinos live. 14 volunteers comprising 12 Filipinos, 1 Thai and 1 Japanese took part in giving away food packs at eight meeting points in Central Bangkok while five volunteers invaded the northern side of the city to personally deliver goods to their kababayan's abodes. Another volunteer stationed at her apartment building in Srinagarindra.
On Saturday, April 11 the first day of joint relief efforts of Ateneo Leadership and Social Entrepreneurship (ALSE-OF-LIFE) Thailand, Department of Trade and Industry (DTI) Bangkok, and PinoyThaiyo to help financially challenged Filipinos because of coronavirus (COVID-19) was a success. Another food pack distribution will be held on Sunday, April 12. This time two groups will visit the outskirts of Bangkok.
Several groups were able to distribute 213 food packs in different locations like Akara Hotel (Pratunam/Sukhumvit), Airport Rail Link Ramkhamhaeng Station, Winning Tower, Pridi Banomyong soi 46, Tesco Lotus Onnut, Pattanakarn and Kasetsart. While repacking at the Philippine Embassy in Bangkok, nine OFWs also showed up and asked for relief goods. Another group made a house to house delivery in Ladprao, Laksi, Ram Intra, Minburi, Rangsit and Rattanathibet.
One of the most compelling experiences happened on Pridi Banomyong soi 46 where a family of three tested positive to COVID-19. While going there, the team was expecting just one family to hand out the food pack and vitamins (donated by a Thailand-based lawyer who took part as a judge at ALSE's business presentation in 2019); however all Filipinos (or at least one per household) in the building went down and asked for their share. More than 30 of them approached the team and lined up quickly. Some looked weak and scrawny. One of them slipped her food pack and was assisted going back to her place.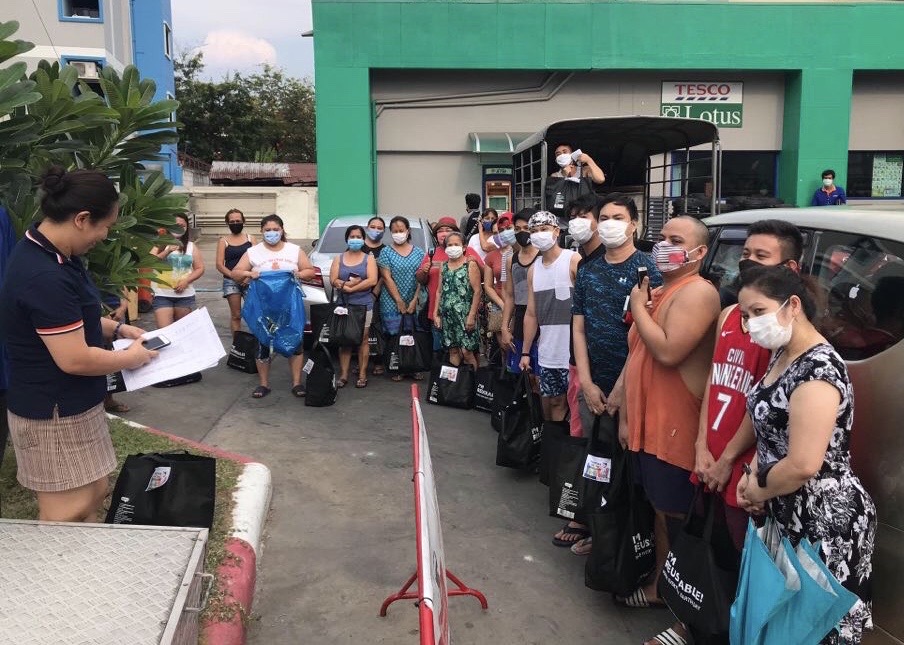 In Tesco On Nut, the Bangkok group encountered a thin 60+ year old pinay who has been working as a cleaner for 13 years. She lives with her sister who is also cleaning for living. Her eyes were welling as she received the food pack. One team member wanted to give another pack for her sister but she was already having a hard time carrying hers.
The central Bangkok volunteers spent more than 12 hours including travel, repacking and distribution which lasted until past 8:00 in the evening. The last beneficiaries they met were a group of teachers near Ratchayothin (Phaholyothin area). All of them have no salary since March until July and according to them they are considering the repatriation program while waiting for this pandemic to be over. This is the same experience of everyone they met – teachers, restaurant workers, singers, nanny tutors, shop staff and even cleaners.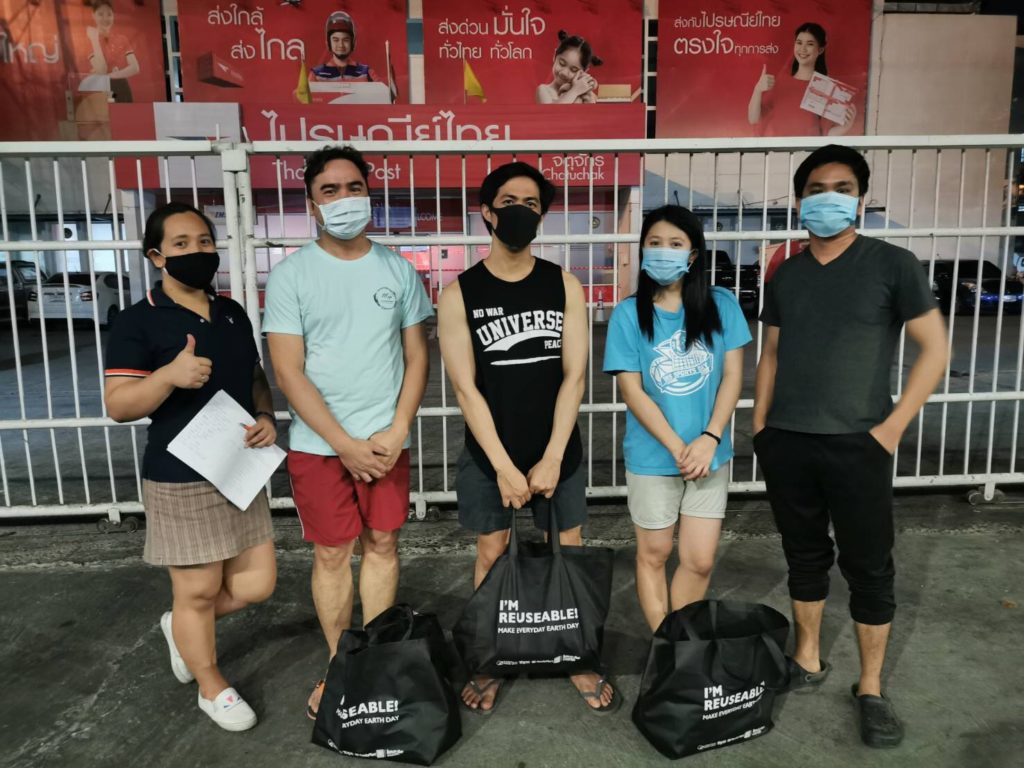 OFWs who live in Winning Tower are allowed to stay at their rooms at the mercy of their landlord. The owner of the building considered the tenants' appeal to pay their rentals once they start working again which is in July. They only hope they can have meals on their table while waiting for this pandemic to be over and do their part in the battle by staying in their rooms.
As of March 10, the donation has reached 105,630 THB and some are still donating according to ALSE's finance director. Donations also include dry goods such as rice.
On top of the food packs being distributed, ALSE also gave cash to some Filipino community organizations in Phuket, Koh Samui and a group of stranded students in Trang (through ALSE advisor Sonia Zerrudo). Due to logistics concerns in transporting food packs, ALSE is also considering sending cash to OFWs in far provinces.
In Korat (Nakhon Ratchasima), one of the founding ALSE Secretariat and senior FILCOM leader Monalisa Falsis Sangvoranit has also taken steps to help financially challenged OFWs. PinoyThaiyo sent her a message early Saturday morning to inform her of a separate fundraising campaign led by some Catholic priests, and she called noontime saying "ako na ang bahala" (I will take care of it).
Many volunteers had sent messages and offered their time to help in repacking. Some delivered snacks to the frontliners and helped in the distribution using their own cars. The ALSE group was humbled and thanked everyone for their support. The group said they would contact them again as there would be more rounds of bayanihan for our kababayan in need.
The group behind the bayanihan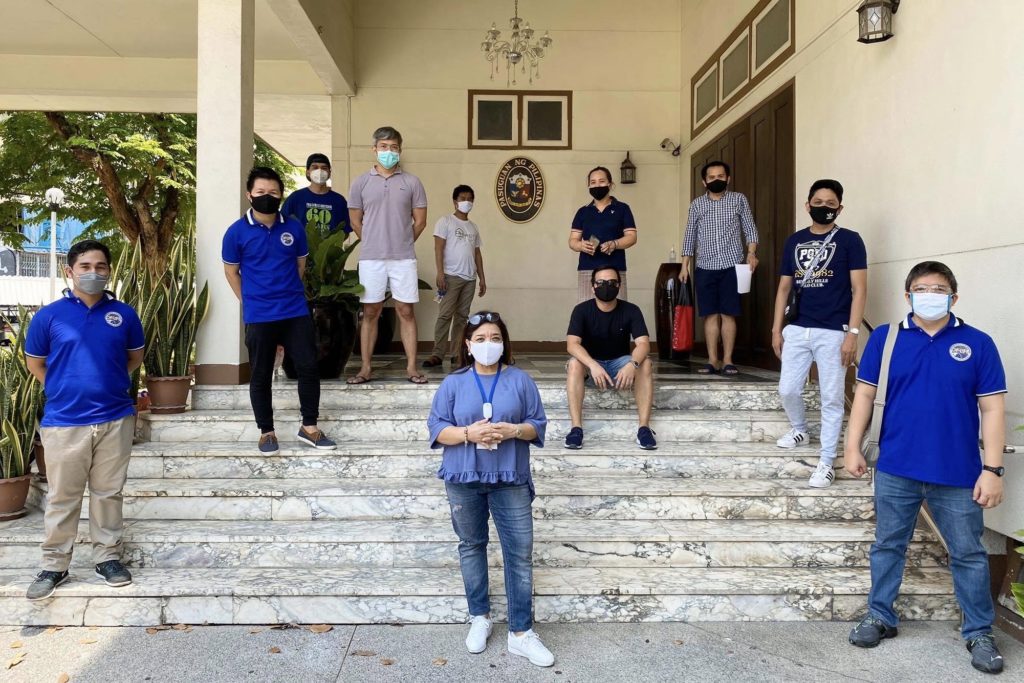 Funds used in buying food supplies were donations from different individuals many of whom want to remain anonymous despite giving substantial amounts. One group alone, the Brotherhood of Christian Businessmen and Professionals (BCPB) donated 25,000 THB. Other donors like hotelier and Lola's Kitchen's owner Zenaida Vannaying lent resources such as pick-up truck and driver to procure and distribute the supplies aside from financial support and sharing of her wisdom during online meetings.
The founding chair of ALSE Secretariat Sonia Zeruddo, who playfully calls herself the group's lola was also there from the campaign's inception until packing and distribution – volunteering under the heat of the sun and threat of COVID-19 in spite of being the regional sales director of a world renowned textile manufacturer. One of the group's biggest supporters is Rico Mariano of DTI Bangkok (Philippine Embassy Commercial Attache), who always emerges with brilliant and practical ideas to mitigate ALSE's programs such as this one.
And of course, ALSE's current chairman of the Secretariat Dandrub Belleza and his amazing team composed of young professionals in different fields. They were last year's ALSE graduates, the pioneering batch of Ateneo De Manila University's civic program for OFWs under Ateneo School of Government. The group serves as 2020 ALSE Thailand secretariat which prior to this pandemic is scheduled to commence in May.
PinoyThaiyo's part is to reach as many Filipinos as possible using its website, social media platform (Facebook page and groups) with a team composed of three Js – Jezreel Llanera, Jess Tura and Jessica Dela Cuesta, the frontman/writer, layout/web artist and editor who founded and co-founded the online community magazine in 2014.
To everyone who was instrumental in making this endeavor a success, our words are not enough to express our gratitude in doing your part. May our effort also inspire other groups and entities in helping our financially affected kababayan here in the kingdom. May God bless us all!