Businesswoman Zenaida Siao Vannaying is appealing to friends and fellow old timer Filipinos in Thailand to help our kababayan affected by coronavirus (COVID-19) pandemic.
Mrs. Vannaying who has been in Thailand for more than 40 years is one of the founders of Ateneo Leadership and Social Entrepreneurship (ALSE) in the kingdom. She has been actively supporting the group that has so far distributed around 500 food packs in Bangkok and nearby provinces in an effort to help no work, no pay Filipinos.
"I am appealing to the many old timer Filipinos here to extend their much needed help to our financially-challenged Filipino OFWS by donating food items or cash in this time of crisis," said Vannaying. "Donations can be canned goods, rice or cash," she added.
ALSE through donations from several groups and individuals has already raised 156,000 baht as of April 19. More than 40 volunteers, mostly young professionals have braved the streets of Bangkok, Samut Prakan, Nonthaburi, Pathum Thani, Nakhon Pathom and Rayong in the last two weekends to deliver food packs.
As of writing, the ALSE group has 10 sacks of rice ready for the third wave scheduled at the end of April. However, the supplies for the food packs still lack other items such as sardines, noodles, oil, eggs and mung beans. Each food pack costs roughly 300 baht including 5kgs of rice.
Zenny, as her friends call her, has already donated 220 packs of pandesal (buns) from her Filipino restaurant Lola's Kitchen on top of other cash donations and the use of other resources for the procurement and delivery of food packs. She has around 20 Filipino employees in her companies.
Other founding members of the ALSE Secretariat who are married to Thais are Monalisa Falsis Sangvoranit, Bernadette Kongswasdi and Maria Divina Blanco Nidhiprabha.
To our Filipino kababayan who want to help and be part of our bayanihan in helping in our little way our less fortunate kababayan, you may donate by depositing any amount to the account number below. For goods, kindly contact Ateneo LSE Thailand Facebook page for receiving/collection of your donations. You may also contact Mrs. Zenny Vannaying thru Facebook for more details.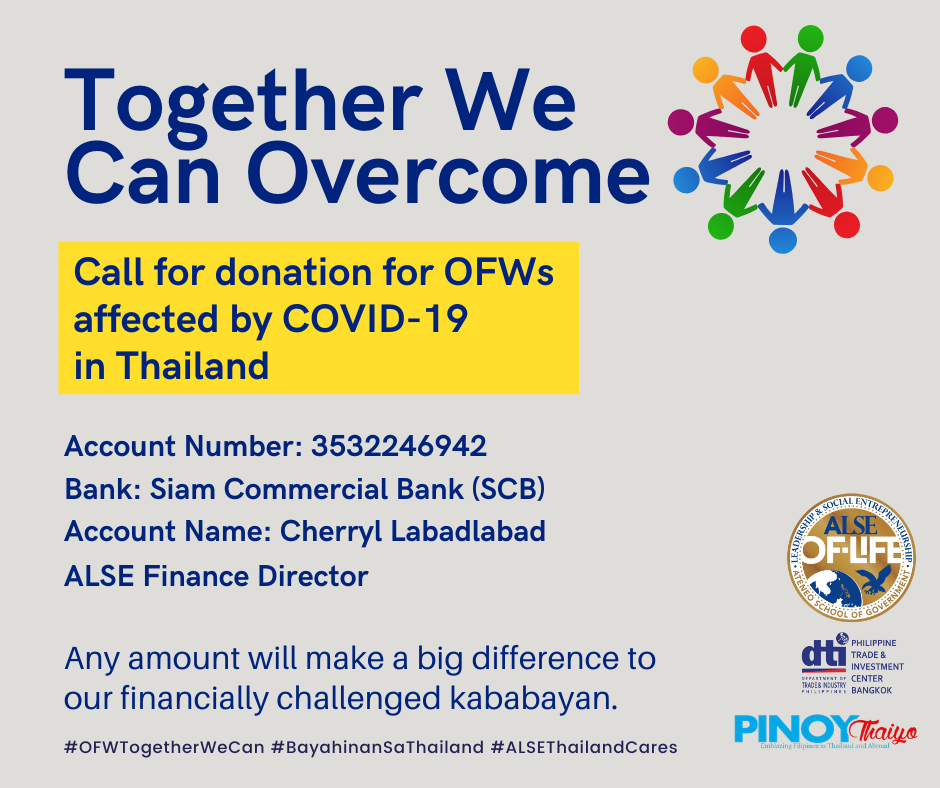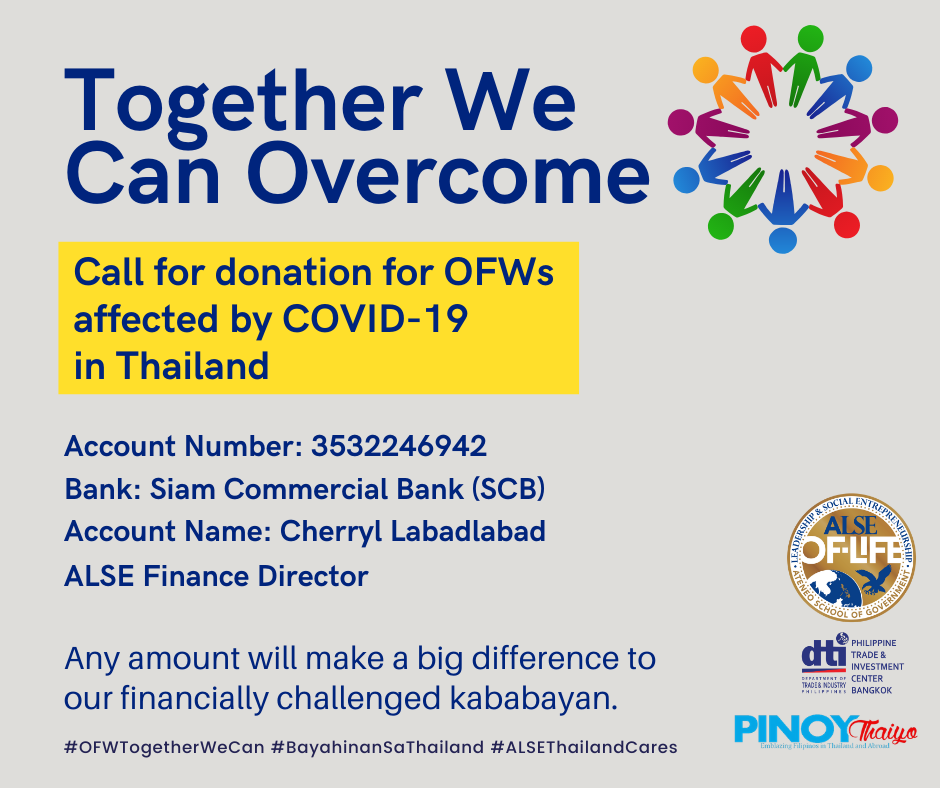 Maraming maraming salamat po! Patuloy nawa tayong ingatan at gabayan ng ating Panginoon!