Here's the latest Thailand's Entry Regulation (For Alternative Quarantine Travellers), posted on the Ministry of Foreign Affairs' Thai Consular official facebook page.
From October 1, 2021, quarantine period is reduced from 14 days to 7 or 10 days for all air travellers. This applies to all travellers, regardless of their port of origin.
Fully vaccinated travellers are eligible to 7-day quarantine. The travellers must complete their vaccination at least 14 days before departure from their port of origin.
Unvaccinated or incomplete vaccination travellers are eligible for 10-day quarantine. This doesn't apply to unvaccinated/incomplete vaccination children under 18-year old traveling with parents or guardian.
If the travellers has obtained COE issued before 1 October 2021 which identifying their period of quarantine for no less than 14 days, travellers shall prepare their original copy (or a print out of digital version) of Certificate of Vaccination to present upon arrival for Health Control officer consideration to reduce quarantine period.
List of accredited vaccines approved by WHO or the Ministry of Public Health of Thailand (as of 1 September 2021)
CoronaVac (2 doses)
AstraZeneca or Covishield made from SII (2 doses)
Pfizer – BioNTech COVID-19 vaccine or Comirnaty (2 doses)
Janssen or Janssen/Ad26.COV2.S (1 dose)
Moderna (2 doses)
Sinopharm vaccine or COVILO (2 doses)
Sputnik V (2 doses)
Learn more about the requirement to enter Alternative Quarantine (AQ) for non-Thais as picture below.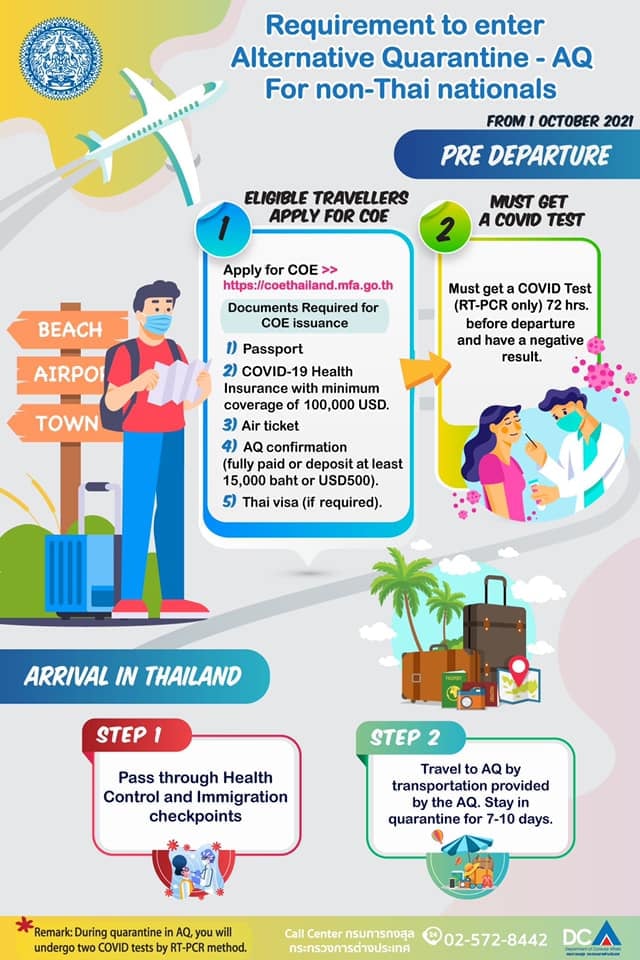 For more information from DCA Call Center (24 hours) at +662-572-8442.