A Thai woman who claimed to be bitten by a green pit viper at a Bangkok shopping mall used social media to air her frustrations on the mall's alleged refusal to take responsibility for the incident.
Tharathip Samart said that the incident happened on July 29, Friday, as she was walking from the second-floor car park to the entrance of the mall when a Sumatran pit viper bit her on her foot. She managed to kill the animal and brought it with her to the hospital to aid in further examination.
Ms. Samart said that although the mall's emergency driver drove her to the hospital, it appears that her case was not urgent for the driver as the siren was not used at all. She was so worried that the viper's deadly venom would overtake her oxygen level and kill her.
"The staff did not know that the burnt-tailed green snake is very dangerous. Poison affects the blood system. People who are bitten by this kind of snake would suffer hemorrhage. It causes non-stop blood to flow," according to Google translation of her post.
She further added that after dropping her to the hospital, the driver went back to work as though nothing happened.
The doctor advised her to remain in the hospital for 2-3 days since her blood level continues to decrease due to the snake's venom. She was distressed that her heartbeat would stop at any time.
Adding to the injury she's got is the mall's alleged responses to her request for financial assistance.
According to her, the staff in the mall said that they couldn't take responsibility as the snake is not their own.
Furthermore, her case was not immediately reported to the mall's executive board as it was a holiday when the incident happened, "they weren't at work", Samart added in her post.
Before posting her predicament on social media, she told the mall's staff that she would let the public know of the incident if they would not help her. The mall staff responded that it is her right to post whatever she wants but the mall still would not take responsibility.
She proceeded with posting her story on her Facebook account and reported the matter to Phasi Charoen Police Station.
After her story went viral, the shopping mall had contacted her and offered to pay the medical bills. But her insurance had already covered the expenses amounting to 30,000 baht.
Samart asked the mall for compensation because she could not go to work and lost income.
Decha Kittiwittayanan, a celebrity lawyer in Thailand, explained to the media that the shopping mall couldn't refuse to take responsibility for the case because it happened inside the shopping mall area. He said the shopping mall is expected to protect customers' bodies and assets. If customers are injured in the area, the shopping mall must pay compensation.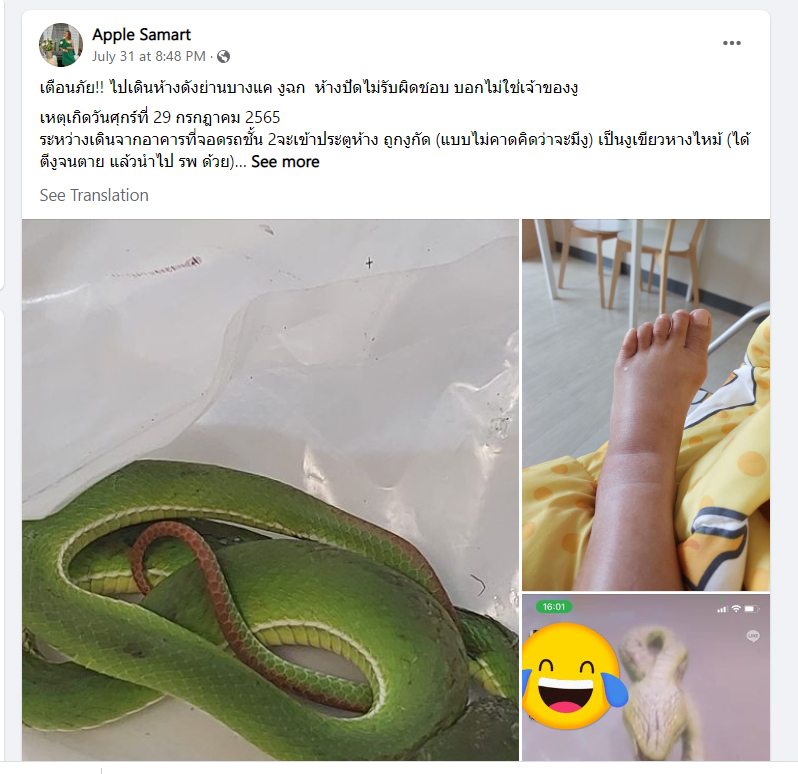 Photos: Apple Samart Facebook account