Their seemingly innocent faces, yet beaming with brilliance, arrested my attention as I gazed with wonder at their photo. I finished reading the article with excitement. It's not every day that you get great news of young Filipinos who competed internationally and brought home laurels for their exceptional intelligence.
It's not every day that you're given the privilege to encounter and get acquainted with Asia's best debaters — University of the Philippines – Diliman's best: Leomar Doctolero Jr. (IV – BA Political Science, President of UPDS), 10th best speaker; and Leslie Torres (IV – BS Business Administration, Vice President for Educational Affairs, UPDS), 5th best speaker of Asia, respectively. They recently bagged the top awards from one of the biggest inter-collegiate debate competitions in Asia: Asian British Parliamentary debate tournament, held at Asia Pacific University, Kuala Lumpur, Malaysia on October 15-22, 2015.
ABP is the largest Asian tournament in the British Parliamentary format and it's one of the two major intercollegiate debate tournaments in Asia. The other one is the United Asians Debating Championship. The tournaments cover a myriad of diverse topics including ethics, economics, gender, international relations, and socio-legal issues.
Right after reading the last sentence of the e-news from Philippine Star on the night of October 26th, I didn't hesitate to search their whereabouts and get connected with them. Grateful and gleeful for the prompt and positive response for an interview request (thanks to Facebook!).
Filipinos are worth fighting for
It's disheartening to be slapped by the reality that many young people nowadays are easily swept with the mediocre thinking; and worse, below the average thinking, easily driven by the hype of lovey-dovey brouhaha (love team fever both in movies, TV series and primetime shows). They even fight over it, ablaze by the latest gossips. Majority of our young people are in peril having poor judgement regarding politics and its pesky issues; in peril having pathetic point of view regarding other issues on education, economy, gender, religion and relationship.
To be rational with the idiosyncrasies is challenging though. But to be passive and not use your own rational thinking is crucial, it's like throwing away your peculiarity and particularity.
Even in our own precious Philippine history, an ignoramus question of a seemingly innocent viewer: "Bakit nakaupo lang palagi si Apolinario Mabini?" (Why did Apolinario Mabini just sit the whole time?), a pathetic reaction after viewing Heneral Luna. That question represents the worsening condition of numerous Filipino youth. It seems the youth are alienated with their own heritage and culture. What have they learned in school? What about common sense? Isn't it alarming?
President Benigno Aquino III emotionally made a twist to what his late father once uttered, during his SONA last year: "Filipino is worth dying for, the Filipino is worth living for, and the Filipino is definitely worth fighting for."
Amidst the dark hours of our motherland's critical condition is a glorious dawn of hope. Philippines' current condition is not a totally hopeless case. Many among our kababayans are still excelling in their expertise, giving glory to our nation. Moreover, it's refreshing to have new breed of Filipino youth who didn't forget Dr. Jose Rizal's legacy and other heroes' (known and unsung heroes) lasting heritage.
"Filipinos are worth dying for." ~ Benigno Aquino Jr.
Our heroes' blood haven't been spilt in vain. Their blood, like a vivifying elixir, watered the seeds of patriotism in the hearts of the Filipino youth who aren't afraid to voice their hearts out, especially in speech – in debate.
Encounter with Asia's Best Young Debaters
As much as I want to do a personal interview, I'm beyond grateful for the quality time given for this online interview.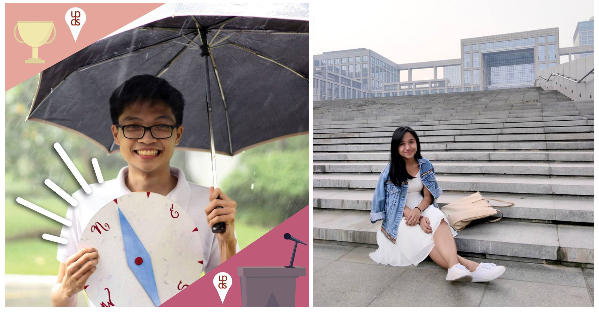 Seriously, at a glance, you look like high school students. How old are you? Can you give a short family background? What are your hobbies?
Leo: Hahaha! I'm 19 years old, turning 20 this year. I'm the youngest of three siblings, having two older sisters. I was born to an Ilocano family in Baguio City. Outside debate, I do a bit of hobbyist writing and video gaming.
Leslie: I'm 20 and surprisingly, I'm older (by a few months) than Leomar. I have a twin sister and two younger brothers. Like Leo, I wasn't born and raised in Manila. I grew up in Cebu. I'm a writer and singer!
When did you start honing your craft and getting involved in debate?
Leo: I started when I was in my first year of high school, which was about 7-8 years ago? However, for most of my high school career, I was mostly caught up in Baguio's local circuit. I started debating and judging internationally just last year.
Leslie: I was introduced to debating when I was in 3rd year high school but I only really started my career in college. I transferred from UP Cebu and involved myself in the tournaments within the circuit. I started competing internationally just this year.
How did you get involved in the University of the Philippines Debate Society (UPDS)?
Leo: It was one of the first things I looked for when I got into UPD! As a high school debater, it was one of my dreams to debate with some of the best debaters in the Philippines who were from the UPDS. So I immediately signed up as a freshie, and I thankfully got in.
Leslie: I applied like every member of UPDS. Sadly, this is my only — first and final — full year of being a member.
Who motivated you to accept the challenge of this rigorous battle of the minds? Who's your mentor?
Leo and Leslie: Unlike other debate societies, we don't really have an active debate coach. Most of the knowledge transfer is from our alumni and seniors. We would consider trying to live up to their legacy as one of our main motivations for pushing on.
What were the preparations you made? How did you train for this?
Leo and Leslie: Most of the preparation was done debating with our orgmates inside UPD. We would do a lot of sparring rounds to get to trust and understand each other as partners more. We also did a smaller local tournament (the La Salle Intervarsity), but that was before we knew we were going to do ABP together.
What is the most crucial part of the Asian British Parliamentary debate tournament?
Leo and Leslie: A lot of it was really the training. People outside the debate community often see debaters giving 7-minute speeches after only 15-minute preparation time and get amazed, but that's because they don't often see the hundreds of hours debaters pour into training and reading just to master the fundamentals. Aside from that, we also had to deal with very different international debating styles because of the diversity of the tournament.
Among the various topics covered during the debate, which of those made a lasting impact in your life?
Leslie: I don't see myself as a part of any minority or anywhere near a struggle. And the thing about debating real life issues is it allows you to be able to feel and understand where people who actually are part of that struggle are coming from and speak on their behalf. So I can't easily put my finger on one specific topic primarily because I strongly feel like one issue is just as valid as the others.
Having etched an awesome record in debate tournament history, how do you see yourself in the next five years?
Leo: That's a question I don't even know the answer to. Hahaha. A lot of pressures (both internal and external) to go to law school, but we'll see what happens. I want to test the waters first.
Leslie: Hopefully a lawyer then and doing diplomatic work! Hahaha!
Can you share about your personal advocacy?
Leo: My main focus is on critical thinking and democratic decision-making in societies. That's why I take almost every opportunity I can get to spread debate to multiple regions – I've taught debate both locally and internationally.
Leslie: Triggering empathy. I think the world would be a whole lot better if people are more empathetic. So in the speeches I give and in the way I teach debate, there is always an attempt to humanise suffering and make those who listen understand and feel for others.
What's your message to aspiring debaters and youth leaders out there?
Leo: The biggest obstacle is often yourself – just get out there and believe that whatever you have to say matters, and everything else will follow
Leslie: Be persistent. There will be some who will hear only what they want to hear and a few who won't listen at all. You only truly lose if you let them silence you.
Filipinos are worth writing for
I strongly concur with a gifted wordsmith, Dennis Posadas' utterance: "Filipinos are worth writing for". That was the impression upon seeing the news. Looking at a visionary lens, I could see outstanding leaders who could make a huge difference in our country – even in the world! They're indeed very promising leaders.
They remind me of the former President of the United Nations General Assembly, Carlos P. Romulo and Sen. Miriam Santiago, regarding speech. In her blooming years, Sen. Santiago won as Best Debater in the annual U.P. law debate, where she was captain of the winning team. The rest, an impressive and indispensable history. Her world fame is unprecedented! No one has surpassed her being the Iron Lady of Asia.
"Maybe they will be happy because on one hand I might die and then they could get rid of me. But on the other hand I might survive and then I will get rid of them." – Senator Miriam Santiago
Meanwhile, General Carlos P. Romulo with his world-famed speech, "I am a Filipino", is an epitome of brilliance, bravery, perseverance and patriotism. His leadership for UP Debate team in his younger years is much appreciated. His unparalleled contribution to our country and to the world is a lasting legacy that still lives on!
"I am a Filipino born of freedom, and I shall not rest until freedom shall have been added unto my inheritance — for myself and my children's children — forever." – Gen. Carlos P. Romulo, I Am a Filipino
"The greatest want of the world is the want of men – men who will not be bought or sold; men who in their inmost souls are true and honest; men who do not fear to call sin by its right name; men whose conscience is as true to duty as the needle to the pole; men who will stand for the right though the heavens fall." ~ Ellen G. White, Education p. 57
Leomar and Leslie are definitely a set-apart, brilliant breed of young leaders and terrific thinkers/speakers. It's very significant that in their tender age, they aren't afraid to voice their minds and hearts out. They don't only hone their skills for themselves, but they are ever on fire to teach and mentor other young debaters. That's the true essence of leadership, to produce more young debaters and leaders.
If you're moved, inspired and interested to get involved and be part of the University of the Philippines Debate Society, don't hesitate to connect with them through their official website and social media accounts:
updebatesociety.com
twitter.com/UPDebateSociety
facebook.com/universityofthephilippinesdebatesociety
Click this link to read the news article at Philippine Star.