Did you know that 42 people died in Thailand on Tuesday? Average of two persons per hour.
According to Road Accident Victims Protection Co. in a report published by Bangkok Post, as many as 42 people were killed and nearly 3,000 were injured on Tuesday, September 29.
The casualty figures include two students who travelled with another student in a car that rammed into the back of a lorry carrying cement on a road in northern Lampang and a man in Udon Ratchathani who died after his motorcycle hit a lorry.
The firm which supplied the figures represents several insurance firms under the Commerce Ministry. According to the Ministry of Public Health, 11,962 people on average were killed in road accidents every year between 2004 – 2013.
One of the company's website objectives is "to serve concerning with the petition receiving and indemnification or any payment according to the Protection for Motor Vehicle Accident Victims Act B.E. 2535 and the activities according to the company or the office of the victim compensation funds assigned".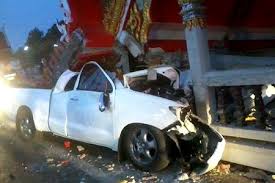 In 2013, a total of 14,789 road accident deaths were recorded, or about two deaths per hour.

Another website, livescience.com in 2014 ranked Thailand as no. 2 among the 25 countries with the highest car-crash fatality rates, accompanied by the number of road accident deaths per 100,000 people.

Sources: livescience.com, Road Accident Victims Protection

[mashshare]