A free forex and blockchain seminar will be held on September 2 at The Bazaar Hotel along Ratchada Road, Bangkok. The two-hour seminar will run from 10:00 AM to 12:00 PM. Registration, food and refreshments are all free.
According to Forbes magazine, blockchain is a public register in which transactions between two users belonging to the same network are stored in secure, verifiable and permanent way.
Meanwhile, forex, also known as foreign exchange, FX or currency trading, is a decentralized global market where all the world's currencies trade. The forex market is the largest, most liquid market in the world with an average daily trading volume exceeding $5 trillion.
The seminar will be led by Mr Ted Sombatsiri Sabido, a Filipino-Thai multi-millionaire who has been living in Thailand for over 30 years. His team from Vietnam and Indonesia are also coming to Bangkok to join the seminar.
Mr Ted is a professional forex trader who has more than 200 Thai traders in his group all over Thailand. He was the former vice president for Market Alternative Investments of Siam2U Public Co., Ltd. which is listed in the Stocks Exchange of Thailand. He also worked as Managing Director of Warner Music Singapore, MD SONY BMG Thailand, MD Universal Philippines, GM Sony Thai and as CEO of Kitcom Thailand.
Registration is now going on at Blockchain Academy Asia. Send your complete name, email and mobile number. First 20 participants will be accepted.
The hotel is located at 5 Ratchadaphisek Rd., Chompon, Chatuchak Bangkok, Thailand 10900. For more details, you may call 0994932211 or 0956925496.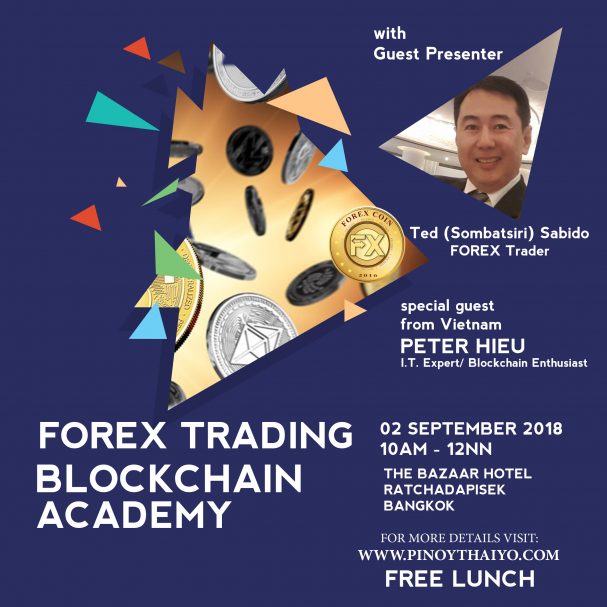 [mashshare]