A Thailand-based OFW who successfully applied for NON-B visa at the Royal Thai Embassy in Vientiane, Laos was allowed entry to Thailand by the Immigration officer on Monday evening, March 23.
The OFW applied for a NON-B visa on March 19 and received her passport on Monday morning. While she was in Laos, she was able to get a medical health certificate which is one of the requirements to enter Thailand.
She relayed her experience to PinoyThaiyo for others to know.
"Finally nakauwi din po. Grabe madami din ang hindi pinalusot gawa ng insurance. Need talaga nila, kinunsider nila ung AXA at Dhipaya Insurance. Ni recommend lng din yan sa akin ng kakilala ko. pero you can check and apply online po.

Pero you know what, confuse ung staff nila sa Suvanabhumi. Parang di nila kabisado ang ginagawa nila.

Basta meron ka lang requirements makakabalik ka namn eh."

Thailand-based OFW
According to her she presented four insurance policies, Prulife UK, AXA Thailand, AXA Philippines and Dhipaya Insurance. She also said that it is dangerous and still better not to travel at this time.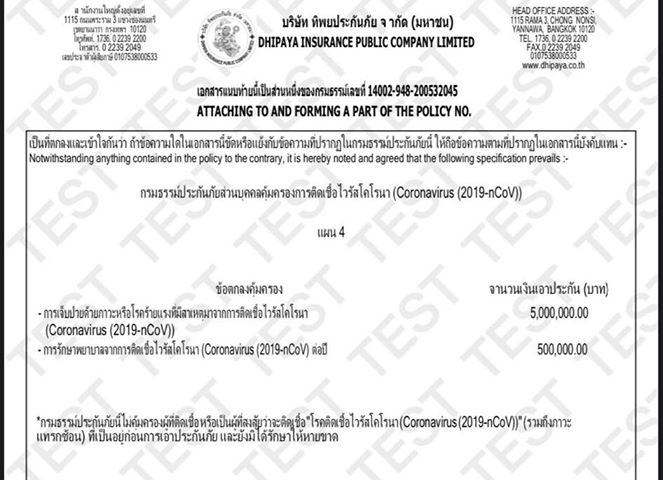 While still in Laos, the OFW said she was with an Italian citizen whom she met at the hospital where she got her medical certificate. The Italian who was only transiting in Thailand was not allowed to board in spite of having an insurance policy.
Meanwhile, a Thailand-based Russian who was traveling from Kuala Lumpur, Malaysia to Bangkok was not allowed entry to Thailand though she has a medical certificate and insurance with 100,000 USD COVID-19 coverage. According to her narration on Facebook, none of the foreign residents on the same flight were allowed entry to Thailand. The said Russian has NON-B visa and a re-entry permit.