Decades-old peso bills are valid for daily transactions up to December 31, 2015 only. Beginning January 1, 2016 until December 31, 2016, old banknotes cannot be used for daily transactions but can be exchanged with new ones in authorized banks nationwide. This also means that beginning January 1, 2017 all old banknotes will fully lose their monetary values.
The demonetization process is in line with Section 57 of Republic Act No. 7653 or the New Central Bank Act.
The new banknotes which have been in production since 2010 have enhanced security features with the main purpose of protecting the public from counterfeit currencies. The Bangko Sentral ng Pilipinas (BSP) also emphasized that changing of the currency design every ten years is a common practice by many central banks all over the world to intensify the drive against counterfeiting.
One feature of the new generation notes is that the word "Pilipino" can be seen in complete form when viewed against the light. It is written in the pre-Hispanic Philippine alphabet or 'baybayin'.
Optical Variable Device (OVD) is also a feature of the new generation notes which makes the surface turn its colors from green to red and red to green when viewed in different angles. This OVD patch is seen on the BSP logo, amount of the currency, and the hero or president watermark.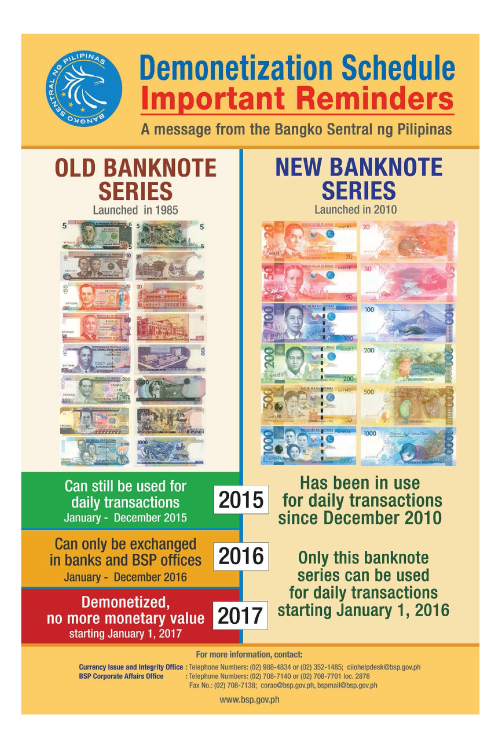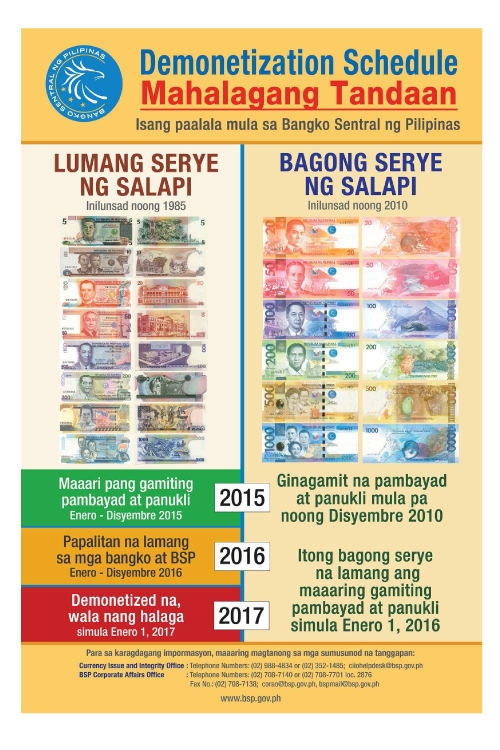 The differentiating characteristic of the new series is that a younger version of the portrait is noticeable compared to the old banknote series.

Filipinos abroad (such as OFWs) may still be able to exchange their old bills by registering online in the BSP website beginning October 1, 2015 until December 31, 2015. After registering old bank notes, they are given a year to claim the equivalent new notes at BSP Offices and branches nationwide.

[mashshare]