Filipinos can now travel to 66 countries visa-free, according to the 2019 Henley Passport Index Report. Although Philippines' rank went down to 74th from 72nd last year, three countries from 63 last year to 66 this year were added to countries Pinoys can travel to visa-free.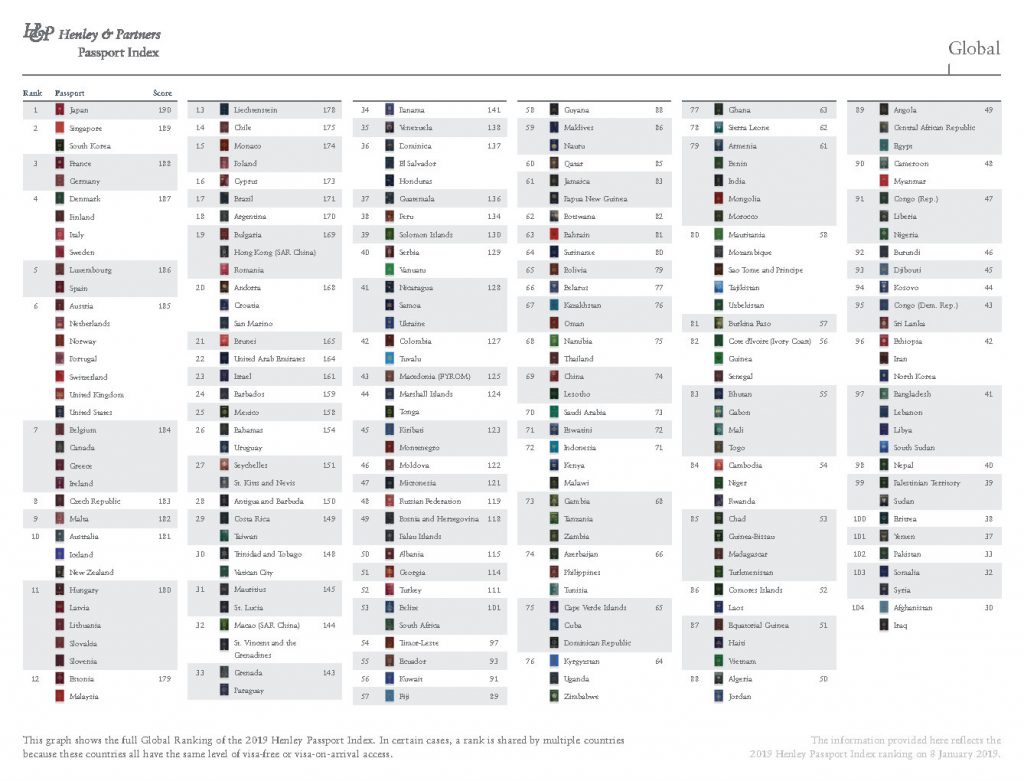 Among the ASEAN nations, Philippines ranked 7th, Singapore remains the strongest passport among Southeast Asian countries.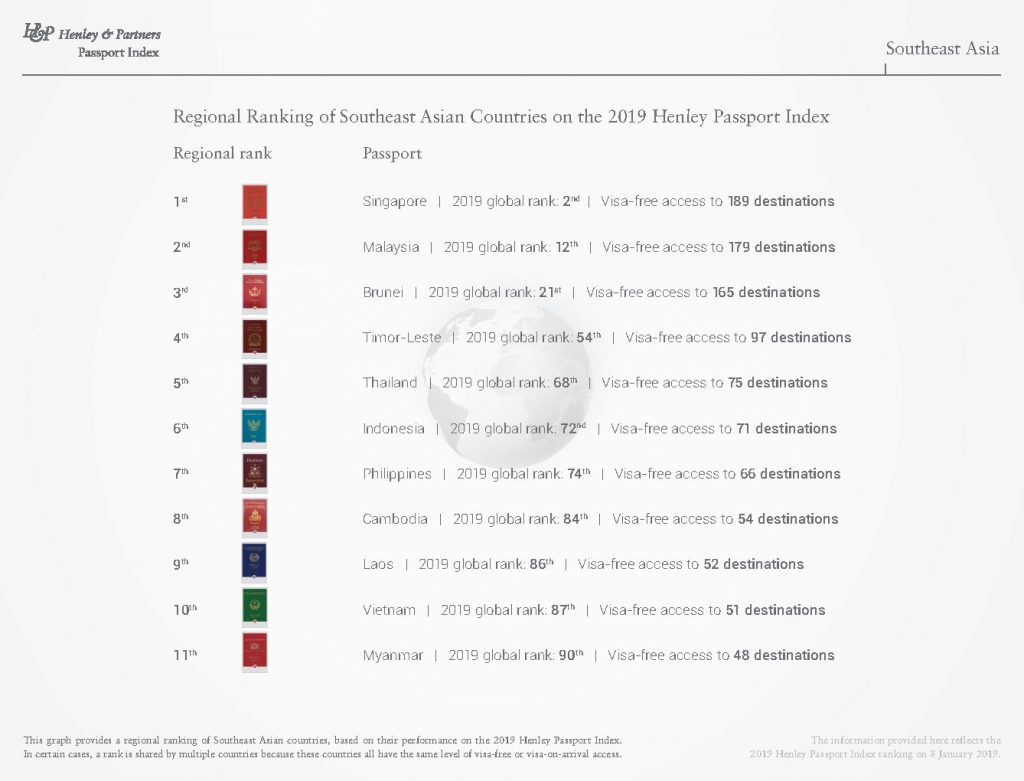 Cambodia (+4), Laos (+4), and Myanmar (+4) were the biggest climbers among ASEAN nations.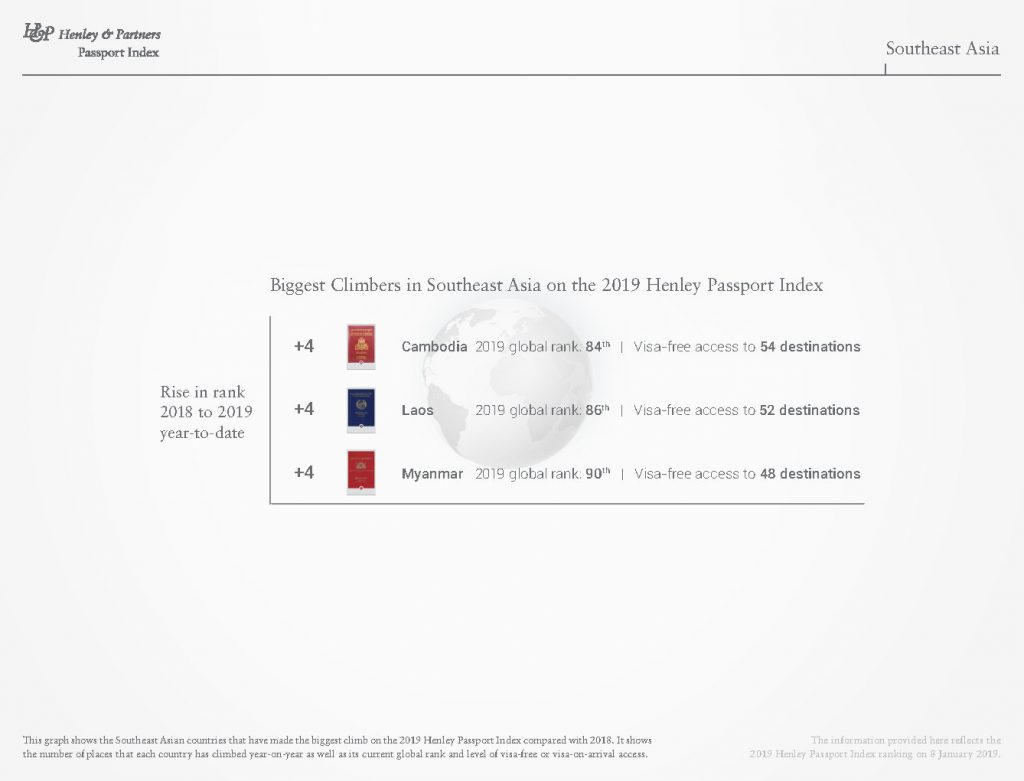 Japan is the strongest passport in the Global index with visa-free access to 190 nations, followed by Singapore and South Korea (189); France and Germany (188); Denmark, Italy, Finland, and Sweden (187); and Luxemborg and Spain (186).
Meanwhile, the following are the bottom 5 in the 2019 Henley Passport Index: Eritrea, visa-free access to 38 destinations; Yemen (37); Pakistan (33); Somalia, Syria (32); Afghanistan, Iraq (30).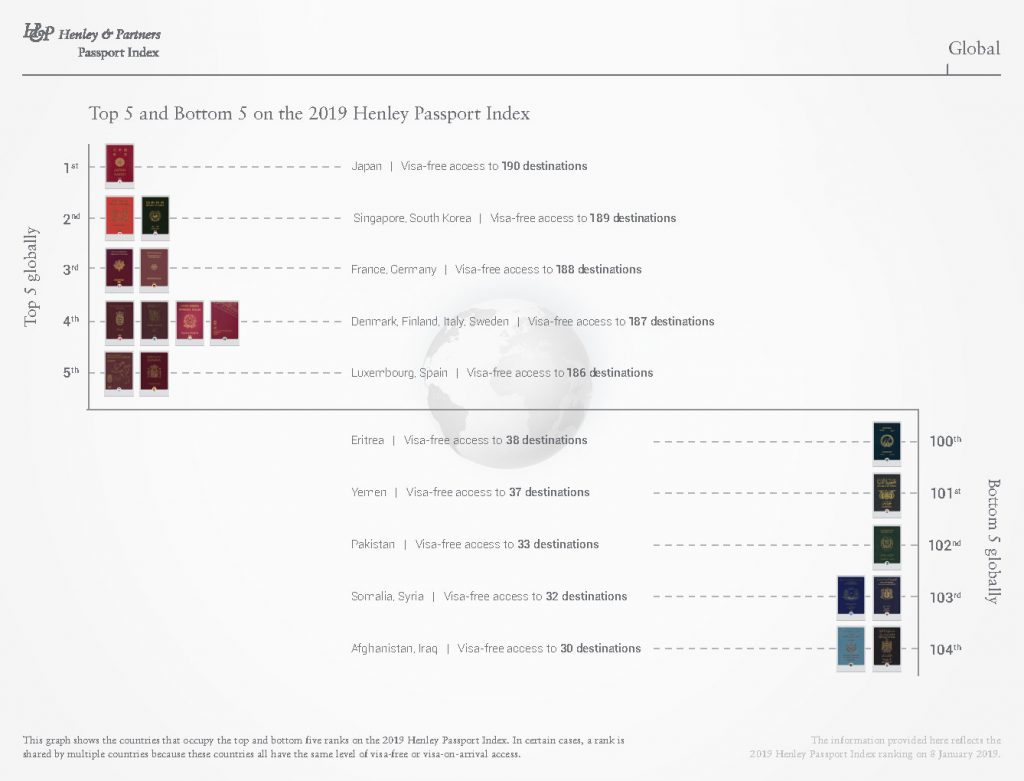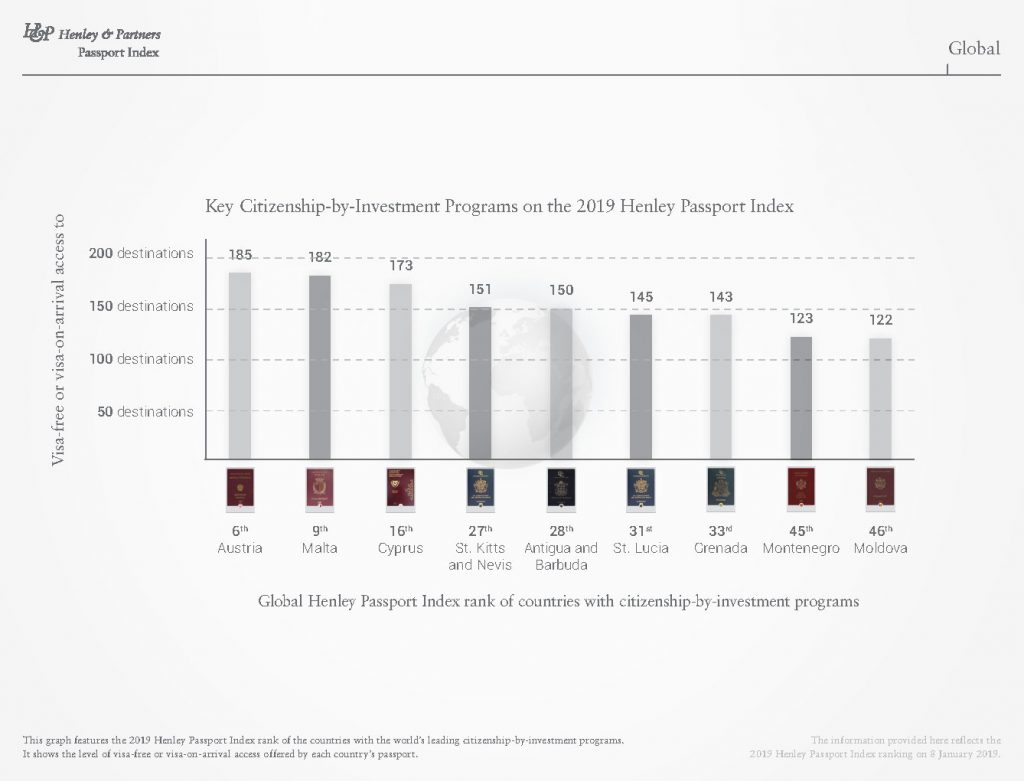 Here's the list of countries Pinoys can travel to visa-free:

ASEAN
BRUNEI – 14 DAYS
CAMBODIA – 21 DAYS
INDONESIA – 30 DAYS
LAOS – 30 DAYS
MALAYSIA – 30 DAYS
MYANMAR – 14 DAYS
SINGAPORE – 30 DAYS
THAILAND – 30 DAYS
VIETNAM – 21 DAYS


ASIA
ARMENIA – VOA AT YEREVAN AIRPORT MAXIMUM OF 120 DAYS
HONG KONG – 14 DAYS
IRAN – 30 DAYS BUT 14 DAYS AT KISH AND QESHM AIRPORT
ISRAEL – 30 DAYS
KYRGYZSTAN – 30 DAYS, VOA
MACAU – 30 DAYS
MALDIVES – 30 DAYS, VOA
MONGOLIA – 21 DAYS
NEPAL – 90 DAYS, VOA
SRI LANKA – 30 DAYS ETA ON ARRIVAL
TAIWAN – 14 DAYS (TRIAL PERIOD EXTENDED UNTIL JULY 31, 2019)


AFRICA
CAPE VERDE ISLANDS – VOA
COMOROS – 45 DAYS VOA
DJIBOUTI – VOA
GAMBIA – 90 DAYS
GUINEA-BISSAU – 90 DAYS VOA
KENYA – 90 DAYS VOA $50 FOR 30 DAYS
MADAGASCAR – 90 DAYS VOA $27 FOR 30 DAYS
MAURITIUS
MOROCCO – 90 DAYS FREE
MOZAMBIQUE – 30 DAYS VOA AT BEIRA, NAMPULA, MAPUTO, PEMBA, TETE AND VILANKULO AIRPORTS $50 FOR 30 DAYS SINGLE ENTRY
RWANDA – 90 DAYS $50 FOR 30 DAYS
SENEGAL – 30 DAYS VOA
SEYCHELLES – 30 DAYS VOA
TANZANIA – 30 DAYS VOA $50 FOR 30 DAYS
TOGO – 7 DAYS VOA
UGANDA – VOA $50 FOR 30 DAYS
ZAMBIA – E-VISA – PRE-APPROVED $50


CENTRAL AMERICA
COSTA RICA – 90 DAYS, FREE
NICARAGUA – 30 DAYS VOA FOR $50


CARIBBEAN
ANGUILLA – 21 DAYS
DOMINICA – 21 DAYS
HAITI – 21 DAYS
SAINT VINCENT AND THE GRENADINES – 30 DAYS VISA ISSUED ON ARRIVAL
TURKS AND CAICOS ISLANDS – 21 DAYS


EUROPE
GEORGIA – E-VISA
KOSOVO – 15 DAYS

OCEANIA/PACIFIC ISLANDS
COOK ISLANDS – 31 DAYS
FIJI – 120 DAYS
MARSHALL ISLANDS – 90 DAYS VOA
MICRONESIA – 30 DAYS
NAURU
NIUE – 30 DAYS
PALAU – 30 DAYS VOA
PAPUA NEW GUINEA – 60 DAYS VOA AT PORT MORESBY AND RABAUL AIRPORTS RETURN/ONWARD TICKET
SAMOA – 60 DAYS VISITOR'S PERMIT ON ARRIVAL RETURN/ONWARD TICKET
TUVALU – 30 DAYS VOA RETURN/ONWARD TICKET
VANUATU – 30 DAYS


SOUTH AMERICA
BOLIVIA – 90 DAYS
BRAZIL – 90 DAYS
COLOMBIA – 90 DAYS
ECUADOR – 90 DAYS
PERU – 183 DAYS
SURINAME – 90 DAYS


[mashshare]