A public forum on the War on Drugs and the Human Rights Situation in the Philippines will be held on Thursday, October 5 at Foreign Correspondents' Club of Thailand in Bangkok.
"The War on Drugs in the Philippines has morphed into a war against human rights and war against the poor. This has led to continued calls for widespread mass actions and initiatives to immediately stop the killings, respect human rights of all and uphold social justice," FCCT said in an invitation via email.
Invited speakers are from Philippine Commission on Human Rights, Office of the High Commissioner for Human Rights (OHCHR), Mahidol University Institute for Human Rights and Peace Studies, Asian Network of People Who Use Drugs (ANPUD) and a mother of a young man who was killed in April 2017.
The forum which is organized by "Concerned Filipinos in Thailand" will start from 6:00 to 8:00 pm. For more information, you may contact Malu S. Marin at stopkillings@gmail.com.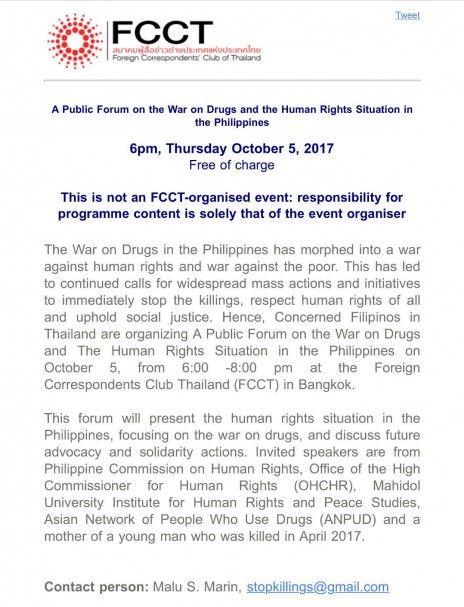 Here is FCCT's address in Bangkok.
Foreign Correspondents' Club of Thailand
Penthouse, Maneeya Center Building
518/5 Ploenchit Road (connected to the BTS Skytrain Chitlom station)
Patumwan, Bangkok 10330
Tel.: 02-652-0580
E-mail:  info@fccthai.com
Web Site:  http://www.fccthai.com
Photo: Daily Mail