The first three days of the 7 most dangerous days in Thailand records 1,665 road incidents, of these, 174 died and 1,728 were hurt according to data from Road Safety Directing Center.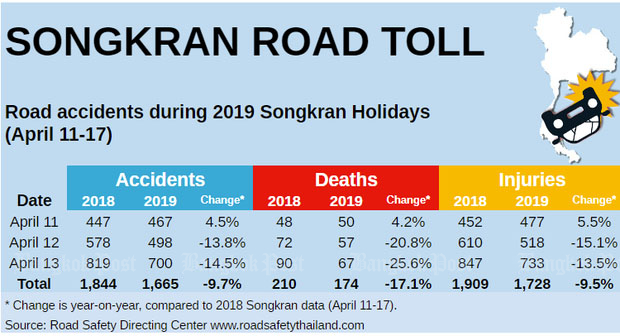 This is however was lower compared to data from 2018. Traffic accidents went down by 9.71%, death counts fell 17.1% while injuries went down 9.5%.
During these period, the following were listed as the most common causes of accidents: drunk driving (38.08%), speeding (27.51%), and cutting lanes (17.24%). Of the recorded accidents, 79.65% involved motorcycles. More than 2 million vehicles were pulled aside in various check points for alcohol breathing tests and other relevant checks. 4PM to 8PM was considered the most dangerous times on the road.