H.E. Police General Adul Sangsingkeo, Thailand's Minister of Labor reminded employers and their foreign employees to comply with the law and secure  valid Work Permits until June 30, 2018 to avoid getting arrested, fined and deported.
A press release dated June 8 said the "Ministry of Labor is ready to provide services to employers and migrant workers… and that the government will not be relaxed and will not extend indefinitely until June 30, 2018. Foreign workers will not be able to stay and work."
"Starting July 1, if the Ministry finds an alien (foreigner) working without a work permit or work outside the right to do so will be fined 5,000 – 50,000 baht and after pay for the fines, the alien will be sent outside the Kingdom and will not be allowed to work within 2 years from the date of the offense. At the same time, an employer hiring an alien without a work permit or a work permit, apart from the right to do so, will be fined 10,000 – 100,000 baht per alien who hires one. If foreign migrant workers commit another offense, they will be punished with imprisonment not exceeding one year or a fine of between 50,000 and 200,000 baht, or both, and shall not employ foreigners working for 3 years of the Aliens Management Act of 2017. However, if the foreign worker wishing to work in Thailand must enter into an MOU-form of importation only," the Minister of Labor said in the press release.
In another post on the Ministry of Labour, Kingdom of Thailand Facebook page which is posted in Thai, it says: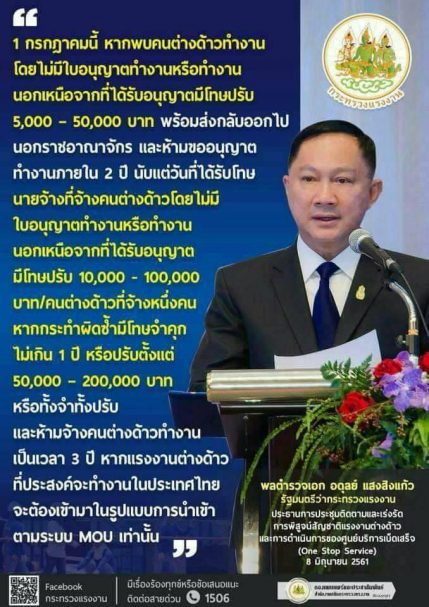 "Effective July 1, foreigner who works without a valid Work Permit or found working or has a job that is different from the one specified in the Work Permit will be fined 5,000-50,000 THB and deported and will not be allowed to apply for a Thai Visa and work permit for 2 years. The Employer will be fined 50,000-100,000 THB per foreign employee. 50,000-200,000 THB-fine and/or 1-Year jail time for repeat offenders. And they will not be allowed to hire foreigners for 3 years."

This also applies to working at a location or for other establishment differed from the one stated on his/her Work Permit too, according to Honorary Consul Agkarajit Phanomvan Na Ayudhya of the Philippine Consulate in Chiang Mai.  

The Consul also added that the "release focused on those ASEAN countries because they are the majority. In Thailand, there are other foreign workers too. But, this new rules will cover all."

"I have always been advising Filipinos to know about Thailand laws. Particularly, on this issue, I even advise them to report sick if their employer makes them work without valid Work Permit. In some case, I even advised them to obtain written statement from their employer that their employer will be fully responsible for non compliance with the laws," the Consul added when asked for his advice to all Filipino workers in Thailand.

Source: Ministry of Labor (MOL)

[mashshare]