After his infamous demeanor on intentionally delaying a food order from Jollibee to get a P200 discount spreads the Internet, Jay Bee has no plan of apologizing. His reply to the overwhelming negative remarks toward him is a sarcastic one with a middle finger.
"Sa lahat ng fans ko all over the world, salamat ng madami sa biglang pagsikat ko.. hoping na makarating to kay ellen degeneres para naman makapag-guest ako sa show nya.. mga sikat ang invited nya eh.. sa lahat ng bashers ko dyan, natural lang sa isang sikat na magkaroon ng bashers, pero thankful parin ako at lalo nyo ako pinapasikat.. pero am happy na sikat ako ngayon, daming tumatawag saken all over the world informing na sikat na nga ako.. thank you ng madami sa inyong lahat.. mabuhay kayo.. bilang pagalang sainyong lahat, ito lang masasabi ko… " he said.

(To all my fans all over the world, thank you very much for my newfound fame. I am hoping that I will be invited as a guest to Ellen DeGeneres' show because only famous personalities are invited as guests. To all my bashers, it is only natural for a famous person to have bashers. I am thankful that you only make me more popular. But I'm happy now that I am famous, many are calling me all over the world informing me that I am indeed famous. Thank you very much to all of you. Long live. As a show of respect to you all, here's what I can say…)
A few days before this, Jay Bee bragged on his Facebook account how he fooled a Jollibee delivery man by intentionally ignoring the call from the lobby receptionist to delay the delivery of the food to his room.
Jollibee as a fastfood chain, implements a strict 20-minute delivery arrival of the food to its customer. Failure to satisfy this will force the food chain to give the customer P200 worth of gift certificates. Also, many believe that whoever the delivery man in that case will have to share the burden by cutting a portion from his salary if proven that it is his fault.
Thus, the unapologetic guy paid only P66 pesos for an order of spaghetti, fries, chocolate sundae, and Champ burger that day.
"Pero ang totoo hindi naman talaga late, di ko lang sinasagot ang tawag ng receptionist sa baba, dun pa lang hold na siya. After 1 minute sinagot ko, pagdating sa unit ko, of course late. Hahaha," the man bragged.

(The truth is, the order was not late. I just did not answer the call from the receptionist so that's why he was already stalled. After 1 minute, I answered the call and when the order arrived in my unit, of course, it was already late.)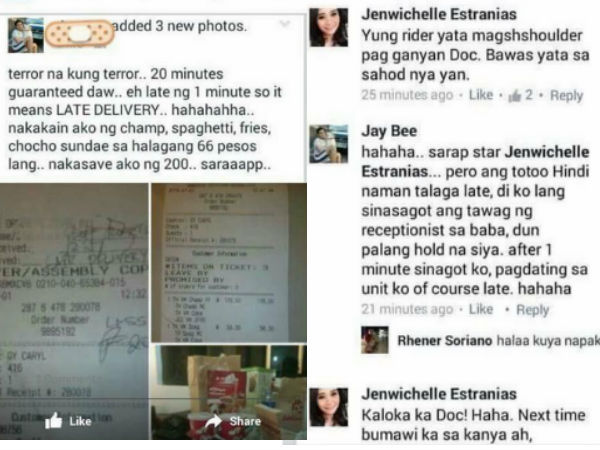 Many went irate to Jay Bee's devious acts especially when they learned that he claims to be a veterinarian doctor and a graduate of a reputable school, but the man is not apologizing.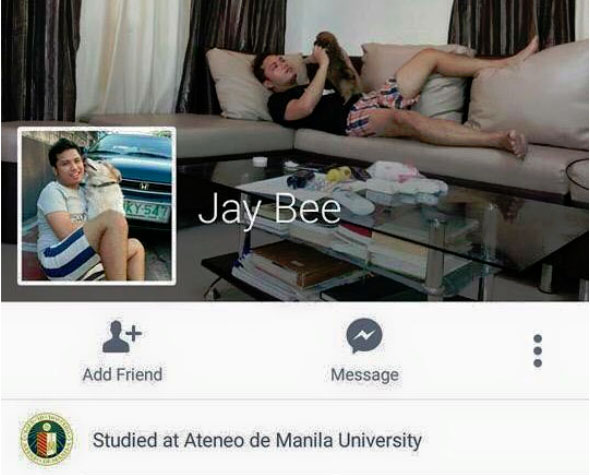 [mashshare]