The Adventist Youth Association will be holding a Bible Camp on July 1-3, 2016 at Pattaya Hallelujah Mission Church. AYA is a youth organization of the Seventh-day Adventist Church in the Kingdom of Thailand.
Themed "Signs of the Times", the camp coordinators aim to bring together young people to study more about the Bible and Jesus' Second Coming which is one of the fundamental doctrines of the Seventh-day Adventist denomination.
"We would like to invite young people to join us in this Bible camp. It is an opportunity for us to know more about God and to have fellowship with one another", said Ms Chona Ronquillo, AYA president.
As of June 22, more than 100 young people from different SDA English-speaking churches in Bangkok and nearby provinces have officially registered. The camp fee only costs 600 baht each for an air-conditioned room with seven meals. Meanwhile, 300 baht will be charged to those who will bring tents.
For more information about the camp, you may call the program coordinators at 0853368074 or
0943213972.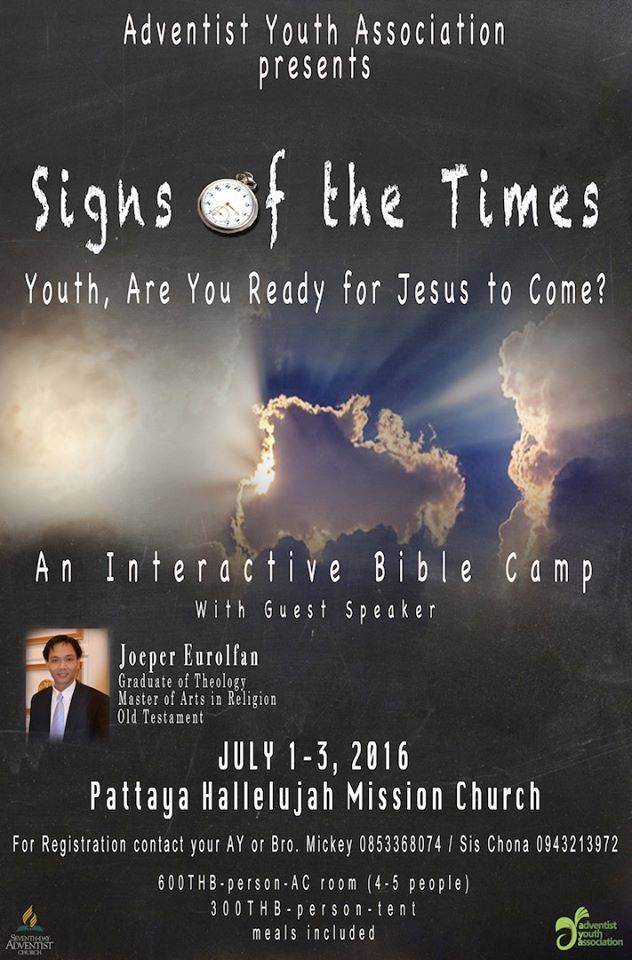 [mashshare]