Just 50 miles stretching on the north of Bangkok Thailand is the ancient city of Ayutthaya. It became the country's capital during the mid-14th century till the late 18th century.
These days, Ayutthaya is usually frequented by visitors as part of just one of the many interesting package day trips from Bangkok.
However, while package tours are the most popular options for tourists to explore this famous city, you can actually try navigating it on your own.
How To Get There?
Take the train via the subway directly to Hua Lamphong station, as the Ayutthaya train station is really accessible. It's advisable to purchase third class tickets since these are the most frequent. Normally, the trip takes an hour to get there.
Upon reaching Ayutthaya, you can choose the tuk-tuk route, which costs you more or less THB 500 for the day. Or you can rent a bike and discover the city on your own. Bike rentals cost around THB 50 for the day.
Top 3 Major Landmarks
So what are the major landmarks which consistently entice visitors far and wide to see this wonderful place? Though there are many well known tourist spots, here are the top 3.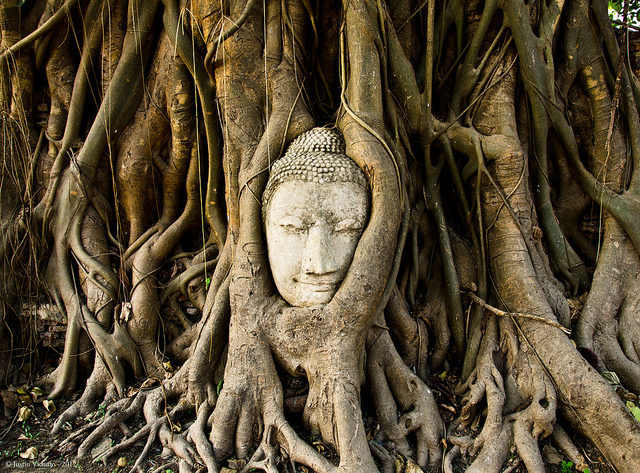 Portrait of Buddha between tree roots at the complex of Wat Mahathat Ayutthaya, Thailand.
Wat Mahathat. The iconic temple of Wat Mahathat is one of the compelling reasons why people visit Ayutthaya–to take their photos with the famed Buddha images which have striking tree roots grown around them. Constructed in 1374 at the beginning of the Ayutthaya era, Wat Mahathat is an imposing temple ruins initially built to store Buddha relics which appeared strangely to an early king of Ayutthaya. Even though the Burmese ravaged much of the temple, it still remains to be a fascinating site to feel its serene simplicity.
Wat Phra Si Sanphet. The trio of bell-shaped chedis featuring Wat Phra Si Sanphet have become a symbolic trademark of Ayutthaya. The majestic temple proudly stands in the central major area of the ancient capital, which borders the former royal palaces. Originally, this stately temple was directly linked to Wang Luang (royal palace). However, the Burmese flattened the palace buildings on the ground.
Wat Chai Wattanaram. This is by far one of the most magnificent of the existing monuments of old Ayutthaya. Built in 1629 by King Prasat Tong, he was in fact a commoner who dethroned the previous monarch and took over the throne. Buddha images lined the inner walls of its courtyard. Along the northern sides of its exterior walls, there are still only a handful of amazing remnants of large scale high reliefs that adorn the cloister.
Perfect for a weekend getaway, Ayutthaya is an enchanting Thai city gloriously immortalized with archaeological attractions.
Contact Geortravel Tours and Services for details about the trip.
Geortravel offers the following services:
Air Face Ticketing
Tour Packages
Pera Padala
Contact Details:
+66-95-893-4367 (Thailand Call Center)
customerservices@geotravel.com (Email)

You may also want to try great discounts offered by Agoda for hotels in Ayutthaya.



[mashshare]