Bangkok and Hong Kong are most at-risk from the spread of coronavirus based on air travelers expected to arrive from affected cities in China, population mapping experts at the University of Southampton concluded.
Manila ranks 25th among 30th cities across the globe receiving airline travelers from mainland China. Here's the list on WorldPop.
Experts in population mapping at the University of Southampton have identified cities and provinces within mainland China, and cities and countries worldwide, which are at high-risk from the spread of the 2019 Novel Coronavirus (2019-nCoV), said Outbreak News Today.
A report by the University's WorldPop team has found Bangkok (Thailand) is currently the city most at risk from a global spread of the virus – based on the number of air travelers predicted to arrive there from the worst affected cities in mainland China. Hong Kong (China) is second on the list, followed by Taipei (Taiwan, the Republic of China). Sydney (12), New York (16) and London (19) are among 30 other major international cities ranked in the research.
The most 'at-risk' countries or regions worldwide are Thailand (1), Japan (2) and Hong Kong (3). USA is placed 6th on the list, Australia 10th, and the UK 17th.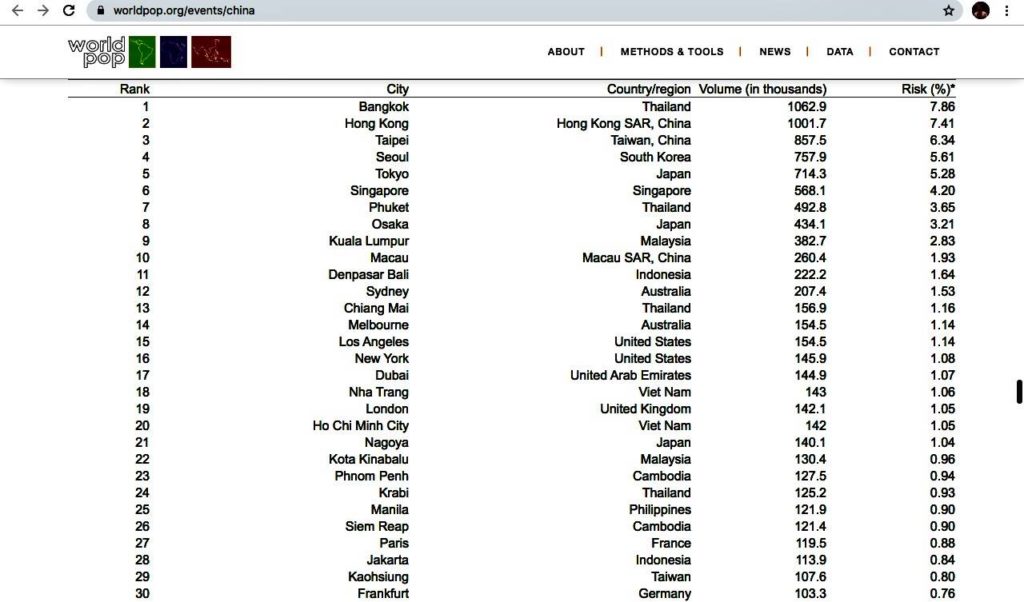 SOURCES: Bangkok Post, Outbreak News Today, WorldPop
Under
Buhay OFW

,

News

,

Public Service

,

Staff Pick

,

Suggested Posts

,

air pollution

,

Bangkok

,

China

,

hong kong

,

Manila

,

masks

,

PM2.5

[mashshare]