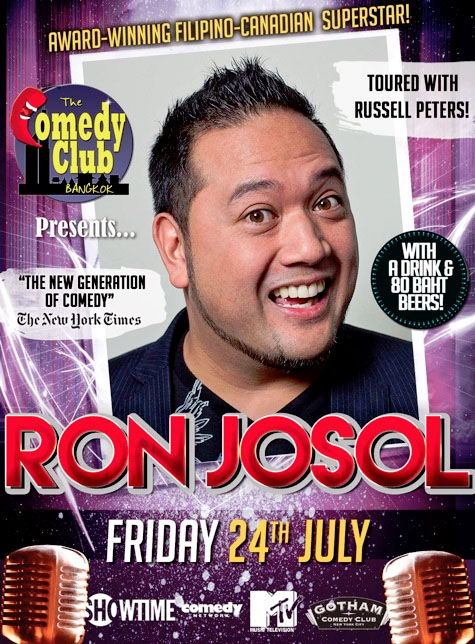 Meet the new generation of Asian comedy.
It must be funny to be dubbed as the new generation comedy when you've been a comedian for 18 years. Alongside with that description he holds the titles of being the most well-known Asian comedian in Canada, and biggest Filipino comedian working today. Excitingly, that comedian – Ron Josol – is coming to Thailand to perform for the second time at The Comedy Club Bangkok, Bangkok's only dedicated comedy venue on Friday July 24th. Special discounted tickets are available for Pinoy Thaiyo readers.
"We can't wait to have Ron back, the crowd just loved him!" says Chris Wegoda, stand-up creative director of The Comedy Club Bangkok.
Born in Toronto Canada to parents from Cebu and Bohol, Ron isn't your typical looking Filipino, he's big! We sat down with Ron to ask him about comedy, touring with Russell Peters, Bangkok, and getting in touch with his Filipino roots. Ron is a real audience favorite across the globe, he has the charisma and quality of a real star, which he is. But how does Ron see his own comedy?
"My act is the product of a culture that is passionate about people, has the willingness to learn, adapt, and has the determination to make its mark in the world. It is a result of 18 years of performing around the world where I am exposed to different sense of humour, and understand what makes us the same, but most importantly, how to transfer your comedic voice to everyone. Technically I combine a classic form of comedy with the new style of stand up. Like MMA I use all forms of comedy… from one-liners, act-outs, and storytelling. I try to 'summit all audiences'."
And summit the audience he does! Ron's been a comedian for a long time, but how did he get into the world of comedy?
"I saw Eddie Murphy's show Delirious at age 8 and said to myself that's what I'm going to do when I grow up…"
One of his big breaks was getting on Showtime USA, which led to more bookings at clubs and festivals, and another was touring with Canada's biggest stand-up comedian export, Russell Peters.
"It was kind of weird, we always toured together in the Canadian circuit. It's just now it's nicer hotels, more money, all over the world, but still the same behind the scenes."
Being Ron's second time performing at The Comedy Club Bangkok, we asked how he found the show, and Bangkok more generally.
"I enjoyed my first show, and was so happy that the comedy is on par with what I see in the big USA cities. The crowds are amazing because they appreciate the talent that comes into town, whereas a lot of the crowds in North America can be jaded because they can go to 10 comedy club a night."

"Bangkok is like Las Vegas in Asia. It stimulates your mind so much that you have to inhale once in a while and calm down. I now know how dog's feels when their masters shake keys in front of them. It's definitely influenced by USA in a lot of ways, but still keeps its identity at the same time. Love the food too."
Ron also performed earlier this year in the Philippines, we asked Ron how his experience was there.
"It was like being in a country that was filled with emotion. It being where my parents and my blood is from it affected me a lot because my mother passed away a week before I landed… I was being healed by the people who took me out and by the crowd. It felt that we were all the same, just born in different climates."
We asked Ron if he had any final words for his Filipino fans in Bangkok. Graciously he answered: "Thank you for supporting me last time. There will be more to give you because I'm constantly learning and growing. I love to share my journey with such a great crowd. I can't wait."
For more details on Ron's show on the 24th July please join the Facebook event, and to keep informed of all upcoming shows at The Comedy Club Bangkok, please go to www.ComedyClubBangkok.com and www.facebook.com/ComedyClubBangkok
Tickets for PinoyThaiyo readers are at a special discounted price of just ฿350 (full price ฿750) with a drink! Just go to this link www.ComedyClubBangkok.com/pinoythaireaders.html
by Sarah Jane Racal with Chris Wegoda