In the same way that thousands of islands are scattered in the Orient seas, local festivities are celebrated in various parts of the Philippines. Some are commemorated after a patron saint; some, in honor of a significant individual or a revered family in the community. Some people have created their own festivals to attract tourists, locals and foreigners alike. Regardless of the reason behind its origin, it is generally called a "fiesta".
Fiesta is actually a Spanish word meaning "a religious festivity". But as time went by, the word was gradually attached to any event that calls for a celebration. For Pinoys, a fiesta isn't complete without feasting of foods!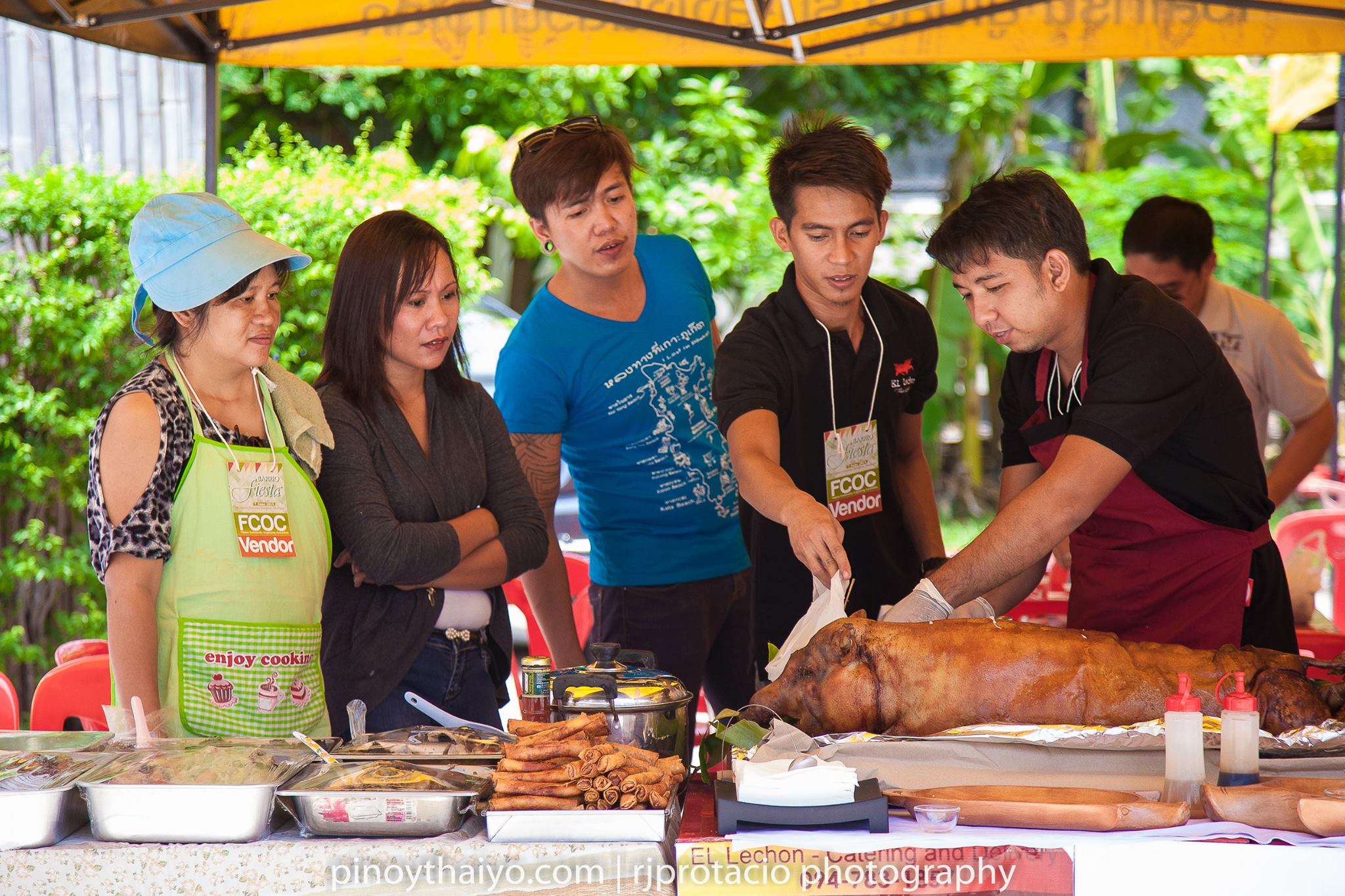 If you've been working overseas for a period of time, this event is something you truly miss. You may sometimes disregard entertaining activities such as amateur singing contests, dance contests, coconut peeling contests and many other games but who will not crave for a table of Filipino delicacies where the rule is "eat all you can"? Oh wait! That's just in one house! Remember the whole neighborhood is waiting for you. Indeed, it is a fiesta element to die for.
To bring OFWs closer to home, 'Barrio Fiesta' was held recently at the Philippine Embassy in Bangkok to commemorate the 117th Anniversary of the PHL Independence Day. With all the elements of a fiesta, Pinoys in Thailand was able to feel the revelry and joys of being home on this season. Along with this gathering are a variety of booths showcasing products and services to Filipinos. And of course, food sale!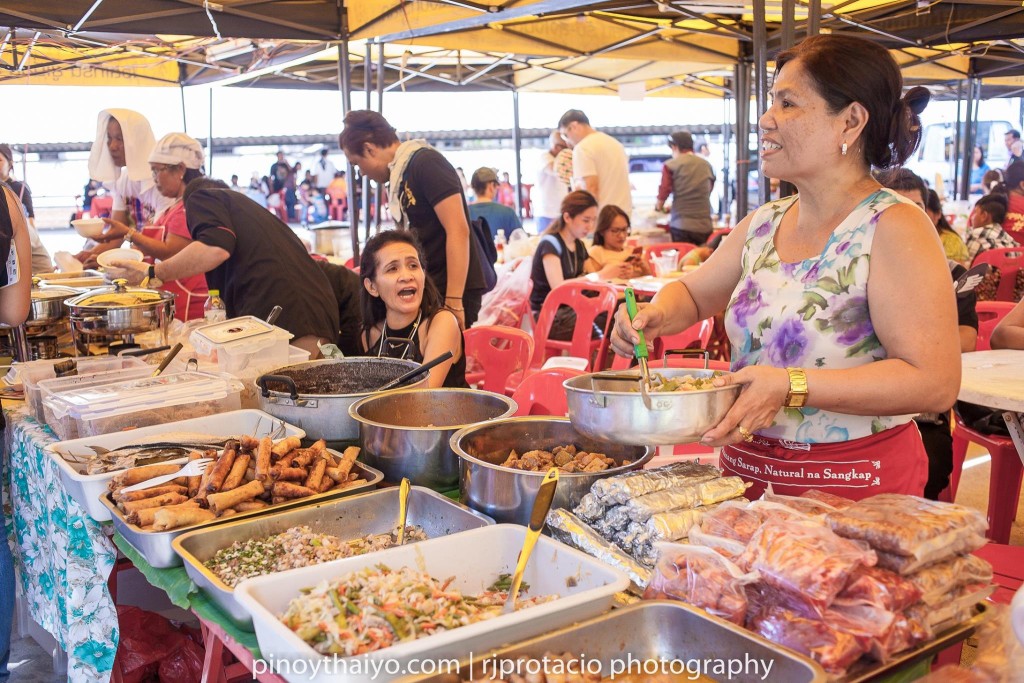 Filipino foods extravaganza abound like it's fiesta! You may eat all you can but it is not free. Among the array of mouth-watering cuisines that I tried are:
Puto at kutsinta – 50 baht per half dozen box.
Palitaw – 20 baht per 4 pieces
Biko/Sinukmani – 20 baht per small slice
Halo-halo – 50 baht per medium-sized cup
Lumpiang Shanghai – 10 baht per small roll
Paksiw na bangus – 50 baht per serving
Beef caldereta – 70-180 baht per serving
More popular dishes that are served on that day include:
tortang talong
pancit
pinoy-style spaghetti
pork sinigang
bopis
laing
pininyahang manok
barbecued hotdogs
turon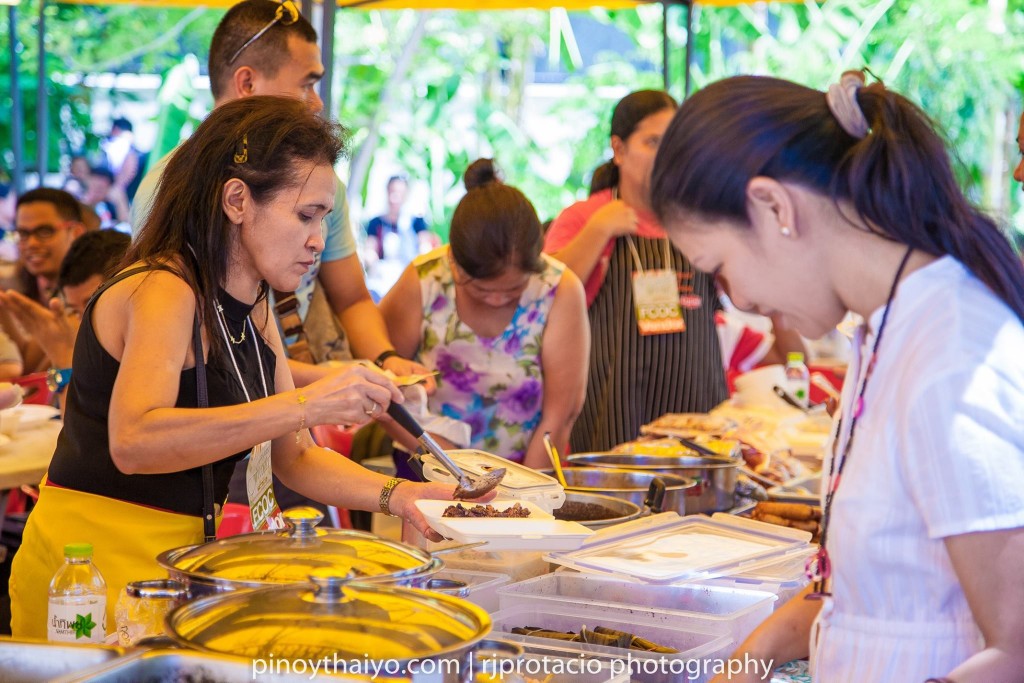 It was truly one of the happiest days for my buds and belly! I was satisfied and filled. If ever one comes without any penny, the freebies will save the day.
UPDATE ON DECEMBER 9 PASKONG PINOY
Ramkhamkaeng University Sports Complex
Highlights of activities
08.00 – 15.00 hrs
Basketball & Volleyball Championship Games
15.00 – 19.00 hrs
Pinoy Fun Fair & variety show
Pinoy food & products
Beauty & singing competitions
Impersonation contest
Raffle draws
For vendors who would like to avail of booths and tables, please contact Ms Jane Cabaya at 093-961-4758.
Click here for more Barrio Fiesta 2015 photos.
Photos: Jess Tura & Rj Protacio