Help our less fortunate kababayan during the COVID-19 crisis in Thailand. Any amount of help will make a big difference to our fellow OFWs affected by this epidemic.
Share your extra blessing. You can transfer/deposit any amount to:
Account Number: 3532246942
Bank: Siam Commercial Bank (SCB)
Account Name: Cherryl Lara Labadlabad
Cherryl Labadlabad is ALSE's Finance Director.
Money collected will be used to buy food packs next weekend. Repacking and distribution will also commence on April 10, 2020.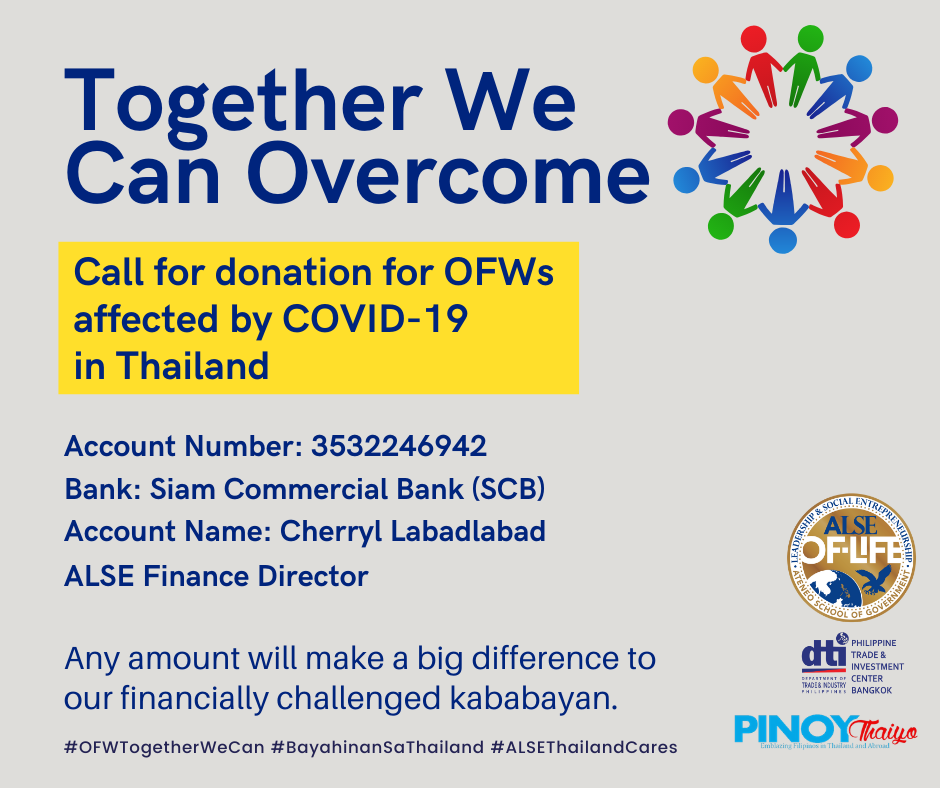 This fundraising campaign is initiated by Ateneo Leadership and Social Entrepreneurship (ALSE-OF-LIFE) Secretariat together with PinoyThaiyo and other civic-minded individuals. They also initiated a survey on Filipinos in Thailand financially affected by COVID-19.
The weeklong survey conducted by PinoyThaiyo on its Facebook page revealed that 81% of Filipino respondents living in Thailand are affected by the Coronavirus (COVID-19) crisis. A total of 1,047 participated in the survey.
ALSE-OF-LIFE also led in a fundraising campaign to help Taal Volcano eruption victims. Along with other partnered groups, it was able to deliver at least 10,000 face masks and other hygienic kits.
Maraming Salamat po!
Artwork: Christine Belnas (ALSE), Jess Tura (PT)