A certain AB (Anne Belle) Agulan missed her flight to New Zealand after Cebu Pacific denied check-in due to "insufficient document". She posted online her wrath at the airlines after she got offloaded that caused her inconvenience, anxiety and money.
Miss Agulan was supposed to travel to Auckland, New Zealand from Manila, Philippines. She bought two tickets from two different airline companies: Cebu Pacific which is from Manila to Sydney, and a connecting flight from Sydney to New Zealand via Jetstar Airlines. Her waiting time at Sydney would not exceed eight hours based on her itineraries.
According to her after providing them with all the documents that she had, the personnel at Cebu Pacific check-in counter asked her to provide a 'transit visa' from the Australian government since the flight she bought would send her to Sydney. She insisted that she has been travelling conveniently from Manila to New Zealand with stops at Singapore, Melbourne or Sydney without any 'transit visa'.
Below is her screenshot of Australian government website showing that there is no need for an eligible traveller like her to secure a 'transit visa'. But Cebu Pacific personnel maintained that it is still needed as they are required by the Australian government being a low cost airline.
Sensing that she could not take the scheduled flight, she asked Cebu Pacific to provide her a document "stating that Cebu Pacific being a low cost airline needs to have their passengers provide a transit visa for connecting flights." She said that she would use the document to process the transit visa the airline is looking for and also as a support document for rebooking her ticket with Jetstar. But according to her, Cebu Pacific did not provide that document.
She then asked to rebook her ticket but was told to pay 'rebooking fee' of approximately Php 5,800. She asked to waive the rebooking fee but with no success. How about cancelling the ticket? Again, no, since the ticket is a promo hence it's non-refundable as per policy by the airline.
To ease her disappointment and anger, Cebu Pacific transferred Php 8,436.91 out of the original ticket price of Php 13,636.91 to a credit that she can use for international or domestic flight within 90 days with the airline company.
She asked Jetstar to cancel her flight but no refund is applicable.
What lessons can we learn from this? What can the government agencies like OWWA and POEA do to help law-abiding travellers avoid this unlikely experience? What can we do as members of the Overseas Filipino Workers?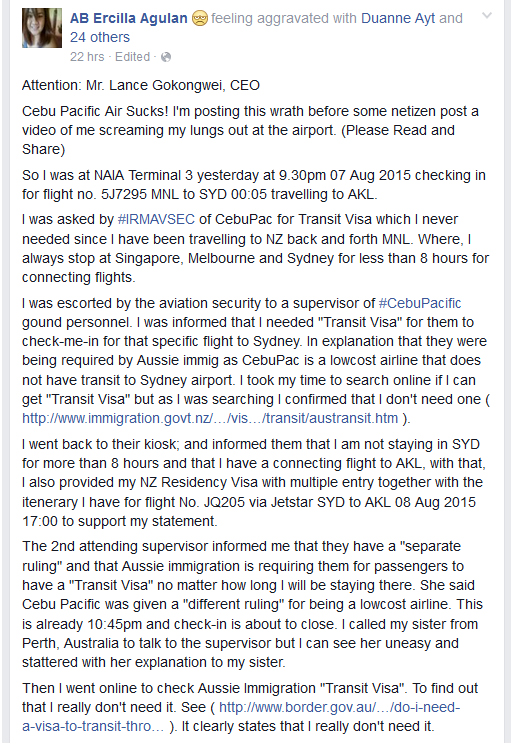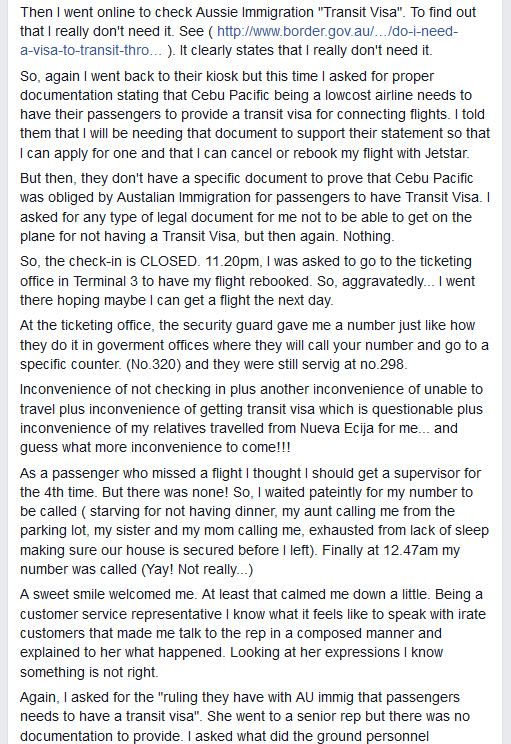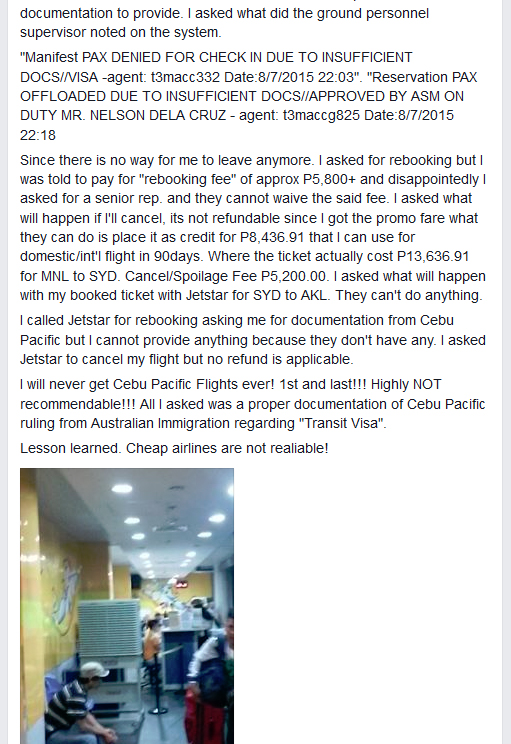 Source: AB Ercilla Facebook account

[mashshare]