You have probably seen this #DontLiftThatBag hashtag on social media these past days. It is mainly being circulated by accounts, pages and groups related or owned by cabin crew members and their supporters.
The hashtag is to make the public aware of one thing: that it is not a flight attendant's task to lift a passenger's carry-on luggage into the overhead bin. They can assist, but the lifting of the bag itself is not their mandatory task.
The hashtag was made after series of incidents happened where cabin crew members were humiliated or physically abused for not lifting a passenger's luggage into the overhead bin storage.
Recently, A Fly Guy's Cabin Crew Lounge Facebook page posted a photo collage showing reddish marks on a cabin crew's face. The said Facebook page claimed that the cabin crew was slapped by a passenger (reported to be a medical doctor) for not lifting her luggage into the overhead bin.
This happened just days after another incident was recorded in Southwest Airlines where a passenger was publicly ridiculed for taking photographs and complaining about a flight attendant who declined to also lift his luggage into the overhead bin.
Flyhigh Manila, another Facebook page supportive of flight attendants' welfare, changed its cover photo with the said hashtag added with a reference to a clause from the Civil Aviation Authority Act of 2008 of the Philippines.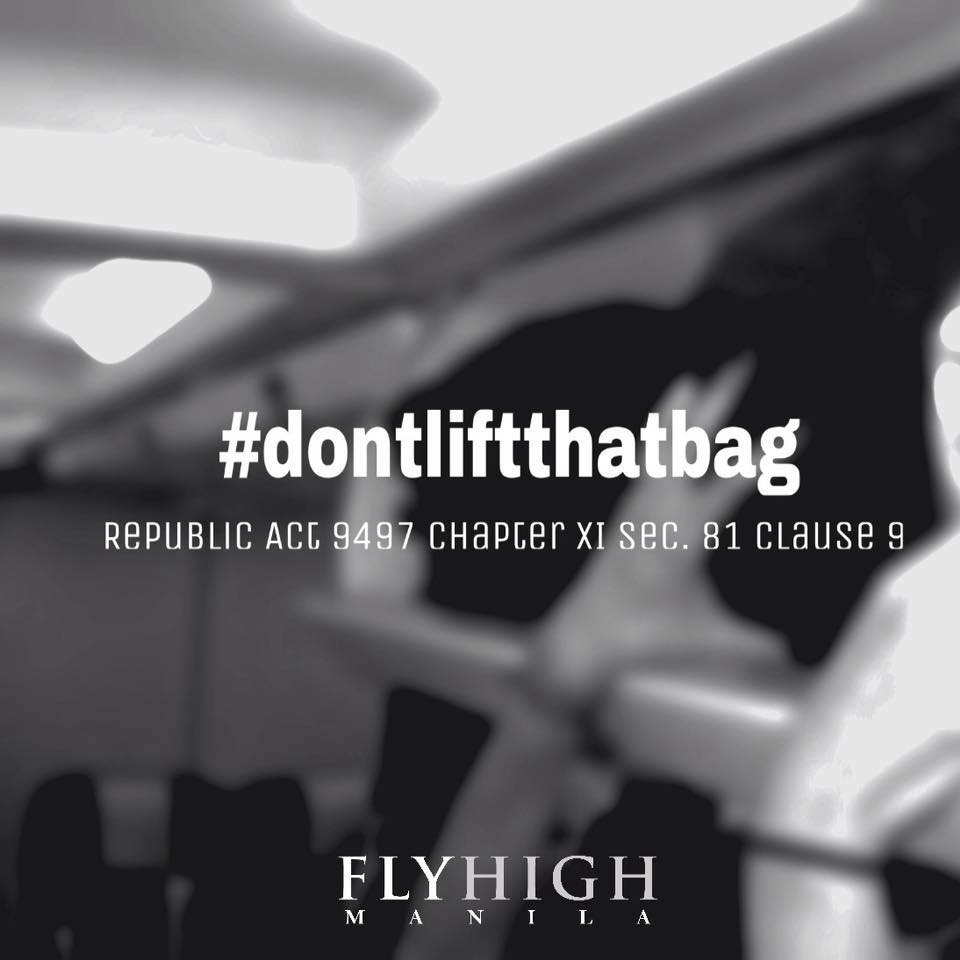 The clause aims to protect flight attendants or crew members from threats, intimidation, and assaults while on board:
"Any person who, while on board an aircraft, interferes with a crewmember's or flight attendant's performance of their duties, assaults, intimidates, or threatens any crewmember or flight attendant, shall be subjected to imprisonment from one (1) year to three (3) years or a fine of not less than Fifty thousand pesos (Php50,000.00) but not exceeding Five hundred thousand pesos (Php500,000.00), or both, as determined by the court;" (Republic Act No. 9497, Chapter XI Sec. 81 clause 9).
These avoidable incidents could happen due to lack of awareness of this RA Act 9497 and, of course, arrogance. Some passengers assume that flight attendants are there to carry their luggages all the way to the overhead bin. Though lifting of the passengers' carry-on bags to the overhead compartment is not obligatory, crew members may assist the passengers but if they failed to do the task the passengers are in no position to assault, humiliate or threaten any crew member.
However, cabin crew members are obliged to stow passengers' bags once the bags are inside the overhead bin, but they are not obliged to do the lifting part. The stowing is necessary for everyone's safety.
Passengers may politely ask for help especially if they are old or weak enough to carry a 7-kilogram bag into the overhead bin. Usually flight attendants would voluntarily help if they see a passenger who needs one. Passengers can place their bags under their seat if they have a hard time reaching the overhead compartment.
Being an air passenger goes with responsibility. You are responsible for your own belongings; however asking for help politely goes a long way.