It was almost sunset as Christmas lights glittered ahead inviting us to go closer to the main stage. As we walked the school vicinity, we could hear familiar tunes echoing in the air reminding me once again that indeed the spirit of Christmas is already there.
We sat and enjoyed the beautiful rendition of different Christmas songs by various singing groups while waiting for our turn to start our "Journey to Bethlehem". There were songs that reminded me of my childhood Christmas experiences, but most of the carols brought me back to the very first and real Christmas–the birth of Jesus.
I was excited to experience once again how it felt like to live during those days more than 2,000 years ago when that special Baby was born in a manger. I was not disappointed.
The first stop on our journey was a room of a Jewish man who studied the coming of the Messiah, and for him it was very, very near. In fact, the lone and visibly shining star that could be seen from his window made his heart exceedingly excited. If his research was right, the Messiah could probably have already been born. Only few realized it back then. And to his surprise, the star seemed very close to his place. He could go there anytime! Yes, he was so elated. But he wanted to tell his friends so he didn't have to go alone. Those friends were us, the audience. And so, that's how that "journey" began.
The scene where King Herod planned to stop a possible replacement for him by a newborn baby boy was one of the most intense and yet 'funny' scenes for many. You will see why.
And of course, the last stop is where we saw the baby Jesus, His parents Mary and Joseph in a 'stinky' manger with the animals. Solemn, humble, and peaceful was the atmosphere as everyone else outside the manger was busy in their preparation for a religious feast–unknowing that their Messiah was born in their midst.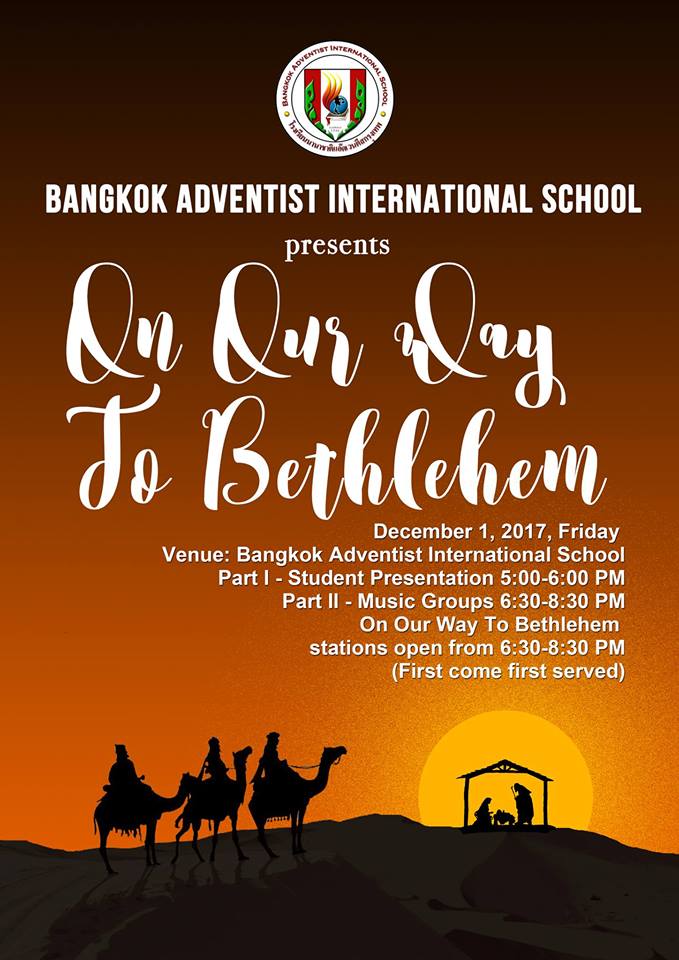 I really enjoyed that presentation by students at Bangkok Adventist International School. It's not perfect but it is worth more than the 100 hundred baht ticket-donation fee. They're making it a biyearly tradition now, and I am more pleased that my two-year old daughter can now experience that, too!
The one-night event will be on December 1, Friday and will start at 6:00 pm and ends at 8:30 pm. The "journey" will go on by batches as only a few people can fit inside each room, and can last for 35 minutes per batch. So you can go there, say at 6:30pm, and by 7:10pm you are free to go unless you want to hear more singing.
Grab this rare opportunity of experiencing your own "Journey to Bethlehem" here in Bangkok. It is totally a different Christmas experience and is worth to start your family Christmas tradition this year!
For details, please see this Facebook event page.